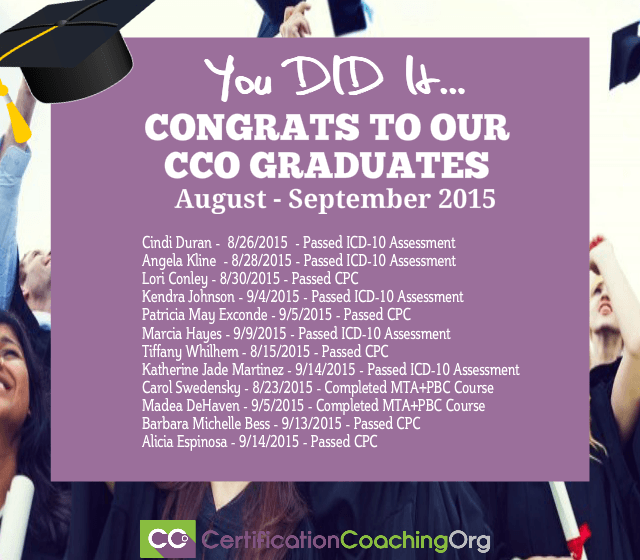 To our new Certification Coaching Organization (CCO) graduates, your serious efforts have paid off and you deserve every bit of it. Congratulations!!! Success is yours! You did it! Way to go! BIG shoutout to:
Bonnie Patterson – 8/4/2015 – Completed Facility Based Coding (FBC) Course

Sarah Lindahl – 8/25/2015 – Completed Physician Based Coding (PBC) Course

Carol Swedensky – 8/23/2015 – Completed MTA+PBC Course

Madea DeHaven – 9/5/2015 – Completed MTA+PBC Course
Also, the graduates from CCO just took the ICD 10 Proficiency Assessment and CPC Exam last August and September 2015. Ten (10) of our graduates are among the 2015 CPC Exam and 2015 ICD 10 Proficiency Assessment Exam passers.
Congratulations for acing the exam! We are so proud of you. Remember, exams may not be the ultimate test of life but they are definitely the ultimate test of character. By passing, it has been proven that you have a strong character – full of determination, focus and commitment. BIG shoutout to:
Cindi Duran 8/26/2015 Passed ICD-10 Assessment

Angela Kline 8/28/2015 Passed ICD-10 Assessment

Lori Conley 9/4/2015 Passed CPC

Kendra Johnson 9/4/2015 Passed ICD-10 Assessment

Patricia May Exconde 9/5/2015 Passed CPC

Marcia Hayes 9/9/2015 Passed ICD-10 Assessment

Tiffany Whilhem 8/15/2015 Passed CPC

Katherine Jade Martinez 9/14/2015 Passed ICD-10 Assessment

Barbara Michelle Bess 9/13/2015 Passed CPC

Alicia Espinosa 9/14/2015 Passed CPC