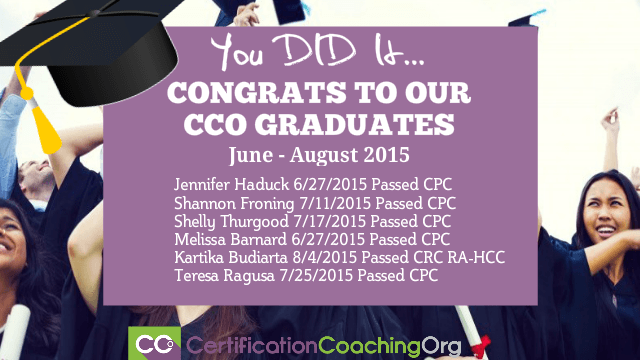 The future belongs to the beauty of their dreams. — Eleanor Roosevelt
The graduates from Certification Coaching Organization (CCO) took the CPC Exam last June 2015 – August 2015. Six (6) of our graduates are among the 2015 CPC Exam passers.
To our graduates, congratulations on your excellent exam results. Keep the same courage and confidence to face the new challenges of life. Always remember, the journey doesn't start at the beginning, it begins at the end. BIG shoutout to:
Jennifer Haduck 6/27/2015 Passed CPC

Shannon Froning 7/11/2015 Passed CPC

Shelly Thurgood 7/17/2015 Passed CPC

Melissa Barnard 6/27/2015 Passed CPC

Kartika Budiarta 8/4/2015 Passed CRC RA-HCC

Teresa Ragusa 7/25/2015 Passed CPC
Also, one of our students just completed her Physician-Based Medical Coding Course (PBC) last August 4, 2015. Congratulations!
Barbara Michelle Bess 8/4/2015 Completed PBC Course