"Dreams never hurt anybody if you keep working right behind the dreams to make as much of them become real as you can." — Frank W. Woolworth
Caps off to our new CCO 2016 CPC Exam Passers. Exams may not be the ultimate test of life but they are definitely the ultimate test of character. By passing, it has been proven that you have a strong character – full of determination, focus and commitment. We knew you could do it and we are so proud of you!
The CCO family is wishing you a great sense of accomplishment as you celebrate your hard work. Blessings and prayers. May the future bring even more success for you. Congratulations!
BIG THUMBS UP to:
Kasey Simmons- CPC -10/15/2016- Using BHAT® System, CPC Blitz
Stacy Long- CPC -10/15/2016- Using BHAT® System, CPC Course (PBC), CPC Blitz, Practice Exams
Amy Merk – CPC -10/15/2016- Using BHAT® System, CCO Q&A Webinars, CPC Blitz, Practice Exams
Brenda Zaitz- CPC– 9/17/2016- Using CPC Blitz
Anna Ward- CPC– 10/16/2016- Using BHAT® System, CPC Course (PBC), CPC Blitz, Practice Exams
Kasey Simmons- CPC– 10/15/2016- Using BHAT® System, CPC Blitz
Carol Moore- CPC– 10/15/2016 -Using BHAT® System, CCO Q&A Webinars, CPC Blitz
Lisa Carter-Deloach, CPC, COSC- CPC– 10/26/2016- Using BHAT® System, CPC Blitz, Practice Exams
Landa Rader -CPC– 9/17/2016 -Using BHAT® System, CPC Course (PBC), CPC Blitz
Holly Goodine, CPC-A- CPC-10/22/2016- Using CPC Blitz
Erna van Rooyen- CPC– 11/09/2016 -Using CPC Blitz, COC Blitz, Practice Exams
Lorna Weddle- CPC -10/22/2016- Using BHAT® System, CPC Blitz
Sonia James- CPC -10/29/2016- Using BHAT® System, CPC Blitz, CCO Q&A Webinars, Practice Exams
Donna Pike- CPC -10/29/2016 -Using BHAT® System, CPC Blitz, CCO Q&A Webinars, Practice Exams
Karla Valentin- CPC– 10/29/2016- Using BHAT® System, CPC Blitz, CPC Course, CCO Webinars, Practice Exams
Tamara Wilhelm- CPC -11/05/2016 -Using BHAT® System
Alaina Axford-Moore- CPC -11/05/2016- Using BHAT® System, CPC Blitz, Practice Exams
Navkiran Dhaliwal- CPC -11/05/2016 -Using BHAT® System, CPC Blitz
Marie Davis -CPC -10/22/2016 -Using CPC Course (PBC), MTA Course
Seethal Paul -CPC -11/09/2016 -Using CPC Blitz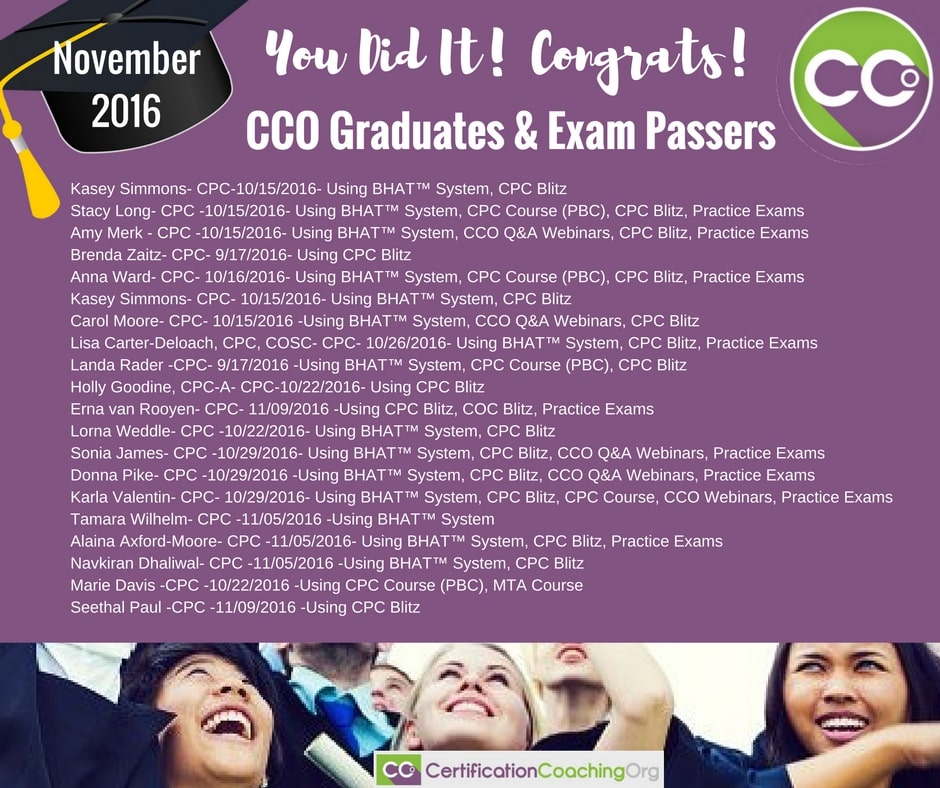 Related CPC Exam Passers and CCO Graduates: