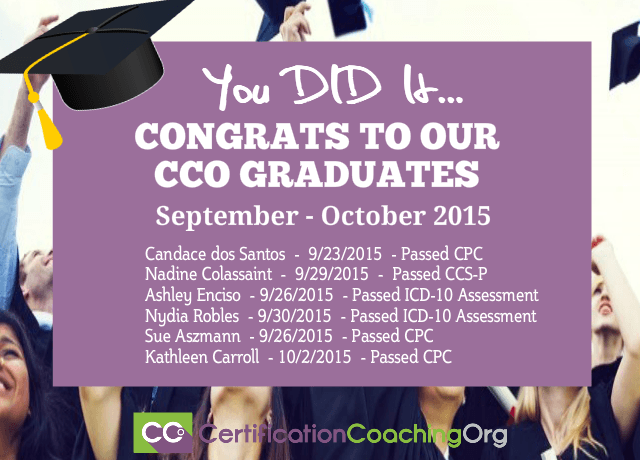 "Whatever you can do, or dream you can, begin it.  Boldness has genius,
power and magic in it." –Johann Wolfgang von Goethe
Congratulations to our new 2015 CCO exam passers! Six (6) of our CCO graduates are among the 2015 ICD 10 Proficiency Assessment Exam and 2015 CCS-P and CPC Exam passers. Doing well in exams are the only shortcut to success. Well done!!!
You have walked a long way toward this goal but you have successfully managed. The horizon leans forward, offering you space to place new steps of change. And always make the motto of your life to never settle for anything but the best. That's the only way you'll excel and leave behind the rest. Congratulations. BIG shoutout to:
Candace dos Santos 9/23/2015 Passed CPC

Nadine Colassaint 9/29/2015 Passed CCS-P

Ashley Enciso 9/26/2015 Passed ICD-10 Assessment

Nydia Robles 9/30/2015 Passed ICD-10 Assessment

Sue Aszmann 9/26/2015 Passed CPC

Kathleen Carroll 10/2/2015 Passed CPC
Related CCO Graduates & Exam Passers Post: