The April 2014 Medical Coding Certification Webinar Q & A from www. discussed several medical coding topics of interest to medical coders including Breech Birth, Review of Behavioral Health, Podiatry, G0289 & 29877, Interventional Neurovascular, Critical Care, E/M in the ED, and Vascular Coding. The highlights of CodingCertification.Org's product line were discussed.
Here are the Topics Mentioned on the slides:
Coding Certification Q & A Webinar- April 2014
Twitter Chat (optional but fun!) • Twitter Chat Service is up • http://tweetchat.com/room/ccochat • log in to your twitter account first then login to tweetchat • It automatically puts our hash tag #ccochat on all messages
Stay to the End For… • Giveaways • AAPC CEU Index Code for 1 CEU
Poll Poll – How many CCO webinars have you attended?
Jill Zimmerman (passed CPC 3/27/14) Rosetta Del (passed CPC 3/29/14) Susan Honig (passed CPC 3/22/14) Mala Sharma (passed CPC-H 4/2/14) Karen Buss (passed CPC 4/11/14) Anyone else out there who passed recently? Congratulations to…
Medical Terminology & Anatomy Course (MTA) Physician Based Coding Course (PBC) (CPC course) Facility Based Medical Coding (FBC) (CPC-H course) Review Blitz Video Package (included in PBC) Mini-Mock Practice Exams CEU Classes (On Demand) ICD-10-CM MiniCourse or ICD-10 FULL Course Medical Billing Course (PBB) http://CodingCertification.Org/Products Quick Outline of Product Lineup
Slideshare: April 2014 Q&A Medical Coding Webinar
ICD-10-CM Mini Course ○ 40 hour course equivalent ○ using Carol Buck's "Step-by-Step Medical Coding" ● ICD-10-CM Full Course **Payment Plan Now Available** ○ 80 hour course equivalent ○ using "Understanding ICD-10-CM" text by Bowie ● ICD-10-CM Practice Exams ICD-10 Prep CCO Style
Breech Birth Can the ICD-9-CM 652.21 breech birth be used as one of the diagnosis codes when a newborn in seen in the office for the first and second visits? The claim came back invalid code. It was a 2nd or 3rd diagnosis. ANSWER
Please could we do a review of behavioral health, I noticed the E/M and Psychotherapy coding algorithm that appeared in the 2014 CPT manual. Laureen asked me to mention it so that it could be gone over in the next Q&A session. ANSWER Review of Behavioral Health
Poll Poll – What coding credential do you HAVE?
Podiatry The best session at the HEALTHCON 2014 conference was on Foot and Ankle Coding in ICD-10-CM. by David J. Freedman, DPM, FASPS, CPC, CSFAC, CPMA www.icdtenhelp.com ANSWER
G0289 & 29877 REMOVAL OF LOOSE BODIES & ARTHROSCOPY ANSWER G0289 & 29877
Poll Poll – What coding credential do you WANT?
I need some assistance in clearly defining to a group of providers what "Critical Care" consists of. The CPT book, Medicare website and all other resources have pretty much the same information and cite the same examples. ANSWER Critical Care
Poll Poll – What region of the country are you from?
E/M in the ED Emergency Department E/M was an excellent session by James Strafford, CEDC, MCS-P I have a fondness for all things in the Emergency Room. It is an great place to learn a wide variety of diagnosis coding. Mr. Strafford talked about some nuances of E/M coding. ANSWER
Vascular Coding Not Cardio "Vascular Coding" By Caren Swartz, CPC, CPC-H, CPB, CPMA, CPC-I Did you know there was a difference? An intense overview of many types of vascular fields. It was awesome! ANSWER
Like us on Facebook http://facebook.com/CodingCertification http: Help Us Get The Word Out
Follow us on Twitter Subscribe and leave a comment on YouTube Your Testimonials! https://www.cco.us/testimonials Help Us Get The Word Out
Blitz Video Package or 2 CEU Webinars or 1 Hour Session with Laureen Free Drawing! Your Choice of: http://random.org
Questions in the Chat? HELP!
Questions In The Chat ANSWERS
Thanks For Being With Us!
Attendees' questions on various coding topics were answered. Laureen Jandroep, CPC, CPC-I and Alicia Scott, CPC, CPC-I, were the presenters.
More Information about Medical Coding Webinar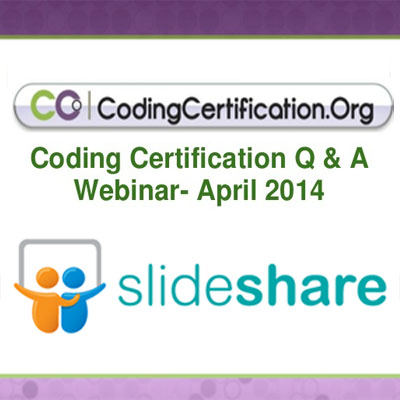 April 2012 Webinar Replay