Slideshare: March 2013 Q&A Medical Coding Certification Webinar.
Coding Certification Q&A Webinar for March 2014 Boyd your webmaster here along with Laureen, Alicia, and special guest Dawn coming in from the new Coding & Billing Course that we have at Coding Certification.
Slide talks about the following:
1. Coding Certification Q & A Webinar – March 2013 Laureen Jandroep, CPC Sr. Instructor, CodingCertification.Org
2. Twitter Chat•  http://tweetchat.com/room/ccochat•  Who will have the most tweets? :)•  Poll
3. Who is Laureen?• Graduated with a Bachelors in • Sold Online School which is now operated Occupational Therapy by AAPC• Owned and Managed Rehab • Currently works full time for 3M HIS/ Agency CodeRyte as a Clinical Development• Owned and Managed Medical Specialist Billing Company • Teaches Coding Certification Review Blitz• Owned and Managed Billing and as well as other coding seminars. Coding School – brick and mortar • Has taken and passed the CPC, CPC-H, as well as online CCS-P, CCS, RCC and currently maintains• Started National Coding her CPC, CPC-I and new CPPM credentialsDiscussion List "Coding & • Married since 1989 with 5 kids (1 grownReimbursement Network" – now step-son and 4 little onesthe CCO-L age 7 and under.
5. Who is Alicia?•  Held several jobs in the medical field from, CNA, EMT, Pharmacy technician and Medical Records Abstractor, Analyst and Nursing.•  Joined the AAPC and became certified as a CPC in 2011•  Working towards Masters in Healthcare Administration with an emphasis on education.•  Former Instructor at a private college teaching medical coding and billing and medical law and ethics.•  Working now as a remote Medicare Advantage Coder for Optum.•  Alicia will tell you that not only does she love medical coding but she has a passion for teaching it.•  Presently Alicia lives in West Texas and is married with six children (no that is not a typo!)
7. Who is Boyd?• Master of Ceremonies for CCO Q&A Webinars• Web Administrator for CodingCertification.Org• Business coach
8. And the rest of the CCO Webinar Team? Abdi Shakur – Social Media Associate Ruth Sheets, CPC-A, Administrative Specialist Sylvia Ann Wiegand, Administrative Assistant – Helpdesk Read More https://www.cco.us/about-us/
9. PollPoll – How manywebinars is this foryou?
10. Stay to the End For… •  Course & Webinar Updates •  Giveaways and •  Special Coupon Codes
11. Congratulations to…Dalene Binkley, CCS-P (passed 2/23/13)Jennifer Howard (passed 3/7/13)Brandy Blue-Smith (passed 2/28/13) Anyone else out there who passed recently?
12. New Certified Physician Practice Manager!I recently passed the CPPM® -Certified Physician Practice Manager – exam! Anyone else thinking of getting this credential? (Poll)
13. Quick Outline of Product LineupMedical Terminology & Anatomy Course (MTA)Physician Based Coding Course (PBC)Review Blitz Video Package (included in PBC)150 Question Downloadable Practice Exam (included in PBC)Combo MTA + PBC Course (includes all of the above)NEW – Facility Based Medical Coding (FBC) (CPC-H course)CEU WebinarsICD-10-CM MiniCourseCodingCertification.Org/Products
14. Student Case Studies Our Special Guest Tonight… Brenda Moonyham, CPC-A CCO MTA Student Graduate Current ICD-10 Mini-Course Student
15. PollPoll – Are you certified?
Slideshare: March 2013 Q&A Medical Coding Webinar
16. CPC-H® Course Opening Next Month! Our Facility Based Coding (FBC) Course is built and accepting students NOW – will you be one of them? Prepares you for the CPC-H which is Non-Inpatient Hospital Coding. Anyone else thinking of getting this credential?(poll)
17. Coding Manuals Sandy stated, "I am thinking about a career in medical coding and have heard that I will need to purchase manuals. When I looked into this it seemed there were a lot of different types. Where do I start?" ANSWER
18. Code 33975 vs 33975/33404 Question on a recent practice exam I took in preparation for the CPC exam: Patient undergoes construction of apical aortic conduit with an insertion of a single ventricle ventricular assist device. The four options are:a) 33404 – Construction of apical-aortic conduit b) 33975 – Insertion of ventricular assist device…c) 33977 – Removal of ventricular assist device…d) 33975, 33404 ANSWER
19. Poll – Which Organization? Poll – AAPC •  AHIMA •  PAHCS •  Multiple •
20. Drug Abuse vs. Drug Dependence Luna asks "What kind of terminology might you find in a patients record that would indicate abuse vs. dependence?" ANSWER
21. EKG Reimbursement Hi there: Do you know of any way to code and bill for reimbursement On EKGs done at the same time the annual routine visit is done. This year more than ever we are not getting reimbursed. Both the Drs & patients seem to think that the EKG is part of the yearly physical. Thank you. – Anna S ANSWER
22. Modifier for Assistant/RNFA surgery. Hello I have a question, Im having trouble getting my 2nd assistant paid the main surgeon bills charges we bill duplicate charges but 2 assistants from same group help surgeon both assisted my question is for my first assistant I use modifier AS but Im having trouble getting my 2nd assistant paid they state for 2nd assistant I need to use correct modifier but I don't want to use a surgeon modifier because this is an assistant /pa /rnfa even when I appeal with records they state I need to add a correct modifier can you help with this -Stephanie ANSWER
23. Otitis Media Acute vs Allergic .. question is what is the difference between 381.01 Otitis Media Acute and 381.3, Otitis Media Allergic? ANSWER
24. Medicare G0008 vs CPT Hey Laureen, I have taken the exam several times, and there is always several questions that start with or end with "This is a medicare patient" .My questions is for example:Patient seen for a colonoscopy, no history of colon cancer, he is 74 yrs old& a medicare patient. SO …then on the answer choices 2 of them have medicare code G0008, & regular CPT, and the other 2 answers have justregular cpts for screening.If the scenario says medicare do you automatically go to the answers with medicare codes in them??????Thanks!! – Leslie
25. HCPCS Anesthesia Codes With the Blitz.. I believe Anesthesia video or maybe Modifiers video.. You suggested writing the HCPCS anesthesia codes in the guidelines.. but only 5 of them.. Was wondering what the reasoning for those 5 (AA, QS, QX, QI, QZ). I realized they are all administration codes (who administered anesthesia).. are they the more common codes or something? I was also informed that they have added Medicare Reimbursement questions to this years CPC and I'm taking my exam March 30th. Do you have any insight into this recent addition? ANSWER
26. AAPC National Conference •  Come visit us at Booth #108! •  April 14th – 17th Orlando Florida •  Disney World
27. Help Us Get The Word OutLike us on Facebook
28. Help Us Get The Word Out Follow us on Twitter Subscribe and leave a comment on YouTube Your Testimonials! https://www.cco.us/testimonials
29. Free Drawing! Your Choice of: Blitz Video Package or 2 CEU Webinars or1 Hour Session with Laureen http://random.org
30. Questions in the Chat? HELP!
31. Thanks For Being With Us!
So, just for those who need to know – if you test in 2014 for the CPC, will test in ICD – 9. October 1, 2014, ICD 10 goes into effect. Now, in January 1, 2015, ICD 10 will be on the CPC exam, ICD 9. If you are a CPC already, and in 2014 after October 1st, you will be able to sit for the proficiency exam and have a year to do that. So, best to just get it out of the way; if you're already certified, do a Blitz, and go – that you can take that proficiency exam at home;  you can take it at work. It's online.
Find out More Details about Medical Coding Webinar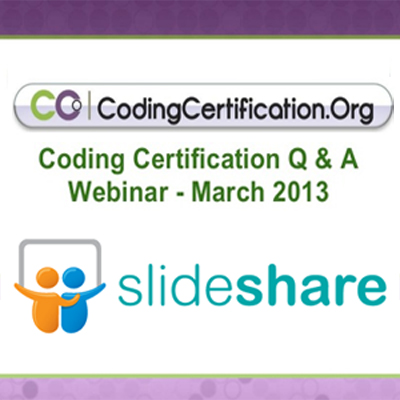 Medical Coding Certification Webinar March 2013 Replay – Video