Monthly Q&A about Medical Coding Webinar and Medical Coding Certification.
Topics Discussed on the Slide:
Coding Certification Q & A Laureen Jandroep, CPC Sr. Instructor, CodingCertification.Org
Twitter Chat• http://twebevent.com/cco• Who will have the most tweets? :)
Coding Certification Webinar OutlineGoals of this webinar:• Answer general questions related to taking and passing coding certification exams• Introduce prospective students to the teaching style of Sr. Instructor, Laureen Jandroep, CPC, CPC-I and the teaching style of Instructor/ Coach Alica Scott, CPC
Answer questions of Coding Certification Review Blitz and Coding Course Students• BONUS – 1 Blitz Package (or CEU Webinar Package) Will Be Given Away to One Fortunate Attendee at the end of the Webinar (must be present to win) •
Who is Laureen?• Graduated with a Bachelors in • Sold Online School which is now operated by Occupational Therapy AAPC• Owned and Managed Rehab • Currently works full time for 3M HIS/ Agency CodeRyte as a Clinical Development• Owned and Managed Medical Specialist Billing Company • Teaches Coding Certification Review Blitz as well as other coding seminars. Coding School – brick and mortar as • Has taken and passed the CPC, CPC-H, well as online CCS-P, CCS, RCC and currently maintains• Started National Coding Discussion her CPC and CPC-I credentials List "Coding & Reimbursement • Married since 1989 with 5 kids (1 grown Network" – now the CCO-L step-son and 4 little ones age 7 and under.
Who is Alicia?• Held several jobs in the medical field from, CNA, EMT, Pharmacy technician and Medial Records Abstractor, Analyst and Nursing.• Joined the AAPC and became certified as a CPC in 2011• Working towards Masters in Health Care Administration with an emphasis on education.• Instructor at a private college teaching medical coding and billing and medical law and ethics.• Alicia will tell you that not only does she love medical coding but she has a passion for teaching it.• Presently, Alicia lives in West Texas and is married with six children (no that is not a typo!)
Who is Boyd?•Master of Ceremonies for CCO Q&A Webinars•Web Administrator for CodingCertification.Org•Business coach
PollPoll – How manywebinars for you?
Stay to the End For… • Course & Webinar Updates • Giveaways and
PollPoll – Are you certified?
Student Case StudyJane Denker- Portland Oregon
Neoplasm Coding A student asked to review ICD Neoplasm codingDocument Camera Time!
Oncology Renee: Need clarification on the proper way to code for infusion of the drug Herceptin J3955, 96413 for 1:30 minutes of infusion. DX: Breast Cancer Scenarios one: The reason for the encounter is for infusion of the herceptin drug for a one time visit. Scenarios two: The reason for the encounter is for infusion of the herceptin drug for a series of visits Should the diagnosis be? a. V58.11, 174.9 b. V58.69, 174.9 c. 174.9, V58.69
Oncology a. V58.11 Encounter for antineoplastic chemotherapy; 174.9 Breast (female), unspecified b. V58.69 Long-term (current) use of other medications; 174.9 Breast (female), unspecified c. 174.9 Breast (female), unspecified; V58.69 Long-term (current) use of other medications ANSWER SHEET
Slideshare: October 2012 Q&A Medical Coding Webinar
Prolonged Services Coding ANSWER SHEET
Preventative Medicine Coding What you should know about coding preventative medicine. (99381-99429) ANSWER
PollPoll – AAPC or AHIMA?
Modifiers and Level II HCPCSHello can you please cover the determiningfact between using Modifers 22, 23, 24, 25etc. and the level II (HCPCS national) is itone goes on e/ m level and the other on theprocedure code ? Thanks LindaModifier Grid Appendix A
E Codes What is an E Code? ANSWER SHEET
Thyroid Lobectomy SurgeryI have a patient who is having a right thyroidlobectomy done. Do I code for a total orpartial?DOCUMENT CAMERA
What is HCC? What is HCC? ANSWER SHEET
Help Us Get The Word OutLike us onFacebook
Help Us Get The Word Out Follow us on Twitter Subscribe and leave a comment on YouTube Your Testimonials! https://www.cco.us/testimonials
Updates? MTA Course! New "Medical Terminology & Anatomy for Medical Coders" course up andrunning for $497 (15 module course) • go at your own pace • access to recorded lectures and tests for one year • includes textbook "Medical Coding & Terminology for ICD-10 Coding" – the only one geared toward medical coder https://www.cco.us/mta And if you need both a medical terminology/anatomy course + a coding course check out our combo deal $1247 or $334.50 x 4 payments!
Updates?• New Front Page• New CPCs?• Testimonials• Independent CCO Instructors
CEU Webinars!Modifiers: E&M:Its All About LocateYourThe Money HEM In Time$ 67 $ 147• 90 Minutes • 3 hours• CEU Approved • CEU Approved www./ceu-webinars
Coding Certification Review Blitz Videos
Free Drawing! Your Choice of: Blitz Video Package or2 CEU Webinars or1 Hour Session with Laureen
Questions in the Chat? HELP!
Thanks For Being With Us!
Updates?Physician Based Medical Coding Course – UpdatesAny students on the call tonight? Hows it going?Send a message in the question box right now…New "Medical Terminology & Anatomy for MedicalCoders" course is up an running.Announcement will be made via list.Continuing Education Webinars (see next slide)
 Find out More about Medical Coding Webinar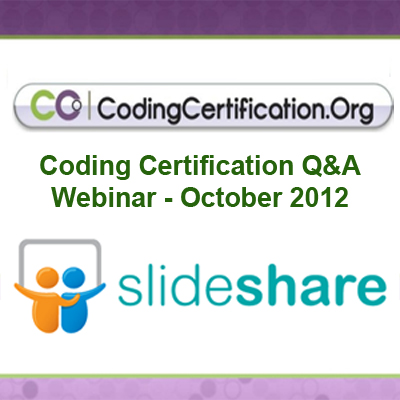 Slideshare: October 2013 Q&A Medical Coding Webinar