Cardiac Catheterization Coding Answer Sheet & Chart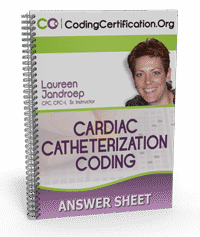 Coding Cardiac Catheterization. First of all what is it? It is a diagnostic procedure.
Prior to 2011 you needed three pieces to code a cardiac cath:
1) catheterization code
2) injection (of dye) code – 1 or more
3) imaging code – 1 or more
Now we have things packaged up differently…
What you need to abstract:
1) congenital or not
2) which side of heart – right, left or both
3) any add on procedures
Being the visual learner I am I had to put this in a chart.
Fill out the form on the right to instantly download this time-saving chart and answer sheet.