ICD-10-CM Review Blitz by CCO
Review, Refine and Refresh Your Knowledge of Diagnostic Coding Systems
Do you feel you need training in ICD-10 but you don't need a full course? Then this ICD-10-CM Review Blitz Component is just for you! This is the perfect way to review, refresh, refine your ICD-10 skills.
Who Can Benefit From This ICD-10-CM Review Blitz:
You need this ICD-10 CM Review Blitz if you're a certified or non-certified medical coder and you still aren't 100% confident in your ICD-10 knowledge. Instead of taking a long detailed full ICD-10-CM course that covers topics you already know, you can invest in this shorter Review Blitz Component to refine your existing ICD-10-CM skillset and learn essential shortcuts to get the job done.
And in case you're wondering, yes! This is the perfect Review Blitz to bridge the gap from ICD-9 coding knowledge to ICD-10-CM knowledge if you're returning to healthcare after an extended absence.
Prepare for certified exams that are related to diagnostic coding questions

Embrace diagnosis coding – the basis of ICD-10-CM coding, as the wave of the future in reimbursement
Discover and study only the parts of ICD-10-CM that you are most likely to be need
Acquire confidence in your overall coding ability, not just with ICD-10-CM
Makes you more marketable as a medical coder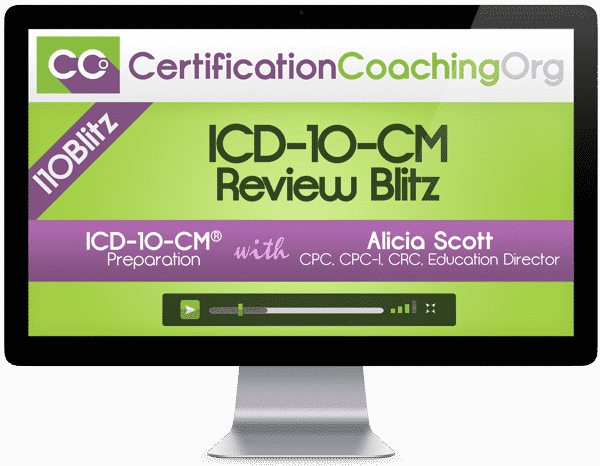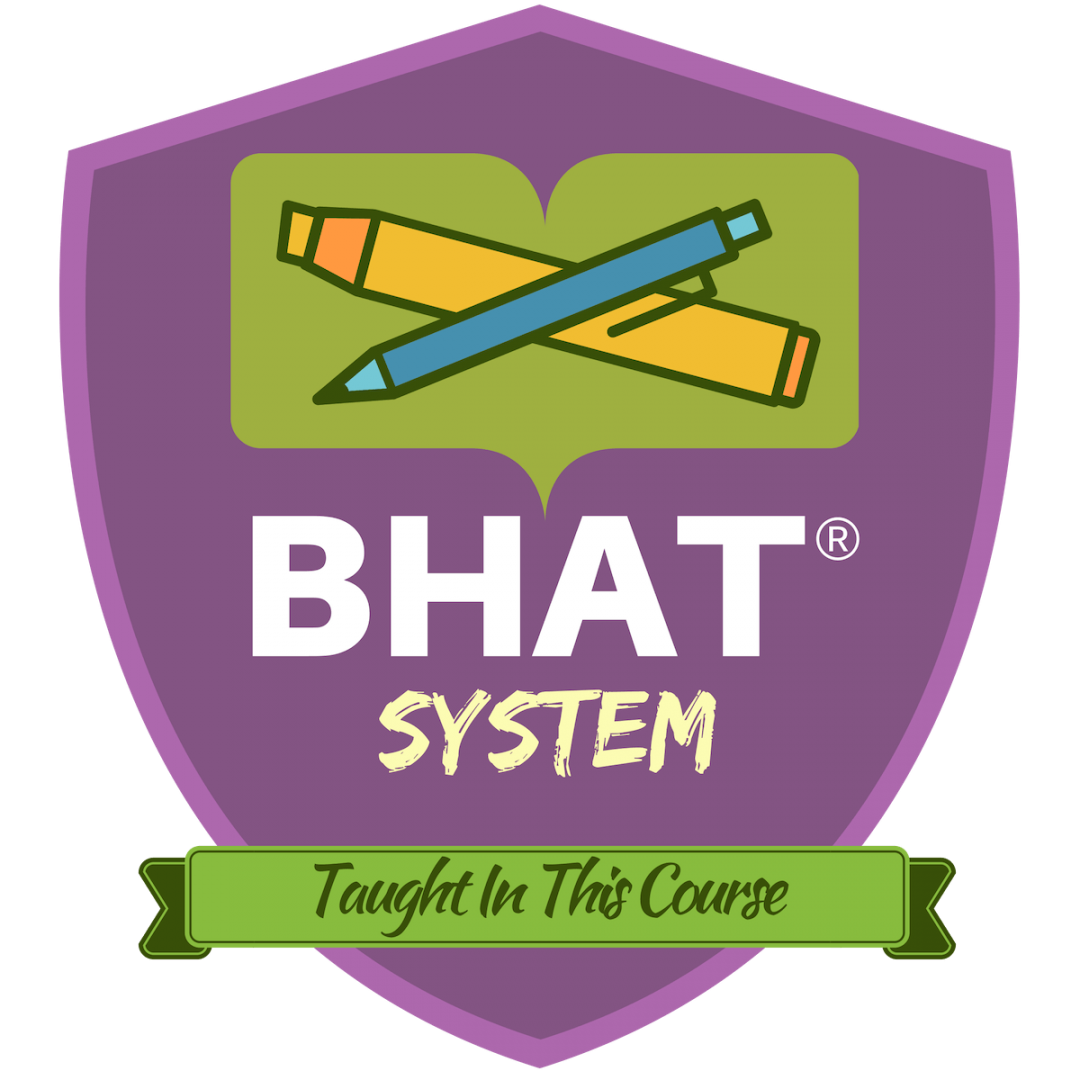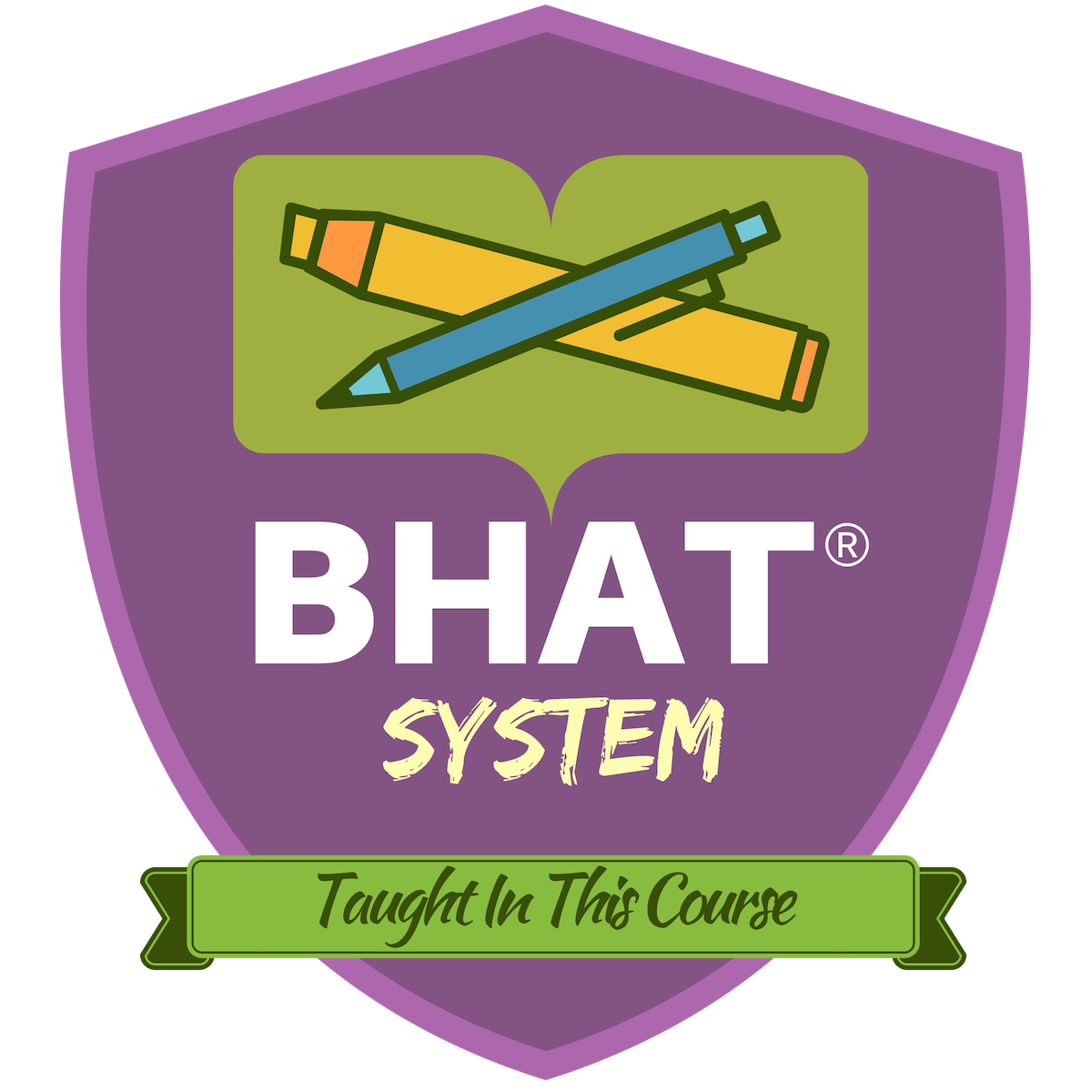 Includes The BHAT® System
BHAT® (pronounced 'bat') stands for "Bubble, Highlight and Annotate Technique". This is a proprietary system, which is used in connection with our educational services, created by Laureen Jandroep in 1999 that uses bubbling, highlighting and annotation techniques to help students quickly find key answers in their manuals during the open book CPC® exams.
Instead of flipping back and forth between pages where the guidelines are, the answers are right next to the codes when a student takes the board exam. Students have stated the BHAT® system gave them the confidence they needed to pass the exam. Another plus: the BHAT® system also helps coders in their day to day coding work! [Learn More]
What You Can Expect From Our ICD-10-CM Review Blitz
20 Hour Training
Your instructor will cover each ICD-10 section. That's 8 modules and over 20 hours of video training. All videos are available 24 hours a day, 7 days a week for self-paced study.
Self-Paced, Online Review Blitz
All our Review Blitzes are available 24 hours a day, 7 days a week from any internet-enabled device. You can learn at your own pace and rewind whenever necessary to re-learn topics.
9 Months of Continuous Access
We include 9 months (270 days) of continuous access to the Review Blitz. If you decide to take a break, you can always return anytime within those 9 months to pick up where you left off.
Easy to Understand Style
We know it can be hard to learn coding material. That's why we pride ourselves on our "easy to understand" teaching style. Keeping you engaged and learning is our top priority.
ICD-10-CM Case Studies
Want to see ICD-10 in action? Great, because we've included some good old fashioned case studies. We provide one case study inside each one of our 8 modules to help drive the lessons home.
ICD-10-CM Mini Review
We also are going to give you the original ICD-10 Mini Review that CCO created. This Review Blitz was more thorough, so it replaced the ICD-10 mini. Then Laureen said, "Why don't we just give them both?"
ICD-10-CM Decision Trees
We've also included access to ICD-10-CM Decision Trees that will make it much easier to pick the correct ICD-10-CM code. We think this is a pretty big deal that will make your job much easier.
ICD-10-CM Extras & Bonuses
We have a whole lot of extras for you. We have gathered ICD-10 content from our YouTube channel and the Q & A webinars we present monthly. We have included it in this review for easy access.
End of Chapter Quizzes
We include a small quiz that you take at the end of each module to get additional practice. This results will go to your coach so you can gain some some feedback and help.
ICD-10-CM Flash Cards & Study Table
What are Flash Cards & Study Tables? We don't want to spoil it but we will say this: they're fun! Think of them as reverse Flash Cards that can be shuffled on your screen. Our students love them and we hope you do, too.
Live Group Webinars
Our instructors meet with many students on a live "group webinar" via video conferencing to answer all Review Blitz and career questions. As a Review Blitz student you're invited to call or log in and ask questions during the live event.
Student Support Forums
Our Student Support Forums are where students, staff and instructors can meet virtually inside a private discussion area to ask questions or simply chat about Review Blitz topics and news.
Meet Your Certified ICD-10-CM Review Blitz Instructor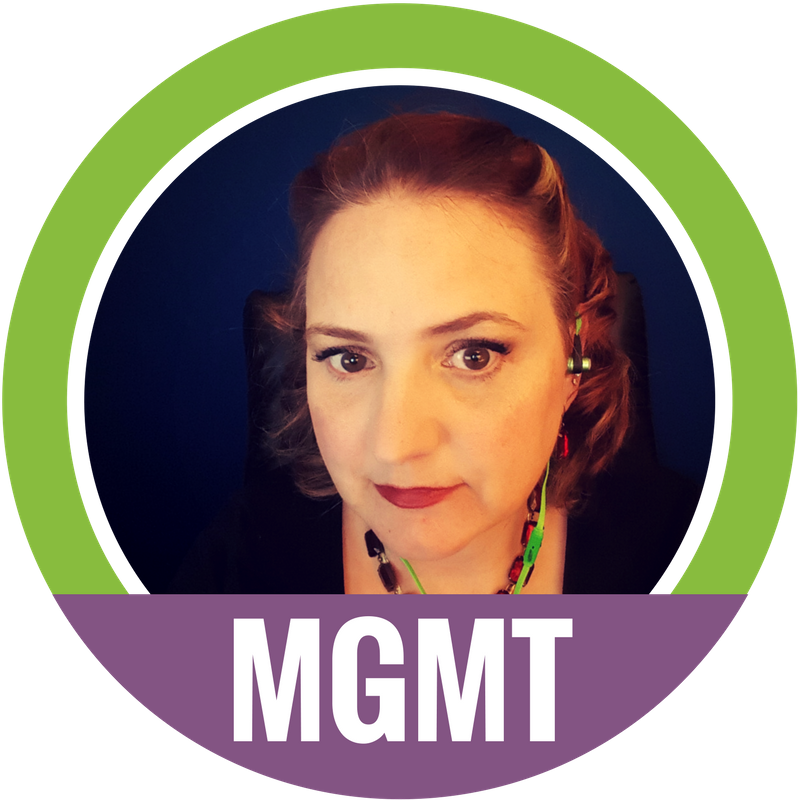 Alicia Scott
CPC, CPC-I, CRC, CCO Education Director
Alicia has been working with medical coding for almost ten years. Through the years she has held several jobs in the medical field from, CNA, EMT, Pharmacy technician and Medical Records Abstractor and Analyst. She joined the AAPC and became certified as a CPC® in 2011, a CPC-I® in 2013 and a CRC® in 2015.
Alicia lived in West Texas but has moved back to Missouri where her husband is attending Concordia Seminary. While in Texas she taught medical coding, billing and medical law and ethics at a private college. During her time in Texas she also did contract work in HCC ICD-10-PCS and discovered she really enjoyed ICD work. Because she loves to learn, Alicia is working towards her Masters in Health Care Administration with an emphasis on education. Having taken many online classes through the years to complete her degree she feels very comfortable with both face to face and online learning. Alicia will tell you that not only does she love medical coding but she has a passion for teaching it.
ICD-10-CM Review Blitz Contents
ICD-10-CM Core Material
Introduction & Info | ICD-10-CM Conventions- Part 1
Introduction & Info | ICD-10-CM Conventions- Part 2
ICD-10-CM- General Guidelines iB
ICD-10-CM- Outpatient Guidelines-IV
Certain Infectious and Parasitic Diseases
Neoplasms
Diseases of the Blood
Endocrine, Nutritional and Metabolic Diseases
Mental, Behavioral and Neurodevelopmental disorders
Diseases of the Nervous System
Injury, poisoning, and certain other consequences of external causes (S00-T88)
External Causes of Morbidity (V00-Y99)
Factors influencing health status and contact with health services (Z00-Z99)
ICD-10-CM Core Material
Diseases of the Eye and Adnexa (H00-H59)
Diseases of the Ear and Mastoid Process (H60-H95)
Diseases of the Circulatory System (I00-I99)
Diseases of the Respiratory System (J00-J99)
Diseases of the Digestive System (K00-K95)
Diseases of the Skin and Subcutaneous Tissue
Diseases of the Musculoskeletal System and Connective Tissue (M00-M99)
Diseases of Genitourinary System (N00-N99)
Pregnancy, Childbirth, and the Puerperium (O00-O9A)
Certain Conditions Originating in the Perinatal Period (P00-P96)
Congenital malformations, deformations, and chromosomal abnormalities (Q00-Q99)
Symptoms, signs, and abnormal clinical and laboratory findings, not elsewhere classified (R00-R99)
ICD-10-CM Mini Course
An Overview of ICD-10-CM
ICD-10-CM Outpatient Coding and Reporting Guidelines
Using ICD-10-CM
Chapter-Specific Guidelines (1-10)
Chapter-Specific Guidelines (11-14)
Chapter-Specific Guidelines (15-21)
ICD-10-CM Decision Trees
Coding Guidelines: ICD-10-CM Annotated by CCO
Coding Cerebrovascular Disease
Coding Diabetes
Coding Glaucoma
Coding Myocardial Infarctions (Heart Attacks)
Coding HIV
Coding Hypertension (HTN)
Coding MRSA/MSSA
Coding Neoplasms
Coding Pain
Coding Psychoactive Substance Use
Coding SIRS and Sepsis
Coding Sepsis Complicating Abortion, Pregnancy, Childbirth, & the Puerperium
ICD-10-CM Coding Blocks
Students Reviews of Our ICD-10-CM Review Blitz
Invest In Your Education Today!


Yes! Please I'd Like to Order The ICD-10-CM Review Blitz
I understand I'll be receiving online access to the entire ICD-10-CM Review Blitz plus access to the BHAT® Cave and other CCO resources listed on this page for a small investment!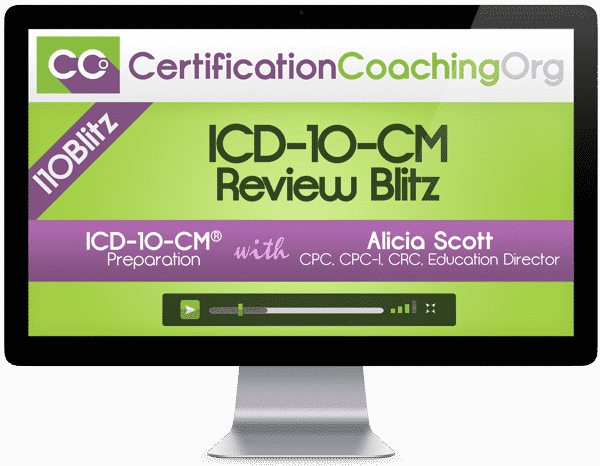 ICD-10-CM Review Blitz
$149
Make a Single Payment Today
24/7 Instant, Online Access
ICD-10-CM Decision Trees
ICD-10-CM Case Studies
ICD-10-CM Practice Exam
ICD-10-CM Mini-Course
ICD-10-CM Extras, Bonuses, Flash Cards & Study Tables
BHAT® Cave
Live Student Webinars
Student Support Hub (SSH) Forum Support
9 Months of Access
Books/Manuals Not Included. See Required Books
Here
.
ADD TO CART
Need to Learn ICD-10-CM from Scratch?
Frequently Asked Questions
Is a Textbook Needed for the Certified ICD-10-CM Review Blitz?
Yes. This training requires the separate purchase of manuals. Please see the list here.
Are There Any CEUs Included?
No, there are no CEUs included with this Review Blitz. If you need CEU's, please consider joining the CCO Club. https://www.cco.us/club/
Videos can only be played while connected to a high-speed internet connection. We do not allow videos to be downloaded or played offline.
When Will the ICD-10-CM Review Blitz Be Available for Viewing?
The ICD-10-CM Review Blitz is already complete and live. You can watch them immediately after ordering.
Is This Review Blitz Structured Like a Bootcamp or Live Webinar?
No, all the lessons have been pre-recorded by our Certified Instructor and will be available for replay via any modern internet-enabled device.
What Is the Refund or Cancellation Policy?
Due to the instant availability of internet-based training, CCO does not provide refunds or cancellations on any of our products including Courses, Review Blitzes, Practice Exams, Bundles, CEU Classes, Combos or CCO Club payments.