Medical Auditing Review Blitz
Review, Refine and Refresh Your Knowledge of Medical Auditing
Are you a coder that wants to learn more about auditing? Maybe you're an auditor and you're finally going after that CPMA® auditing credential through AAPC. Either way, we've got a product for you here at CCO. Hi there, my name is Chandra Stephenson, I'm the program director at CCO and I wanna talk to you for just a minute about our Medical Auditing Blitz. The Medical Auditing Blitz is the latest in our Blitz Products. If you've not seen our Blitz before, the Blitz Products are intended to be a review course. Once you've either had a full course geared at a certain credential or if you've got quite a bit of experience in a particular field, but you want a short, little review of everything that's gonna be on the exam, our Medical Auditing Blitz is just that. Let's take a look and see what all is included in this particular product.
With the Medical Auditing Blitz, the focus is on the breakdown of the CPMA® exam. We're gonna talk about the six sections included according to the AAPC website. We actually go through each one of these in great detail and cover all of the pieces included according to the AAPC site for what's on the exam. When I say the AAPC site, we talk through the exam structure, question breakdown, tips for preparing, why you wanna go after this credential, who auditors are, what they do, all the different types of auditing available out there. But this is what I really wanna focus on. We give you the breakdown section by section by section. We tell you right up front how the exam is structured, what the requirements are, how long you have to take the exam, if it's proctored or not, if you get a free retake, what the cost is, and everything ties back to the AAPC sales pages. So we show you right here, this is one of my favorite slides, right, we show you the breakdown of the exam, how many questions, or what percentage of the exam is in each area. And then if we take a look, I'm gonna show you the sales page that I'm talking about on the AAPC website where they talk about their certification exam. For example, according to the AAPC page, if we look down here, here are the six sections that we have said on our slides we're covering, right? That we're gonna go through as part of the Medical Auditing Blitz. What we then do is we go through each one of these sections in detail. If you expand it, they tell you how many questions and the topics. We cover each of these topics. We go through the pertinent facts that you need to know about each one, and we give you more resources to go look at to make sure that you have that information. We step section by section through here, make sure that we cover every single topic that's addressed on the certification exam.
So if you are a coder looking to get into the auditing field, you're an auditor, you're wanting to get that certification, you've got experience in the field, or you've been through a full course, the Medical Auditing Blitz is probably for you. If you're a coder and you wanna know more about auditing but you're not sure you wanna take a full course, again, the Medical Auditing Blitz may be right for you, because it'll tell you all of the different areas included and give you a baseline of where to start your studies if you haven't already reviewed those materials. If you've already reviewed it, it's a great summary to go back through everything and make sure you learned all the important and pertinent pieces that you'll need for certification. So I hope this answers some of the questions that you've had about the CPMA® and the Medical Auditing Blitz, and hope to see you in a future course very soon. Happy learning!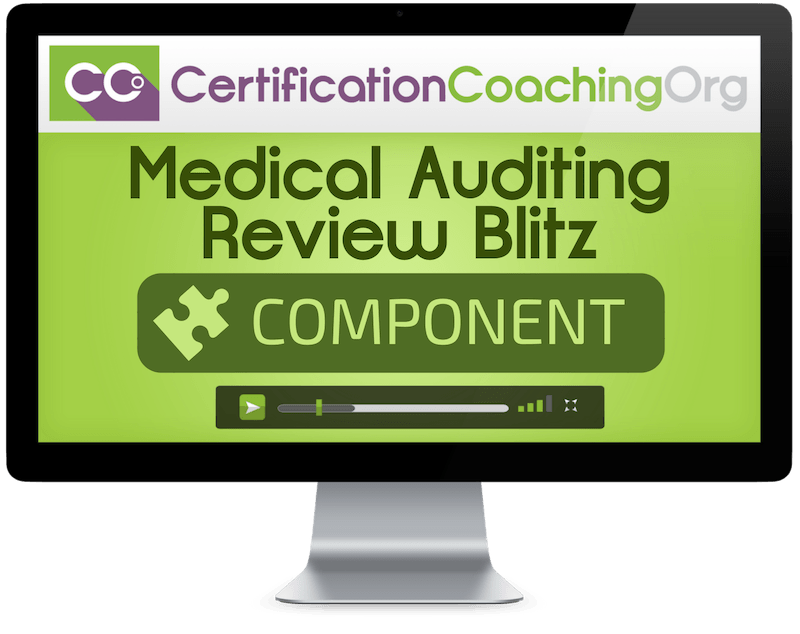 Chandra – seriously, you are awesome. Your ability to take a ridiculous amount of info and cram it into a Blitz BUT still educate on everything necessary for the exam is a true talent. Took me 4 hours to complete the test and walked out feeling very confident all because of the Medical Auditing blitz. Thank you so much!
Our Medical Auditing Review Blitz videos provide a succinct and thorough explanation of Medical Auditing that will help you bring your skills up to speed for your current or upcoming CPMA® Exam.
In addition to the Medical Auditing Review Blitz videos, we also provide access to the Agenda, Handouts and PowerPoint handouts.
This Medical Auditing Review Blitz is Perfect For…
Medical Coders Wanting a Quick Refresher on Medical Auditing

Medical Coders Looking to Enter the Medical Auditing Field

Medical Coders That Took a Course Elsewhere But Don't Feel Ready for the Exam Yet

Medical Auditors Taking their 1st, 2nd or 3rd CPMA® Exam and Looking for Valuable Tips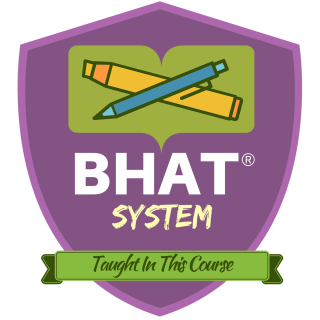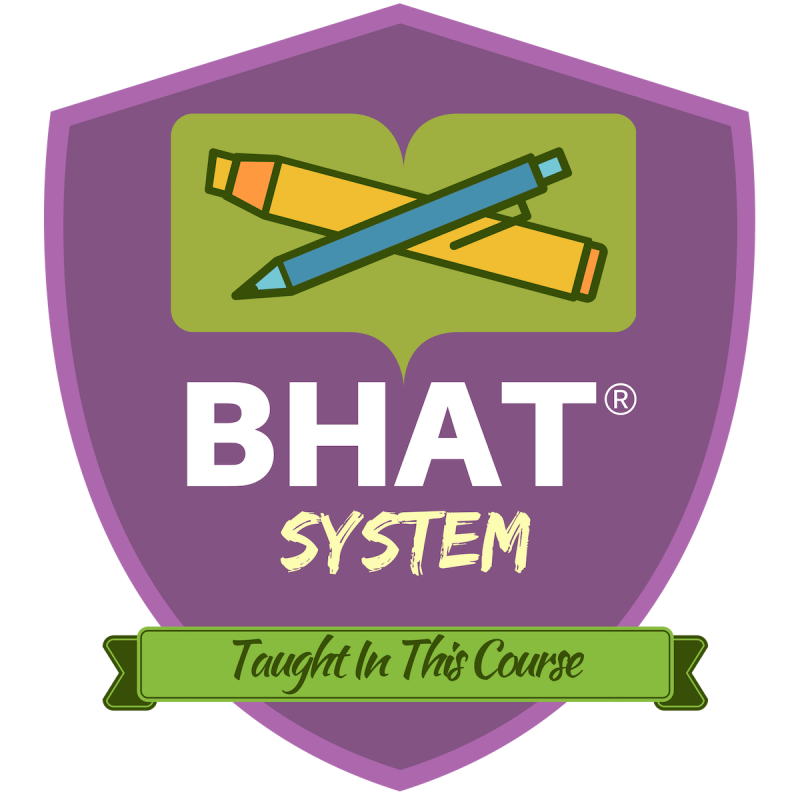 Includes The BHAT® System
BHAT® (pronounced 'bat') stands for "Bubble, Highlight and Annotate Technique". This is a proprietary system, which is used in connection with our educational services, created by Laureen Jandroep in 1999 that uses bubbling, highlighting and annotation techniques to help students quickly find key answers in their manuals during the open book CPC® exams.
Instead of flipping back and forth between pages where the guidelines are, the answers are right next to the codes when a student takes the board exam. Students have stated the BHAT® system gave them the confidence they needed to pass the exam. Another plus: the BHAT® system helps coders in their day to day coding work after the exam as well! [Learn More]
What's Included In The Medical Auditing Review Blitz
Medical Auditing Review Blitz Contents
Module 1: Exam Overview and Exam Breakdown

Module 2: Medical Record Standards and Documentation Guidelines

Module 3: Coding and Documentation Compliance Guidelines

Module 4: Coding and Reimbursement Concepts

Module 5: Scope and Statistical Sampling Methodologies

Module 6: Medical Record Auditing and Abstraction

Module 7: Category Risk Analysis and Communication

Module 8: Wrap Up
Payment Methodologies Mind Map

Certified Professional Medical Auditor Handouts

Certified Professional Medical Auditor Agenda

Certified Professional Medical Auditor PowerPoint Slides

CPMA® Exam Preparation Tips

Detailed Exam Breakdown by Area
Meet Your Certified Instructor for the Medical Auditing Review Blitz
Chandra Stephenson 
CPC, CIC, COC, CPB, CPCO, CPMA, CPC-I, CCS, CANPC, CEMC, CFPC, CIMC, CGSC, COSC, COC, CCO Program Director
Chandra has over 13 years coding and auditing experience and holds many certifications through the AAPC and AHIMA. She is a National ICD-10 Trainer for AAPC and served as a representative for the Great Lakes Region on the AAPC's 2013-2015 National Advisory Board. She offers extensive experience in centralized billing, family practice, cardiology, GI, mental health, anesthesia, and multi-specialty environments. She has worked as an adjunct college instructor in medical coding, a compliance auditor for one of the largest healthcare systems in Indiana, and as a Big 5 consultant.
Student Reviews: We Love Our Students, And They Love Us
So glad I took the time to take your Medical Auditing Blitz course, I passed on my first attempt. The Material covered was spot on, so anyone out there has second thoughts about the Medical Auditing Blitz just stop and do it.
The Medical Auditing Blitz was key in my preparation. I felt confident while taking the exam and finished with time to spare. I only wish I had learned of CCO earlier.
The Medical Auditing Blitz explained the material in the AAPC study guide from a different perspective, and the combination of the two gave me everything I needed to pass the CPMA® exam. Thank you for the knowledge and confidence that I needed!
I passed the CPMA® exam on the first try!!!
It was an excellent learning experience and knowledge enhancer. I would credit my success to we'll structured curriculum, dedicated and experienced instructors. I would highly recommend students who are planning to take the CPMA® Exam to enroll in this program. I was able clear this certification in my first attempt. I would like to Thank CCO and I hope to get more certifications In future.
Salary Data Reveals That More Credentials = Higher Salary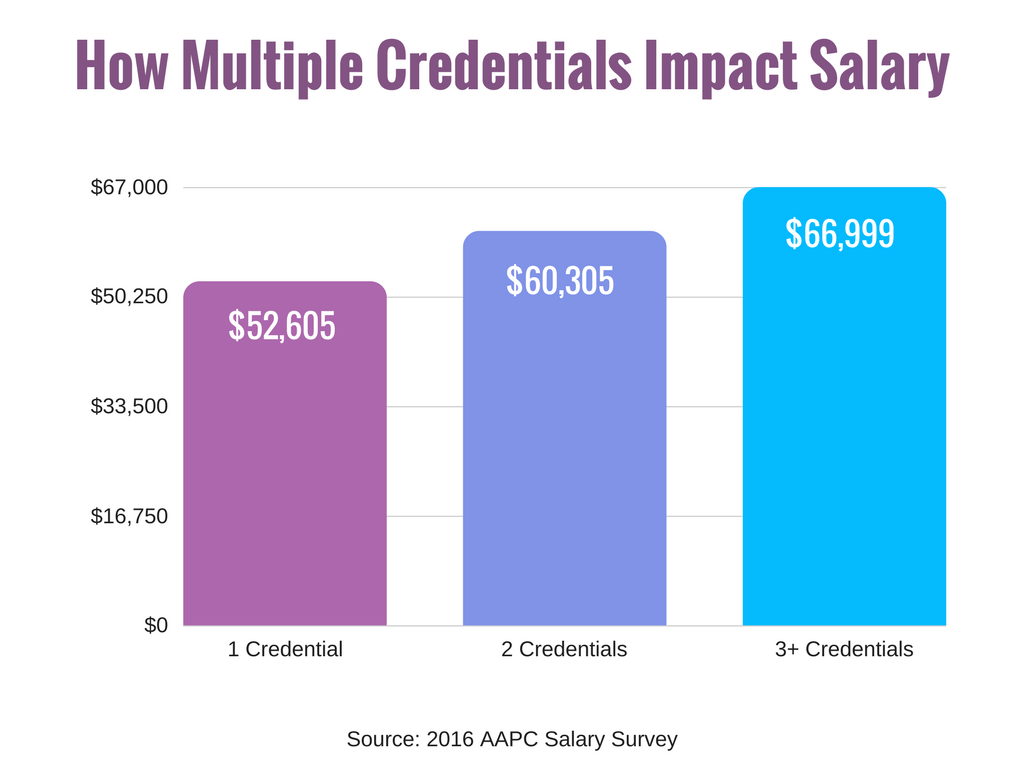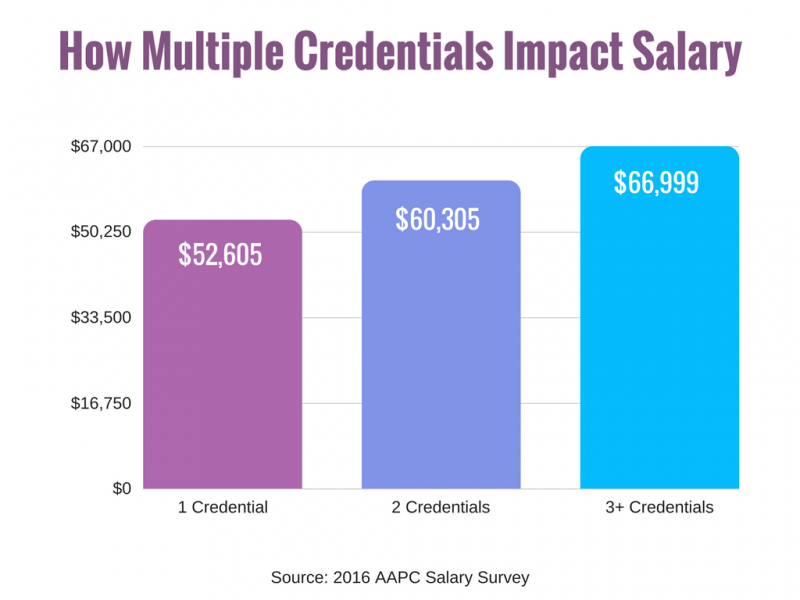 A recent salary study by the AAPC revealed that the more AAPC credentials you carry, the higher your salary. It's also common for peers to place greater value and trust on individuals with more credentials. In case you're curious, here are the average salaries for medical business professionals with one, two and three credentials.
Invest In The Medical Auditing Review Blitz Today!
Medical Auditing Review Blitz
One Payment Today
9 Months of Access
24/7 Instant, Online Access
Student Support Hub
BHAT® Cave Included
Books/Manuals Not Included. See Required Books Here.
Frequently Asked Questions
System Requirements for Streaming Video
Our members area offers online streaming videos that are fully compatible with the newest web browsers from Internet Explorer, Firefox, Chrome and Safari. Older versions of web browsers will not work since they do not support HTML5 or modern video files.

CCO only supports the Chrome Web Browser which can be downloaded for free here.

We recommend a modern Computer, Laptop or Tablet and a high-speed internet connection to experience smooth streaming playback of our HD videos. Slower computers (pre-2010) and internet connections will result in choppy playback and browser errors.

Newer iPhones and iPads are fully supported.

Android devices are not officially supported, but students report the videos play well on them.

Finally, don't stress the tech stuff too much. Our friendly support team is always here to help you on your medical coding journey.