Inpatient Coding Review Blitz
Review, Refine and Refresh Your Knowledge of Inpatient Coding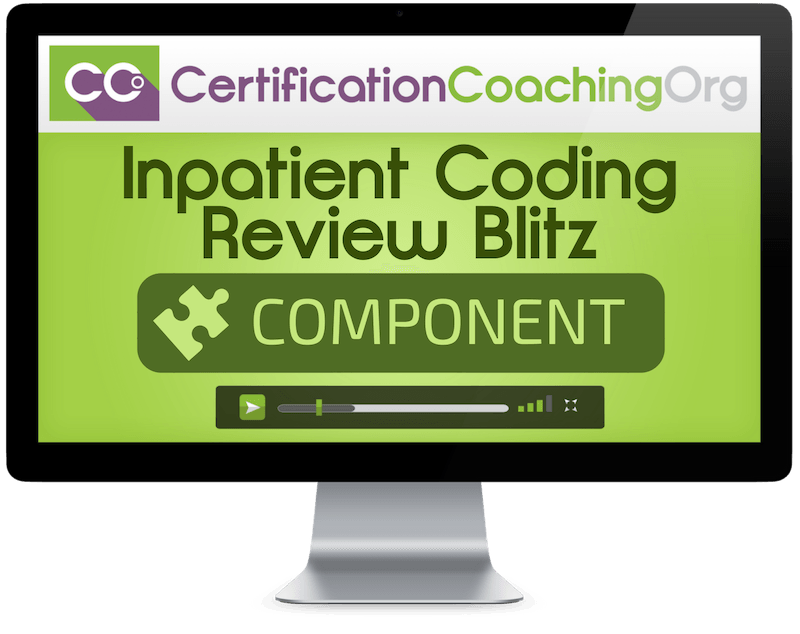 Best Inpatient Coding Exam Prep On The Market?
Our Inpatient Coding Review Blitz videos provide a succinct and thorough explanation of Inpatient Coding and Methodologies that will help you bring your skills up to speed for your current or upcoming CIC® Exam.
In addition to the Inpatient Coding Review Blitz videos, we also provide access to the Agenda, Handouts and PowerPoint handouts.
So are we the best Inpatient Coding Exam Preparation on the market? We certainly think so. And after comparing our value-packed 'extras' and price, we're certain you will too.
What's the Difference Between the CPC®, COC® and CIC® Credentials?
Salary Data Reveals That More Credentials = Higher Salary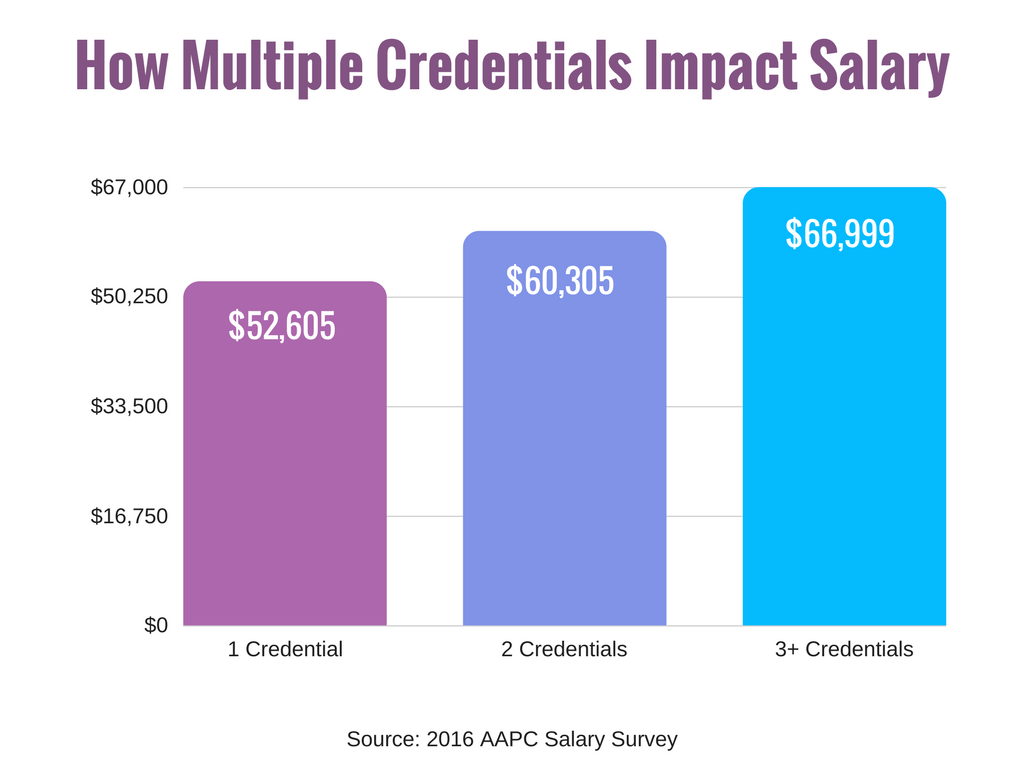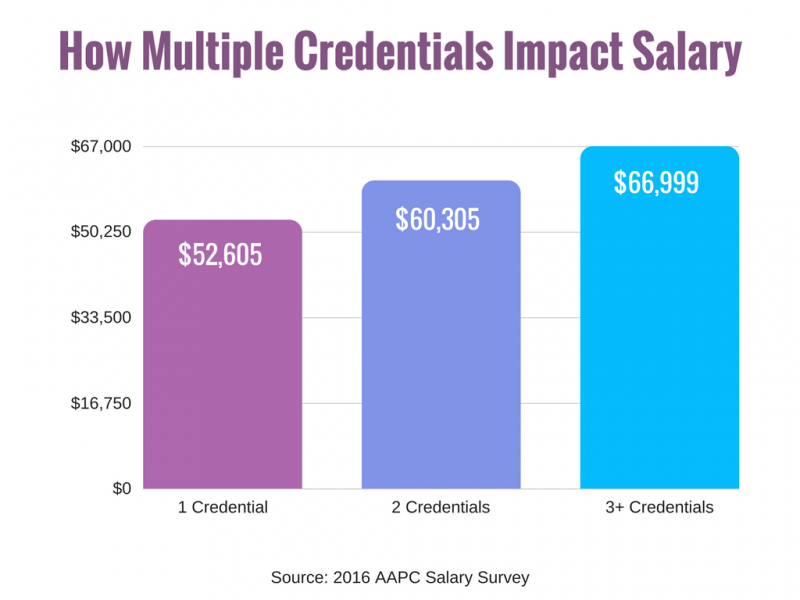 A recent salary study by the AAPC revealed that the more AAPC credentials you carry, the higher your salary. It's also common for peers to place greater value and trust on individuals with more credentials. In case you're curious, here are the average salaries for medical business professionals with one, two and three credentials.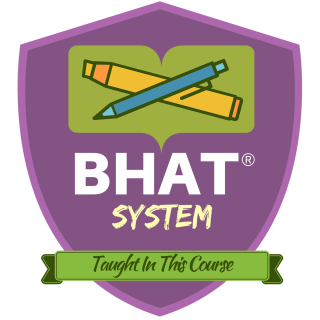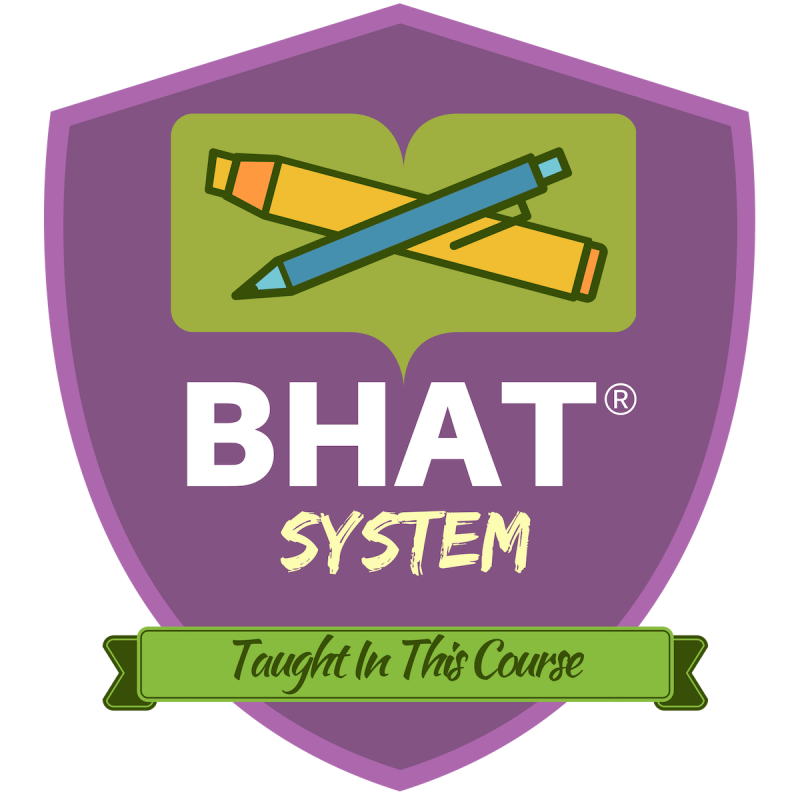 Includes The BHAT® System
BHAT® (pronounced 'bat') stands for "Bubble, Highlight and Annotate Technique". This is a proprietary system, which is used in connection with our educational services, created by Laureen Jandroep in 1999 that uses bubbling, highlighting and annotation techniques to help students quickly find key answers in their manuals during the open book CPC® exams.
Instead of flipping back and forth between pages where the guidelines are, the answers are right next to the codes when a student takes the board exam. Students have stated the BHAT® system gave them the confidence they needed to pass the exam. Another plus: the BHAT® system helps coders in their day to day coding work after the exam as well! [Learn More]
What's Included In The Inpatient Coding Review Blitz
Meet Your Certified Instructor for the Inpatient Coding Review Blitz
Chandra Stephenson 
CPC, COC, CPB, CPCO, CPMA, CPC-I, CCS, CANPC, CEMC, CFPC, CIMC, CGSC, COSC, CIC, CCO Program Director
Chandra has over 13 years coding and auditing experience and holds many certifications through the AAPC and AHIMA. She is a National ICD-10 Trainer for AAPC and served as a representative for the Great Lakes Region on the AAPC's 2013-2015 National Advisory Board. She offers extensive experience in centralized billing, family practice, cardiology, GI, mental health, anesthesia, and multi-specialty environments. She has worked as an adjunct college instructor in medical coding, a compliance auditor for one of the largest healthcare systems in Indiana, and as a Big 5 consultant.
Inpatient Coding Review Blitz Contents
Basics of Inpatient Coding

Facility Operational Flows and Processes

Medical Record Documentation Guidelines – Part 1

Medical Record Documentation Guidelines – Part 2

Pharmacology

IPPS Payment Methodology

Data Mining and Information Technologies
Certified Inpatient Coder Handouts

Certified Inpatient Coder Agenda

Certified Inpatient Coder PowerPoint Slides
Student Reviews: We Love Our Students, And They Love Us
"It definitely got me well prepared"
Just want to let everyone know that I took my CPC exam on December 08 and passed with an 88%. I did an online course so I did not have a teacher in front of me at any time. I attribute much of my success to the Blitz videos because then it felt like a teacher to help me. Laureen is the best! If I can do this at age 54 then anyone can do it! Do not doubt yourself, hard work and hard studying pay off. I did over 750 practice questions to get me ready for this. Not one question was on the exam but I think it definitely got me well prepared along with the "Bubbling and Highlighting" technique. Good luck to anyone studying for the CPC!" – Darlene Bakaj-Wood, CPC-A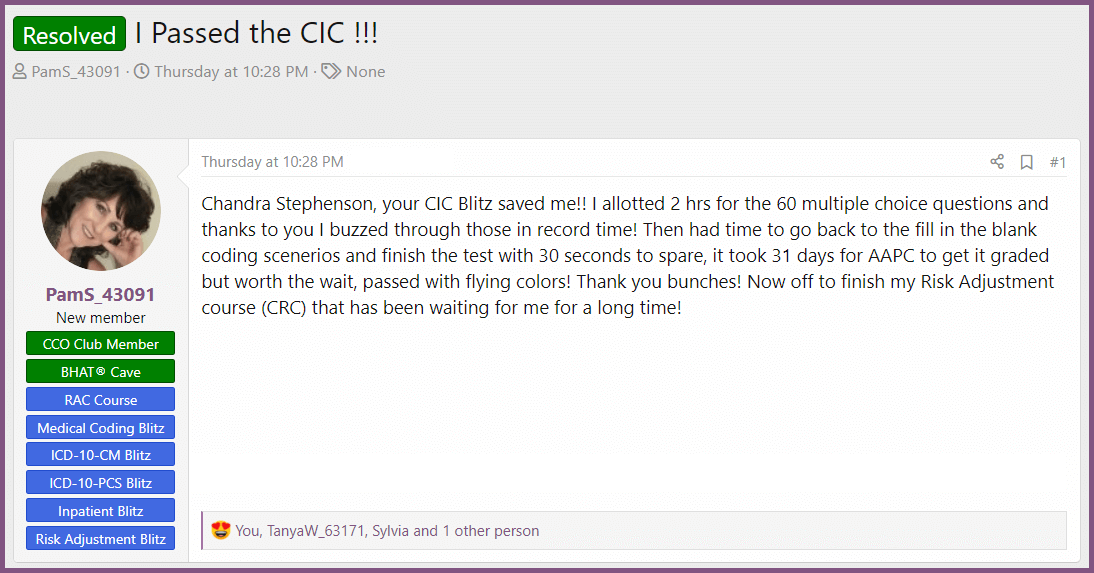 Can you hear me screaming from the roof top??!! I passed my CPC certification on the very first try! I am so thankful for your Blitz videos and practice exams. I just found out today that I actually passed the test.
Just wanted to say that I took my CPC exam in December and I passed. I honestly feel that this course was amazing! I researched coding and found this site and am so grateful that I did. I was nervous about starting an online course. I felt the Blitz was extremely helpful in helping me pass the exam. It is very important to do the Blitz and practice exams. I don't feel like I could have done it without CCO! Thank you.
I passed my CPC exam on first try with 80%. I could not have done this without the Blitz videos and practice exams. The bubble and highlighting really assisted in my getting thru all 150 questions in the allotted time. My thanks to Laureen and the team as I could not have done it without you guys!!
The Blitz along with several practice tests really helped me feel confident when I walked into the exam. I finished with 40 minutes to spare, which I took to go back over the questions/scenarios I wasn't super sure I did all I could to answer correctly. I was able to take some time and change a couple of answers in that extra time. And I PASSED my first time taking the CPC exam!
Much thanks to Laureen and Alicia for your help and support! I passed the first time with an 88%! I feel such a sense of accomplishment! I knuckled down and completed the PBC course and the Blitz. The bubbling and highlighting is superb! Also, the practice exams were very helpful as Laureen and Alicia advised. Alicia's understanding and nurturing coaching style is perfect for me. She was available when I needed her. Looking forward to continuing my studies with both of you.
Invest In The Inpatient Coding Review Blitz Today!
Inpatient Coding Review Blitz
One Payment Today
9 Months of Access
24/7 Instant, Online Access
Student Support Hub
BHAT® Cave Included
Books/Manuals Not Included. See Required Books Here.
Frequently Asked Questions
System Requirements for Streaming Video
Our members area offers online streaming videos that are fully compatible with the newest web browsers from Internet Explorer, Firefox, Chrome and Safari. Older versions of web browsers will not work since they do not support HTML5 or modern video files.

CCO only supports the Chrome Web Browser which can be downloaded for free here.

We recommend a modern Computer, Laptop or Tablet and a high-speed internet connection to experience smooth streaming playback of our HD videos. Slower computers (pre-2010) and internet connections will result in choppy playback and browser errors.

Newer iPhones and iPads are fully supported.

Android devices are not officially supported, but students report the videos play well on them.

Finally, don't stress the tech stuff too much. Our friendly support team is always here to help you on your medical coding journey.