CIC Practice Exam
Carefully Crafted by CCO Certified Instructors to Feel Just Like the Real AAPC CIC Practice Exam. Improve Your Chances of Passing!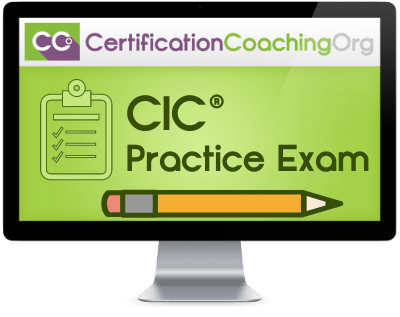 Test Your Inpatient Medical Coding Knowledge With Our CIC Practice Exam
Are you planning to sit for the AAPC CIC Practice Exam and are looking for a way to test your readiness?
Did you fail the CIC® exam and are looking for help with your retake?
Is your new job testing for CIC® Inpatient Coding proficiency?
Don't worry, you're not alone. Hundreds of students have used our CCO Proven Process and CIC Practice Exams to help prepare and pass the AAPC's CIC® Exam.
Why Is Our CIC Practice Exam So Effective?
Unlike other Inpatient coding practice exams in the marketplace, all our instructors are CPC® Certified and many have sat through the original AAPC CIC® Exam. We learned the material in detail and have been working with students for years to help teach them Inpatient Medical Coding. Now we've assembled our knowledge into these CIC® Practice Exams to help prepare for the official exam. Here are a few things you can expect from our tests.
Inspired by the AAPC CIC® Exam
Many CCO Instructors have previously sat and passed the AAPC CIC® Exam. With our combined experience, we have first hand knowledge of what you need to know for Inpatient coding. These practice tests mimic the experience as closely as possible.
Real World Examples
We've gone through a lot of trouble to verify our CIC Practice Exams are accurate and correctly coded. We have each question reviewed by Certified instructors before they're approved. And most of these cases can be seen in the real world.
Answer Rationale Included
You know what's frustrating? Getting a CIC® exam answer wrong and not knowing why. That's why CCO has included full rationale explanations with every CIC® question in our practice exams. So don't worry, if you get any questions wrong, you'll know why.
Instant Online Results
All our Mini-Mock CIC® Practice Tests are immediately available online from any internet-enabled device in the world. So once you've completed the test, you'll immediately know your score.
Unlimited Retakes
All our Mini-Mock CIC® Practice Tests are available online you can retake them as many times as you like. Please note, however, that the questions will not change with each retake.
9 Months of Access
We provide 9 months of access to our Mini-Mock CIC® Practice Tests so there is no need to rush through all the questions at once. You can set your schedule and practice on your own convenience.
Save & Resume Feature
Can't finish the test in one sitting? No worries! We provide a helpful "Save and Resume" feature with every Mini-Mock CIC® Practice Exam so you can stop and resume the test whenever you like.
Certificate of Completion
Once you've passed our Mini-Mock CIC® Practice Exam, you will be able to instantly download a Certificate of Completion which will contain your name, the name of the test and your passing score.
How to Pick the Best CIC Practice Exam?
The CIC™ examination consists of questions regarding the correct application of ICD-10-PCS procedure codes and ICD-10-CM diagnosis codes used for coding and billing inpatient facility/hospital services to insurance companies.
The best CIC® practice exams should be able to fully prepare its examinee for the real medical inpatient condig exam. It's critical that important topics and questions are clearly laid out so examinees are not surprised on the day of the exam.
The AAPC CIC® exam is 60 multiple choice questions and 10 inpatient cases fill in the blank (proctored) and must be completed in 5 hours and 40 minutes or less.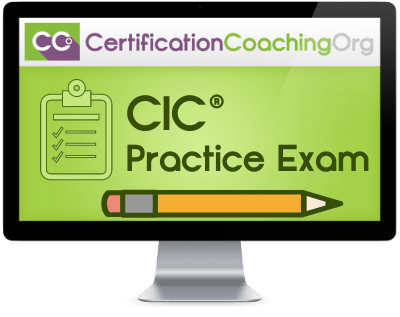 There Are Eight Areas Covered in the Official CIC® Exam
Medical Record and Healthcare Documentation Guidelines
Recognize the limitations of EHR and how downtime is handled
Identify documentation deficiencies caused by copy/paste and use of templates
Understand HIPAA security and privacy
Understand the reporting requirements under MDS
Demonstrate proper procedure for addendums and alterations to the medial record
Identify components of the medical record
Identify the length of time the provider has to document services
Understand the requirement for timely documentation
Recognize and properly code for procedures performed at the bedside
Understand the reporting requirements under UHDDS
Understand Joint Commission (JC) requirements for documentation
Compliance
Explain external payer audits process and responsibilities of hospital staff
Explain internal audits and how they relate to compliance plans
Know how to interact with auditors during an onsite audit
Identify audit targets on the OIG work plan
Explain the CERT audit process and requirements for response to a request for records
Understand the PEPPER report and how it is utilized.
Identify examples of fraud and abuse
Explain the MAC audit process
Identify services approved for audit by the RAC auditors
Explain the Medicare appeal process and discuss requirements at each level
Explain the RAC audit process and requirements for response to a request for records
Medical Terminology, Anatomy and Pathophysiology
Understand medical terminology and anatomy
Understand pathophysiology to capture correct codes and identify documentation deficiencies
Recognize medications and conditions/diagnoses they are used to treat
Inpatient Coding
Identify benefits of Computer Assisted Coding (CAC)
Explain what natural language processing is and which departments in the hospital use it
Apply Coding Clinic guidance to inpatient coding
Identify correct ICD-10-CM and ICD-10-PCS codes for cases done
Identify proper procedure to look up DRG (eg, book, grouper)
Understand emerging roles for inpatient coders (DRG validator, auditor)
Identify conditions POA and use of indicators
Outpatient Payment Methodology
Identify differences between outpatient and inpatient payment methodologies
Explain coding requirements under OPPS: Pass through payments
Explain coding requirements under OPPS: APCs and Status Indicators
Regulatory and Payer Requirements
eview LCD/NCD and apply the policy to inpatient coding
Identify services covered by Medicare Parts A, B, C, D
Explain proper execution of the ABN and HINN
Review private payer policy and apply to inpatient payment
Identify precertification requirements
Inpatient Payment Methodologies
Recognize proper procedure for compliance with the 2 Midnight Rule and certification requirements
Understand different bill types
Identify information found in a charge master
List examples of auto population of services using a charge master
Explain requirements to maintain and monitor the chargemaster
Understand the role each department plays in chargemaster maintenance
Understand the 72 hour rule (24 hour for other types of inpatient services) and how services occurring prior to admit are reported
Identify different types of disposition and the impact on coding
Calculate base payments for DRGs
Identify elements needed to determine DRG assignment
Understand what is supported in the DRG (eg, services performed at another facility)
Understand different types of DRGs (eg, APR-DRG)
Understand Medicare Code Edits
Understand different inpatient types
Understand guidelines for selecting the principle diagnosis for different inpatient facilities
Explain impact of readmissions in a 30 day period
Explain when to rebill inpatient claim as an outpatient claim
Identify data submitted on a UB-04
Coding Cases
Code the ICD-10-CM and ICD-10-PCS codes for 10 inpatient cases
Each case will have anywhere from 5-15 possible answers. Each answer is weighted the same.
Our CCO Proven Method for Passing the CIC® Exam
Passing the CIC® Exam is easy when you use Laureen's time-tested and proven method. Follow the 3 simple steps below to practice and you'll practically guarantee yourself a passing grade.
Step 1: Get a Timer
For Step 1, grab a timer from the kitchen. We prefer the small digital ones or even a smartphone. Since the AAPC exam is timed, this is a critical component to passing the exam.
Step 2: Timed Quiz
For step 2, begin our online Mini-Mock Practice Exam while spending a maximum of 2 minutes per question. If you exceed 2 minutes per question, you're not ready and you should consider taking our CIC® Review Blitz as a refresher.
Step 3: Score 85%
For step 3, you need to score a minimum of 85%. Do this, and you're good to go! If you score less, you'll need our CIC® Review Blitz and another practice exam.
100% VERIFIED Student Reviews
We are fully dedicated to our students. When you buy our practice exams, there is no need to worry about customer support. With thousands of users and counting, you cannot go wrong with CCO. Read what our students are saying about our CIC Practice Exam and related products!
ARE YOU READY TO STUDY WITH OUR CIC Practice ExaM?
Jasper Practice Exam
24/7 Instant, Online Access
44 Questions
Online-Based
Unlimited Retakes
Instant Results with Rationale
9 Months of Access
ADD TO CART
Onyx Practice Exam
24/7 Instant, Online Access
44 Questions
Online-Based
Unlimited Retakes
Instant Results with Rationale
9 Months of Access
ADD TO CART
Frequently Asked Questions
Why Are There Only Two CIC Practice Exams?
We are working on creating CIC Practice Exams in the upcoming months. In the meantime, we've made this exam available for anyone interested in preparing for the CIC exam.
Do the Questions Change Every Time You Retake the Same Exam?
No, the questions will not change. Each exam is programmed with only 44 of the same questions. If you suspect you will need more questions, we recommend investing in other exams.
Does the Practice Exam Have to Be Completed in One Sitting?
No. We provide "Save and Resume" functionality so you can return to the test later for completion.
Do I Get a Score and Rationale for Each Exam?
Yes. When you finish the test, at the bottom of the test, click on "Submit Your Answers" and you will be shown your results instantly. The rationales to each question can be seen by scrolling down.
Is the Practice Exam Instantly Available?
Yes! All our exams are instantly available online wherever internet is available. After you complete your purchase, you'll receive an email containing your login details to the CCO Gradebook.
Can I Print the CIC Practice Exam?
No, we do not provide a printable version of the CIC Practice Exam. You will need to login to the online version to take the exam and input your answers and receive your score and rationale.
What Is the Refund or Cancellation Policy?
Due to the instant availability of internet-based training, CCO does not provide refunds or cancellations on any of our products including Courses, Review Blitzes, Practice Exams, Bundles, CEU Classes, Combos or CCO Club payments.