Inpatient Based Medical Coding Course
A Complete, Online Education for Learning Inpatient Medical Coding in a Hospital, Facility or ASC Setting
For over 16 years we have been teaching medical coding – with many students successfully passing their first exams after training with us by viewing our videos and learning our techniques. This Inpatient Based Medical Coding course will provide you the training you need to learn HOW to do hospital or facility based medical coding and gives you all the training needed to pass the AAPC CIC™ certification exam. You will be ready to start your new Inpatient Based Medical Coding career.
Our goal is to give you all the current information needed to be a successful inpatient medical coder AND pass your inpatient medical coding CIC™ exam test. This includes teaching students the correct way to abstract information from the medical record for ICD-10-CM and ICD-10-PCS coding, and specialized payment knowledge in MS-DRGs and Inpatient Prospective Payment Systems (IPPS).
When you are finished with our inpatient based medical coding course, you will be able to…
Review medical records and abstract information required to support accurate inpatient coding
Assign accurate ICD-10 medical codes for diagnoses and procedures performed in the inpatient setting
Learn current rules, regulations, and issues regarding medical coding, compliance, and reimbursement under MS-DRG and IPPS systems
Integrate coding and reimbursement rule changes in a timely manner to include updating the Charge Description Master (CDM), fee updates, and the Field Locators (FL) on the UB04
Understand the anatomy, physiology, and medical terminology required to correctly code facility services and diagnoses
Understand outpatient reimbursement methodologies (OPPS)
This website is not endorsed by, affiliated, authorized, or sponsored by the AAPC.
CIC® is a registered trademark of AAPC.
Includes The BHAT® System
BHAT® (pronounced 'bat') stands for "Bubble, Highlight and Annotate Technique". This is a proprietary system, which is used in connection with our educational services, created by Laureen Jandroep in 1999 that uses bubbling, highlighting and annotation techniques to help students quickly find key answers in their manuals during the open book CPC® exams.
Instead of flipping back and forth between pages where the guidelines are, the answers are right next to the codes when a student takes the board exam. Students have stated the BHAT® system gave them the confidence they needed to pass the exam. Another plus: the BHAT® system helps coders in their day to day coding work after the exam as well! [Learn More]
Introducing:
The Inpatient Based Medical Coding Course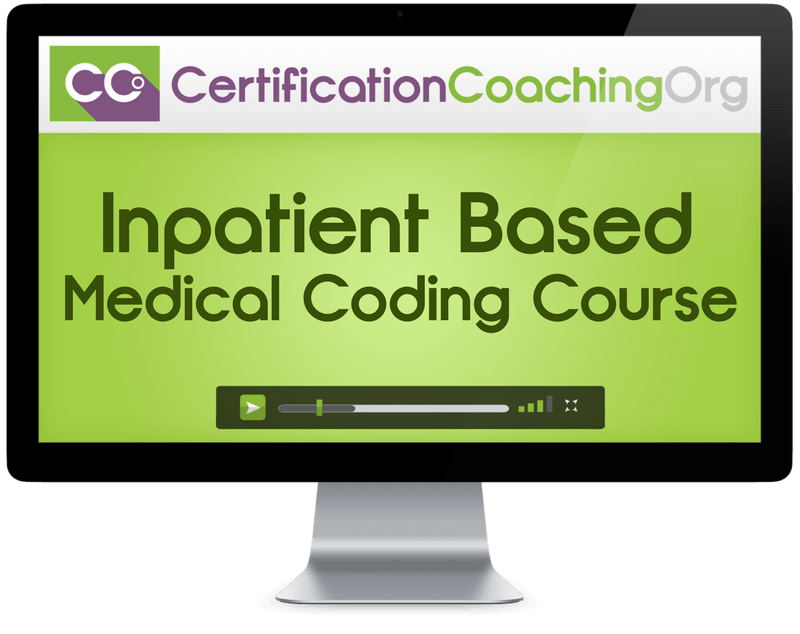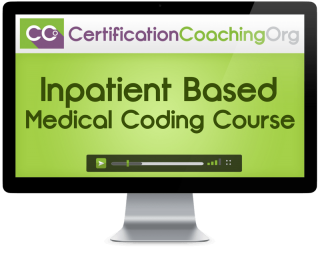 I can literally go on forever, but just wanted to say a couple of things. I'm in my final semester at Daytona state College, I'll be graduating in December with my AS, however I never would have made it through without this website and these incredible people at CCO, had I known about their Academy I would have forgone the route I went. I am happy to say that I sat for and passed the CPC, after extensive practice exams, and the direct advice from laureen, don't even try until you are consistently getting 85 or better on the practice exams. It worked, I passed. Joann for billing, Sylvia for ICD 10, Chandra for EVERYTHING, and laureen for the company, you guys are the greatest thing that's ever happened to coding. I am your biggest advocate when am asked anything about coding and billing, just go to CCO, they have absolutely everything you need. Love you guys and all that you do, thank you so very much
What To Expect From Our CIC™ Course
Preparation to receive the AAPC's CIC® credential and qualify for a career as a medical coder in an hospital inpatient or ASC setting.

Access to a team of CPC® and CIC® certified coaches to assist and answer your questions as needed.

Video Lectures so it's as if you are sitting there in class right with Laureen and the other instructors

Reading assignments from the most widely used medical coding text in the industry

Online exams with immediate grading and feedback

Student Support Forum dedicated to supporting our students

Regular coaching sessions and review of your progress.
Required Courses, Knowledge and Books
Who Can Benefit From This Course:
New students looking to change careers

Existing students enrolled outside CCO that require supplemental training

Healthcare workers looking to switch roles at their workplace such as front office clerks, medical receptionists, case managers, medical records clerks, transcriptionists, schedulers, research coordinators, nurses, caregivers or similar roles.

Important Pre-Requisite

: Students are required to have a previous

medical coding course

, medical coding experience or CPC-A or CPC credentials to properly learn this Inpatient Coding Course material.
What's the Difference Between the CPC, COC and CIC Credentials?
What You Can Expect From Our
Inpatient Based Medical Coding Course
Ready for More? We're Also Including $542 In Free Bonuses 
Core CIC™ Material Covered in the Course
Chapter 1 – The Rationale for and History of Coding

Chapter 2 – The Health Record as the Foundation of Coding

Chapter 3 – ICD-10-CM Format and Conventions

Chapter 4 – Basic Steps of Coding

Chapter 5a – General Coding Guidelines for Diagnosis

Chapter 6 – Introduction to ICD-10-PCS

Chapter 7 – General Coding Guidelines for Other Medical and Surgical Related Procedures and Ancillary Procedures

Chapter 8 – Coding Medical and Surgical Procedures

Chapter 9 – Symptoms, Signs, and Abnormal Clinical and Laboratory Findings

Chapter 10 – Certain Infectious and Parasitic Diseases

Chapter 12 – Diseases of the Blood and Blood-Forming Organs and Certain Disorders Involving the Immune Mechanism

Chapter 13 – Endocrine, Nutritional, and Metabolic Diseases
Chapter 14 – Mental, Behavioral, and Neurodevelopmental

Chapter 15 – Diseases of the Nervous System, Diseases of the Eye and Adnexa, and Diseases of the Ear and Mastoid

Chapter 16 – Diseases of the Circulatory System

Chapter 17 – Diseases of the Respiratory System

Chapter 18 – Diseases of the Digestive System

Chapter 19 – Diseases of the Skin and Subcutaneous Tissue

Chapter 20 – Diseases of the Musculoskeletal System and Connective Tissue

Chapter 21 – Diseases of the Genitourinary System

Chapter 22 – Pregnancy, Childbirth, and the Puerperium

Chapter 23 – Conditions Originating in the Perinatal Period, Congenital Malformations, Deformations & Chromosomal Abnormalities

Chapter 24 – Injuries and Certain Other Consequences of External Causes and External Causes of Morbidity

Chapter 25 – Burns, Adverse Effects, and Poisonings

Chapter 26 – Complications of Surgical and Medical Care
Bonus Content & Extra Resources
BHAT® Cave Access

Crash Course Anatomy & Physiology Videos

The Parts of Medicare: A & B

The Parts of Medicare: C & D

What is the HIPAA Privacy Rule?
ICD-10-CM SIRS, Sepsis, and Severe Sepsis Chart

ICD-10-CM Otitis Media Chart

Student Support Hub

Instructor Coaching and Support
How Does Our Inpatient Medical Coding Course Compare?
CCO

Competitor

Lecture Format
Slides (with fun graphics to keep it interesting), Video of Instructor Speaking (so it feels like we are right in front of you)
Slides with Instructor  Speaking
Length of Access
9 Months
4 Months Only
(Add $149.75 for 9 Months)
CIC Review Blitz Addon
($179 Value)
ICD-10-CM Review Blitz
($139 Value)
BHAT® Cave Included
Live Student Support Calls
Student Support Hub
Personal Coach
Monthly Q&A Webinar
Payment Plans Available
Price
$1,869
(9 Months Access)
$2,295 (4 Months Access)
$2,444 (9 Months Access)
Our Programs Have Worked For Hundreds of Students!
"It definitely got me well prepared"
Just want to let everyone know that I took my CPC exam on December 08 and passed with an 88%. I did an online course so I did not have a teacher in front of me at any time. I attribute much of my success to the Blitz videos because then it felt like a teacher to help me. Laureen is the best! If I can do this at age 54 then anyone can do it! Do not doubt yourself, hard work and hard studying pay off. I did over 750 practice questions to get me ready for this. Not one question was on the exam but I think it definitely got me well prepared along with the "Bubbling and Highlighting" technique. Good luck to anyone studying for the CPC!" – Darlene Bakaj-Wood, CPC-A
"I failed two times… then bought your videos"
"At age 49, I started to go back to school in a MBC program, Graduated at age 50 with high honors, and valedictorian…. I attended an alumni meeting a year later, and the MBC Program Director hired me to teach the MBC Externship Program…. I had to become CPC® certified within months to keep employment there. I failed the first time, couldn't finish in the 5-1/2 hours allotted then.
Failed the second time by the skin of my teeth- 69. And then restudied, restudied and bought your videos, which I viewed a few times.
Going through the CPT book and BHAT® guidelines and all those tips made the exam go smoother. I took the exam, passed and incredibly finished in 4-1/2 hours. That's a record for me. Yes, it cost me again to pay for the exam but I have no regrets whatsoever. Your videos helped me tremendously the 3rd time around and I just wanted to say thanks to you. 3 Times was a charm for me.  NEVER GIVE UP. Keep up the great work. You are awesome, you teach from your heart and your tips are EXCELLENT" – Mary
Can you hear me screaming from the roof top??!! I passed my CPC certification on the very first try! I am so thankful for your Blitz videos and practice exams. I just found out today that I actually passed the test.
Just wanted to say that I took my CPC exam in December and I passed. I honestly feel that this course was amazing! I researched coding and found this site and am so grateful that I did. I was nervous about starting an online course. I felt the Blitz was extremely helpful in helping me pass the exam. It is very important to do the Blitz and practice exams. I don't feel like I could have done it without CCO! Thank you.
I passed my CPC exam on first try with 80%. I could not have done this without the Blitz videos and practice exams. The bubble and highlighting really assisted in my getting thru all 150 questions in the allotted time. My thanks to Laureen and the team as I could not have done it without you guys!!
Dear Laureen, I found out today that I passed the CPC® exam with 87%. Your CPC Review Blitz videos were extremely helpful. I learned so much more from these videos than I ever did in school. Every chapter was well structured and easy to follow. It boosted my confidence and kept me motivated all along. I can't thank you enough.
I'm one of the ones that passed the certification exam because of your Blitz videos…I'm back in class taking refresher coding courses to keep my self abreast of the updates. I'm in 2 classes with about 20 students in each class, all trying to get certified. As your Blitz was such a blessing to me, I printed from the internet your advertisement page for your Blitz Videos. I'm going to give each of my classmates a copy and let them know that I had tried passing the certification exam several times and didn't pass until I viewed your course. I hope some, if not all, will take an interest and will order your course. Thanks again for the help you have been to me.
Dear Laureen: I've just received notification that I've passed my CPC® exam- on the first try!!! There is no way I would have passed the exam without your Blitz Course. The advice and tips you gave are invaluable. Money well spent. I hope to use this certification and my past experience to become an instructor in medical coding and billing. Thank you so much for this step up to my future career!!
The Blitz along with several practice tests really helped me feel confident when I walked into the exam. I finished with 40 minutes to spare, which I took to go back over the questions/scenarios I wasn't super sure I did all I could to answer correctly. I was able to take some time and change a couple of answers in that extra time. And I PASSED my first time taking the CPC exam!
Much thanks to Laureen and Alicia for your help and support! I passed the first time with an 88%! I feel such a sense of accomplishment! I knuckled down and completed the PBC course and the Blitz. The bubbling and highlighting is superb! Also, the practice exams were very helpful as Laureen and Alicia advised. Alicia's understanding and nurturing coaching style is perfect for me. She was available when I needed her. Looking forward to continuing my studies with both of you.
Salary Data Reveals That More Credentials = Higher Salary
A recent salary survey by the AAPC revealed that the more AAPC credentials you carry, the higher your salary. It's also common for peers to place greater value and trust on individuals with more credentials.
In case you're curious, here are the average salaries for medical business professionals with one, two and three credentials.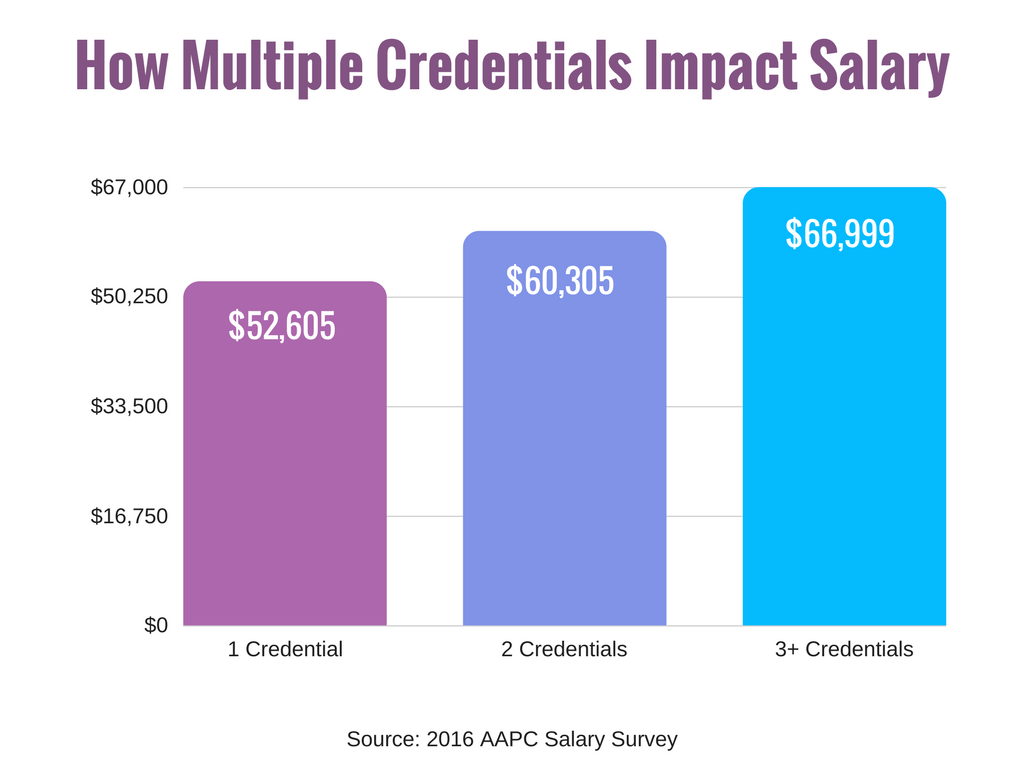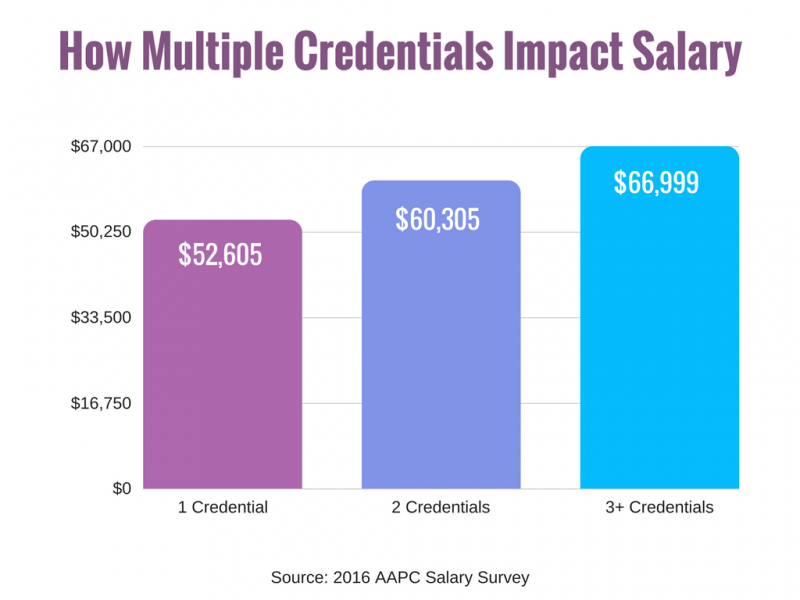 Invest In Your Inpatient Medical Coding Career Today!
IPC Medical Coding Course
One Payment Only
24/7 Instant, Online Access
CIC Review Blitz ($179 Value)
BHAT® Cave Included
Live Group Coaching Calls
Student Support Hub (SSH) Forum Support
ICD-10-CM Review Blitz ($139 Value)
Private, One-on-One Coaching
1 Welcome Phone Call, 4 Support Phone Calls
9 Months of Access
Books/Manuals Not Included.See Required Books Here.
IPC Medical Coding Course (6-Pay Plan)
Then 5 Payments of $344 Every 30 Days
24/7 Instant, Online Access
CIC Review Blitz ($179 Value)
BHAT® Cave Included
Live Group Coaching Calls
Student Support Hub (SSH) Forum Support
ICD-10-CM Review Blitz ($139 Value)
Private, One-on-One Coaching
1 Welcome Phone Call, 4 Support Phone Calls
9 Months of Access
Books/Manuals Not Included.See Required Books Here.
Frequently Asked Questions
System Requirements for Streaming Video
Our members area offers online streaming videos that are fully compatible with the newest web browsers from Internet Explorer, Firefox, Chrome and Safari. Older versions of web browsers will not work since they do not support HTML5 or modern video files.

CCO only supports the Chrome Web Browser which can be downloaded for free here.

We recommend a modern Computer, Laptop or Tablet and a high-speed internet connection to experience smooth streaming playback of our HD videos. Slower computers (pre-2010) and internet connections will result in choppy playback and browser errors.

Newer iPhones and iPads are fully supported.

Android devices are not officially supported, but students report the videos play well on them.

Finally, don't stress the tech stuff too much. Our friendly support team is always here to help you on your medical coding journey.