Medical Coding Course Online
A Complete, Online Education for Learning Medical Coding in a Physician's Office
For over 16 years we have been teaching this medical coding course – with many students successfully passing their first CPC® exam after training with us by viewing our videos and learning our techniques. This Physician Based Medical Coding course will provide you the training you need to learn HOW to do medical coding and gives you all the training needed to pass the AAPC CPC® certification exam or other physician-based coding credentials like the QMC (from QPro), CCS-P (from AHIMA) or CMCS (from PAHCS). You will be ready to start your new Medical Coding career.
Our goal is to give you all the current information needed to be a successful medical coder AND pass your medical coding CPC exam test. This includes training in CPT, HCPCS and ICD-10-CM as well as understanding payment methodologies.
When you are finished with our medical coding course online, you will be able to review and assign the correct procedures and diagnostic codes for patient encounters in a physician office or outpatient setting.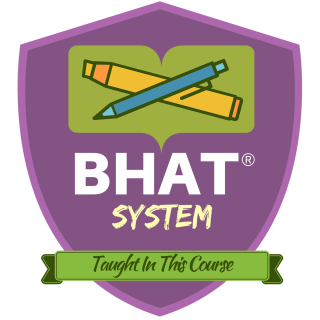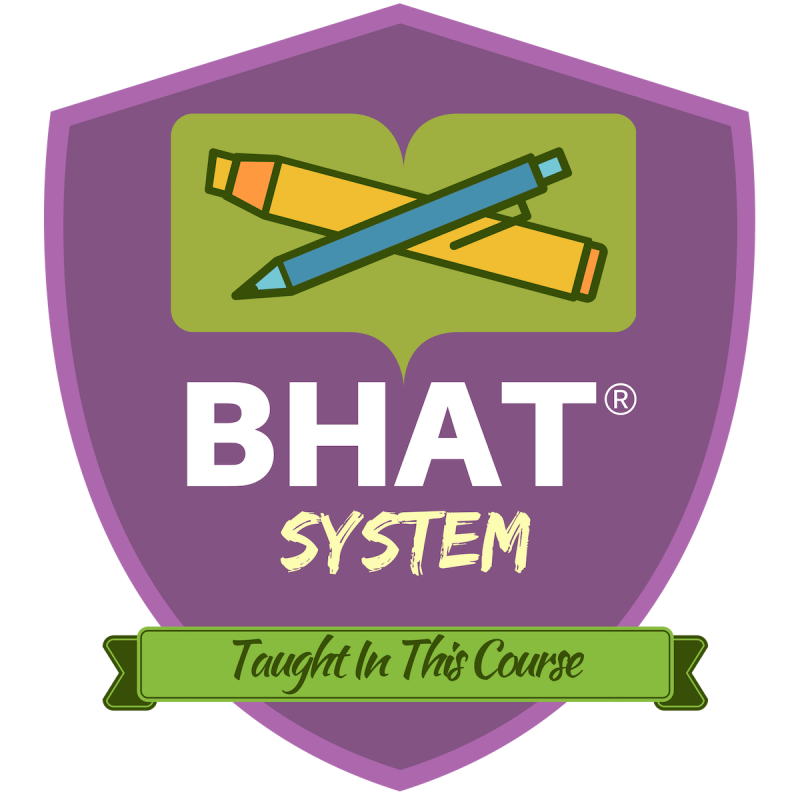 Includes The BHAT® System
BHAT® (pronounced 'bat') stands for "Bubble, Highlight and Annotate Technique". This is a proprietary system, which is used in connection with our educational services, created by Laureen Jandroep in 1999 that uses bubbling, highlighting and annotation techniques to help students quickly find key answers in their manuals during the open book CPC® exams.
Instead of flipping back and forth between pages where the guidelines are, the answers are right next to the codes when a student takes the board exam. Students have stated the BHAT® system gave them the confidence they needed to pass the exam. Another plus: the BHAT® system helps coders in their day to day coding work after the exam as well! [Learn More]
Maybe you are one of the people who is:
Not sure if that local school down the street has good medical coding certification program?

Curious if you actually need to attend a local college because you prefer a medical coding course online?

Worried about reports of people attending a $19,000 online medical course and not having the skills to even pass the national certification exam?

Wondering if you will finish your medical coding certification program in the typical 4 months online programs give you to finish?

Wishing someone would just take your hand and guide you to become a medical coder from beginning to end without emptying your wallet?
If You Need a Medical Coding Course,  You've Come to the Right Place!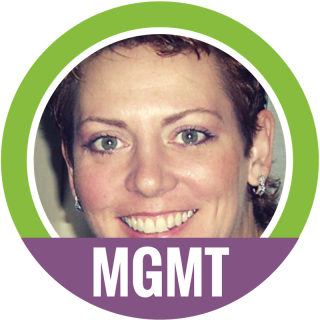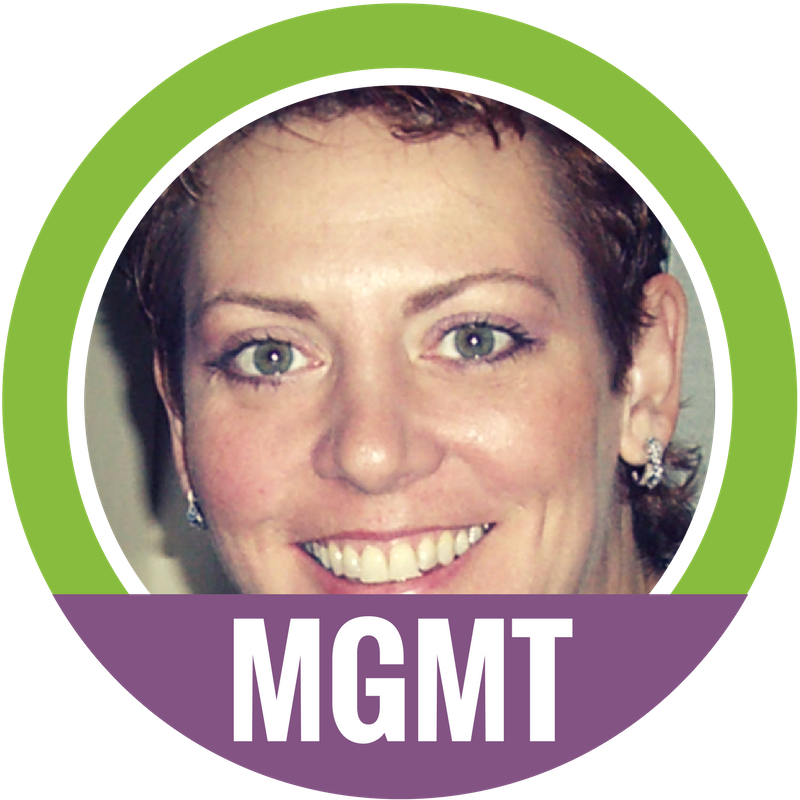 My name is Laureen Jandroep and I'm the founder and CEO of CCO. I hold the following credentials – CPC, CPC-I, COC, CPPM, CMSCS, CHCI, CDEO. I've been teaching and coaching medical coders to prepare for certification by the AAPC (formerly American Academy of Professional Coders) or the American Health Information Management Association (AHIMA) since 1999. Other certification exams I have taken and passed many include the CCS (Certified Coding Specialist by AHIMA), and the RCC (Radiology Certified Coder by RBMA).
I basically thought I was going to be an Occupational Therapist when I grew up and I was for a number of years. I actually ran a therapy practice here in South Jersey. At our zenith, we had about 27 therapists, aides and office staff. On average we  did over 1.6 million in billing a year of which I was quite proud. But what I was most proud of is that we had less than a 0.06% rejection rate and that was because we did good coding. Kind of by accident, I basically had to do billing. I had to learn about cost reports and all of that. I got out manuals and I actually read the introductions of my coding manuals. We had a very low denial rate and in the rehab industry, that's just unheard of. So I have taken an interest in coding since back then. Medicare basically changed the way rehab agencies like mine were able to bill, and many of us went out of business. So I got into the billing and coding world. I ran a school for a number of years which I loved… and guess what… I'm still teaching even now!
I have a unique way of teaching myself new concepts and I share that with my students. So they "get it". As fast as possible. Because medical coding demands that we stay current on changes in medical coding and billing. So let me tell you…
There is a Solution to Finding the Best Medical Coding Training Available Today
You see, it doesn't have to be that hard. You don't need to stress. After all, most medical coding schools are using the same textbooks and workbooks. So the important thing to focus on is the instructor and their teaching methods. There is an easier way…
Introducing:
The Physician Based Medical Coding Course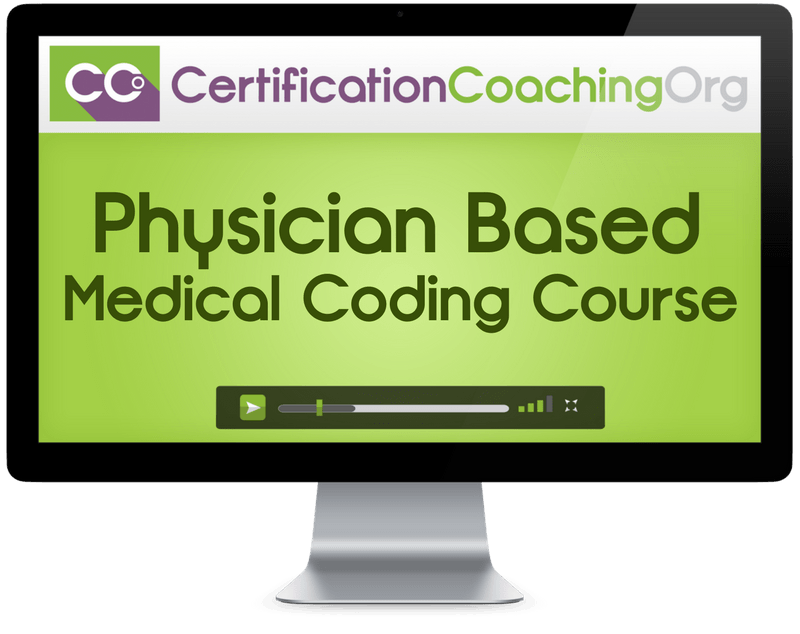 We Prepare You For The Following Medical Coding Certification Exams:
Certified Professional Coder (CPC®) exam by the AAPC

Certified Coding Specialist-Physician Based (CCS-P) exam by the American Health Information Association (AHIMA).
This Online Medical Coding Course Includes 20 Modules:
Video Lectures so it's as if you are sitting there in class right with Laureen and the other instructors

Reading assignments from the most widely used medical coding text in the industry

Online Exams with immediate grading and feedback

Student Support Forum dedicated to supporting our students

Regular coaching sessions and review of your progress.
Who Can Benefit From This Medical Coding Course:
New students looking to change careers

Existing students enrolled outside CCO that require supplemental training

Healthcare workers looking to switch roles at their workplace such as front office clerks, medical receptionists, case managers, medical records clerks, transcriptionists, schedulers, research coordinators, nurses, caregivers or similar roles.
What You Can Expect From Our Medical Coding Course
Ready for More? We're Also Including $858 In Free Bonuses 
Physician Based Medical Coding Course Contents
Modules
The Business of Medicine

Medical Terminology Review

Medical Anatomy Review

ICD-10 Coding Chapters 1-9

ICD-10 Coding Chapters 10-21

Introduction to the CPT

Surgery Guidelines

Level II National Codes (HCPCS)

Modifiers

Integumentary System

Musculoskeletal System

Respiratory System

Hemic System

Lymphatic System

Mediastinum

Diaphragm

Cardiovascular Systems
Modules
Digestive System

Urinary System

Male Genital System

Female Reproductive System

Maternity Coding

Endocrine and Nervous System

Eye and Occular Adnexa

Auditory System

Anesthesia

Radiology

Pathology and Laboratory

Evaluation and Management

Medicine
Additional Material
Compliance & Regulatory: Questions on CPC Exam, NCCI Edits, RVU's and more

Medicare Parts A, B, C and D

Payment Methodologies

Crash Course on Anatomy and Physiology
How Does Our Online Medical Coding Course Compare?
CCO

Competitor

CPC Package

Competitor

CPC Course

Lecture Format
Slides (with fun graphics to keep it interesting), Video of Instructor Speaking (so it feels like we are right in front of you)
Slides with Instructor  Speaking
Slides with Instructor  Speaking
Length of Access
9 Months
4 Months
(Add $149.75 for 9 Months)
4 Months
(Add $149.75 for 9 Months)
CPC Practice Exams
($69.95 Value)
230 Questions! 50 Online Questions PLUS 180 Printable Exams with Practice Bubble Answer Sheet and a Real, Simulated CPC Exam Experience
150 Question Non-Printable Online Exams
CPC Review Blitz
($349 Value)
ICD-10-CM Review Blitz
($139 Value)
BHAT® Cave
(Mark up your CPT Manual just like ours)
Modifiers Class
($77 Value)
Live Student Support Calls
Student Support Hub
Personal Coach
Price
$1,879
(9 Months Access)
$2,595
(

4 Months Access

)
$2,495
(

4 Months Access

)
True 'Apples to Apples' Comparison With:
9 Months of Access
CPC Exam Fee (Not Included with this Course)
AAPC Membership (Not Included with this Course)
$2,448
$3,233
$3,433
Our Programs Have Worked For Hundreds of Students!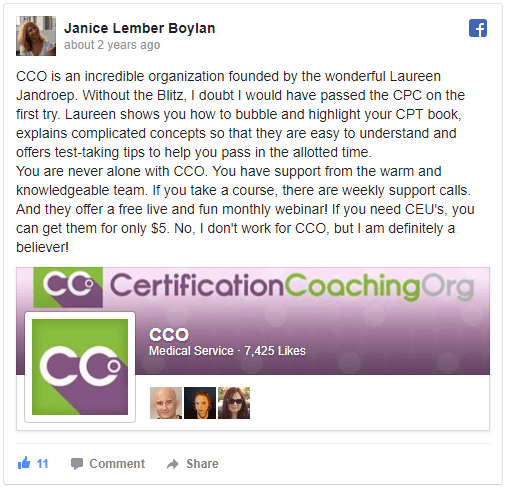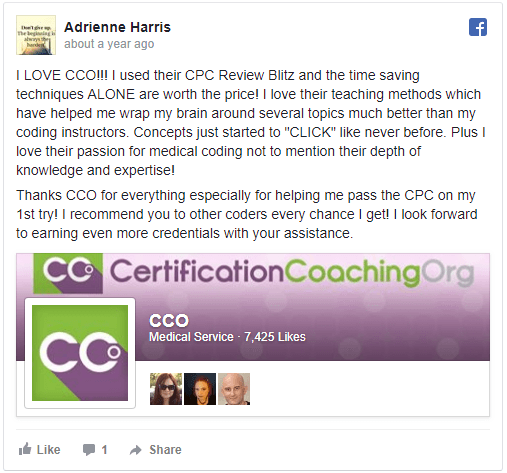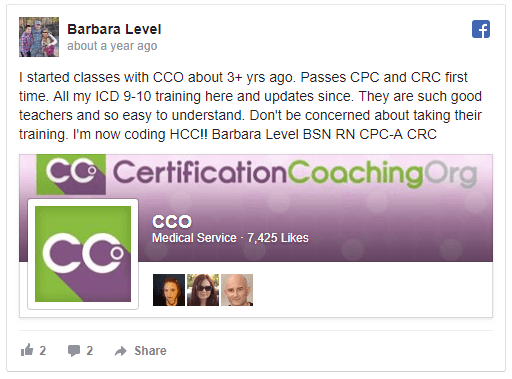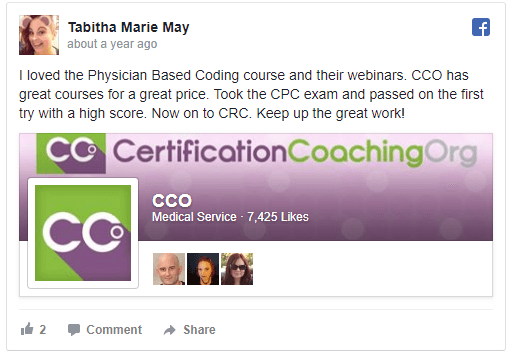 "It definitely got me well prepared"
Just want to let everyone know that I took my CPC exam on December 08 and passed with an 88%. I did an online course so I did not have a teacher in front of me at any time. I attribute much of my success to the Blitz videos because then it felt like a teacher to help me. Laureen is the best! If I can do this at age 54 then anyone can do it! Do not doubt yourself, hard work and hard studying pay off. I did over 750 practice questions to get me ready for this. Not one question was on the exam but I think it definitely got me well prepared along with the "Bubbling and Highlighting" technique. Good luck to anyone studying for the CPC!" – Darlene Bakaj-Wood, CPC-A
"I failed two times… then bought your videos"
"At age 49, I started to go back to school in a MBC program, Graduated at age 50 with high honors, and valedictorian…. I attended an alumni meeting a year later, and the MBC Program Director hired me to teach the MBC Externship Program…. I had to become CPC® certified within months to keep employment there. I failed the first time, couldn't finish in the 5-1/2 hours allotted then.
Failed the second time by the skin of my teeth- 69. And then restudied, restudied and bought your videos, which I viewed a few times.
Going through the CPT book and BHAT® guidelines and all those tips made the exam go smoother. I took the exam, passed and incredibly finished in 4-1/2 hours. That's a record for me. Yes, it cost me again to pay for the exam but I have no regrets whatsoever. Your videos helped me tremendously the 3rd time around and I just wanted to say thanks to you. 3 Times was a charm for me.  NEVER GIVE UP. Keep up the great work. You are awesome, you teach from your heart and your tips are EXCELLENT" – Mary
Can you hear me screaming from the roof top??!! I passed my CPC certification on the very first try! I am so thankful for your Blitz videos and practice exams. I just found out today that I actually passed the test.
Just wanted to say that I took my CPC exam in December and I passed. I honestly feel that this course was amazing! I researched coding and found this site and am so grateful that I did. I was nervous about starting an online course. I felt the Blitz was extremely helpful in helping me pass the exam. It is very important to do the Blitz and practice exams. I don't feel like I could have done it without CCO! Thank you.
I passed my CPC exam on first try with 80%. I could not have done this without the Blitz videos and practice exams. The bubble and highlighting really assisted in my getting thru all 150 questions in the allotted time. My thanks to Laureen and the team as I could not have done it without you guys!!
Dear Laureen, I found out today that I passed the CPC® exam with 87%. Your CPC Review Blitz videos were extremely helpful. I learned so much more from these videos than I ever did in school. Every chapter was well structured and easy to follow. It boosted my confidence and kept me motivated all along. I can't thank you enough.
I'm one of the ones that passed the certification exam because of your Blitz videos…I'm back in class taking refresher coding courses to keep my self abreast of the updates. I'm in 2 classes with about 20 students in each class, all trying to get certified. As your Blitz was such a blessing to me, I printed from the internet your advertisement page for your Blitz Videos. I'm going to give each of my classmates a copy and let them know that I had tried passing the certification exam several times and didn't pass until I viewed your course. I hope some, if not all, will take an interest and will order your course. Thanks again for the help you have been to me.
Dear Laureen: I've just received notification that I've passed my CPC® exam- on the first try!!! There is no way I would have passed the exam without your Blitz Course. The advice and tips you gave are invaluable. Money well spent. I hope to use this certification and my past experience to become an instructor in medical coding and billing. Thank you so much for this step up to my future career!!
The Blitz along with several practice tests really helped me feel confident when I walked into the exam. I finished with 40 minutes to spare, which I took to go back over the questions/scenarios I wasn't super sure I did all I could to answer correctly. I was able to take some time and change a couple of answers in that extra time. And I PASSED my first time taking the CPC exam!
Much thanks to Laureen and Alicia for your help and support! I passed the first time with an 88%! I feel such a sense of accomplishment! I knuckled down and completed the PBC course and the Blitz. The bubbling and highlighting is superb! Also, the practice exams were very helpful as Laureen and Alicia advised. Alicia's understanding and nurturing coaching style is perfect for me. She was available when I needed her. Looking forward to continuing my studies with both of you.
Invest In Your Medical Coding Career Today!
PBC Medical Coding Course
One Payment Only
24/7 Instant, Online Access
CPC Review Blitz ($349 Value)
230 Question CCO Mini-Mock Practice Exams ($69.95 Value)
Modifiers Class ($67 Value)
BHAT® Cave Included
Live Group Coaching Calls
Student Support Hub (SSH) Forum Support
ICD-10-CM Review Blitz ($139 Value)
Private, One-on-One Coaching
1 Welcome Phone Call, 4 Support Phone Calls
9 Months of Access
Books/Manuals Not Included.See Required Books Here.
PBC Medical Coding Course (6-Pay Plan)
Then 5 Payments of $344 Every 30 Days
24/7 Instant, Online Access
CPC Review Blitz ($349 Value)
230 Question CCO Mini-Mock Practice Exams ($69.95 Value)
Modifiers Class ($67 Value)
BHAT® Cave Included
Live Group Coaching Calls
Student Support Hub (SSH) Forum Support
ICD-10-CM Review Blitz ($139 Value)
Private, One-on-One Coaching
1 Welcome Phone Call, 4 Support Phone Calls
9 Months of Access
Books/Manuals Not Included.See Required Books Here.
Frequently Asked Questions
Medical Coding Course System Requirements for Streaming Video
Our members area offers online streaming videos that are fully compatible with the newest web browsers from Internet Explorer, Microsoft Edge, Firefox, Chrome and Safari. Older versions of web browsers will not work since they do not support HTML5 or modern video files.

CCO only supports the Chrome Web Browser which can be downloaded for free

here

.

We recommend a modern Computer, Laptop or Tablet and a high-speed internet connection to experience smooth streaming playback of our HD videos. Slower computers (pre-2010) and internet connections will result in choppy playback and browser errors of the videos.

Newer iPhones and iPads are fully supported.

Android devices are not officially supported, but students report the medical coding course videos play well on them.

Finally, don't stress the tech stuff too much. Our friendly support team is always here to help you on your medical coding journey.