Certified Risk Adjustment Coder (HCC) Course
A Complete "No-Fluff" Course That Will Teach You
The Core Essentials of Risk Adjustment AND
Prepare You For The CRC™ Exam
Our full length, 40-hour equivalent Risk Adjustment Course (formerly called the HCC Course) is not a weekly boot camp or webinar event. Our full course provides a complete online learning experience that will fully prepare you for the CRC Exam and a new career as a Certified Risk Adjustment Coder.
In addition to the core CRC training materials, we also provide access to certified CCO instructors and Blitz Reviews to make it even easier to pass the CRC Exam.
So are we the best Risk Adjustment Course on the market? We certainly think so. And after comparing our value-packed 'extras' and instructor support, we're certain you will too.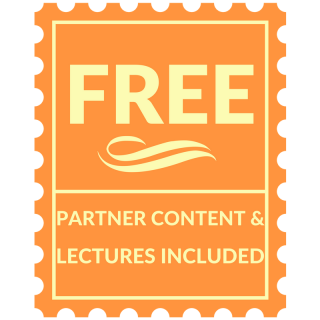 Free Partner CRC® Content Included!
When you purchase our Risk Adjustment Coding Course, you will also receive the content and video lectures from our Partner's CRC® course for free immediately inside our CCO Members Area as a bonus!
With CCO, you'll get our Risk Adjustment Coding Course and our Partner's CRC® Content and Video Lectures plus access to CCO Coaching, the CCO Club, our CRC Review Blitz and more.
The Bonus Partner content is available immediately inside our Member's Area. There is no need to contact them for access.
I cannot thank CCO enough for all of the hard work that they put into creating each course. I learned so much during the CRC course and I have been working on the MRA field for many years.
Includes The BHAT™ System
BHAT™ (pronounced 'bat') stands for "Bubble, Highlight and Annotate Technique". This is a proprietary system created by Laureen Jandroep in 1999 that uses bubbling, highlighting and annotation techniques to help students quickly find key answers in their manuals during the open book AAPC exams.
Instead of flipping back and forth between pages where the guidelines are, the answers are right next to the codes when a student takes the board exam. Students have stated the BHAT™ system gave them the confidence they needed to pass the exam. Another plus: the BHAT™ system helps coders in their day to day coding work after the exam as well! [Learn More]
Hi everyone. It's Chandra here with CCO. Just wanted to give you a little update on what's coming in our new RA 2.0 Course.
If you're familiar at all with our risk adjustment course, you know that there are several modules included in our risk adjustment course as it currently exists. We have about 16. I have those listed for you on the screen.
Well, in the interest of streamlining our material what we did in Version 2.0 is we cut down on the number of chapters. We found that in Module 1 there were lots of chapters. It was really easy to get lost and some of the chapters were really, really small and some were very related to other chapters near them. So what we've done is, as I mentioned, we've streamlined. We've gone from 16 modules down to 7. It's not that any of the material has been removed, actually quite the opposite. We've added a lot of new content.
We start out with an introductory module, giving you some of the information on the basics of risk adjustment, the history behind it, what else included in that. We then roll into risk adjustment models and talk about what plans are considered risk adjustment, how do they vary from carrier to carrier and payer type to payer type.
Then we get into coding for risk adjustment. This is by far the meatiest module that we have. And there's a couple of asterisks next to it because there's a lot of bonus material that we include in this particular piece of it. Because we know that the coding for risk adjustment is the key – that's the key to getting the right payment, that's the key to the correct documentation. All of those different pieces fall in there.
Then we have a module all about risk adjustment audits; what those look like, what's the difference between a RADV audit and other types of audits, what's a prospective versus a retrospective audit, what is concurrent review. We go through all of the different audit types as well as the important dates related to those audit types.
Then we get into documentation improvement and communication; how do you improve the existing documentation, what conversations you need to have with your physicians, and what's the best way to communicate with your physicians. We keep in mind that most risk adjustment coders may or may not be working for a physician. There's a lot of different roles that you play as a risk adjustment coder, and if you don't have the ability to provide feedback to the physician, that can be a problem. If you're working from the payer side of things, you have no communication with the physician. But if you're working in a physician's office or oftentimes if you're working for a third party administrator, you may have access to the physician either in face to face conversations or through written queries. Both of those are key methods for communicating with your provider any documentation deficiencies that you may observe. We spend a lot of time talking about how to improve the documentation and educate your providers.
Then we start to talk a little bit about quality care impacts. Not just HEDIS and Star but there are a lot of other quality measures involved as well; things like Meaningful Use and OASIS and all of the different pieces that we see our coding affecting from a payment perspective.
In the last module we do something new. We bring all of this information together. We take everything that you've learned in the first 6 modules and give you a couple of case examples and show how they would change depending on which risk adjustment model they're reported for and under. For example, risk adjustment coding for Medicare is not going to be exactly the same as risk adjustment coding for CDPS and some of the Medicaid-type carriers. It's going to be different even still for the new ACA HHS risk adjustment models. So, we go through that. We show you how it's going to change and what the different impacts are.
We've also included focusing on the key that the coding chapter is the meatiest chapter and that without proper coding and proper documentation, everything falls apart from a risk adjustment perspective. Keeping that in mind, we have gone back and looked at the pearls that we had before. If you were familiar with the pearls on our first module or if this is completely new to you, "what is a pearl?" is maybe a question you're asking yourself. Pearls are little pearls, little gems of information that are really, really helpful. We've expanded those pearls. Before, the pearls were literally very, very small nuggets of information. We've taken pearls, we've expanded the number of conditions that we've developed pearls for and each of those pearls is now much more comprehensive. We define each condition for you. We talk about common symptoms, common manifestations, things that it can evolve into, proper coding and how to look up the codes for each of these conditions as well as if there is any Coding Clinic or relevant article information out there for advice on how to use these codes that may impact your code selection or the documentation needed. We've expanded this area tremendously. You'll see before we had about 7 pearls. In the new program we have well over 25 pearls and we continue to add to those as the content goes on.
So we've really done a lot in this Version 2.0, increasing the amount of contents that's there, streamlining it and making it a little easier to understand and giving you a lot more examples to practice with. So I hope that you'll join us for Version 2.0 and check out our course. Happy coding!
This is Why Our Risk Adjustment (HCC) Course Outshines The Competition
100+ CEU Opportunities Included
Once you've passed the CRC™ exam and become certified, you'll need to maintain your certification every 2 years by acquiring 36 CEU credits for your first credential. A second credential bumps that requirement up to 40. We've taken that worry off your shoulders by providing over 100+ CEU credits via the included CCO Club or by re-taking the module exams which are all worth CEU credits as shown below.
Here is the detailed breakdown of CEU Opportunities available for this course…
CCO Club: 100+ CEUs
RA Course: 15.5 CEUs
CRC Review Blitz: 4.5 CEUs
ICD-10-CM Review Blitz: 16.5 CEUs
Once your course access has passed, we hope you will remain a CCO Club member in order to meet all your CEU needs while having continued access to this course, industry experts and a warm network of fellow professionals.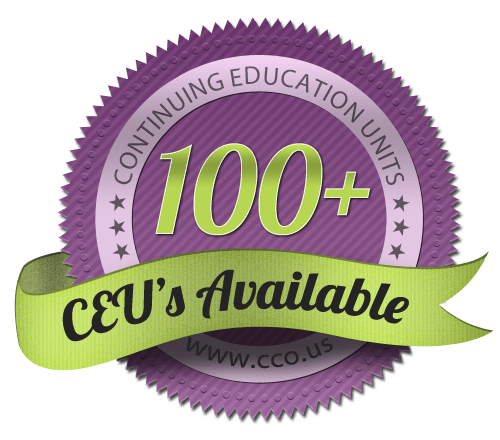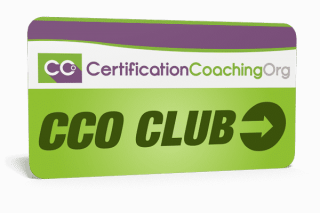 CCO Club Basic Plan Included
Starting July 1st, 2017, this course now includes access to the CCO Club Basic Plan. The CCO Club is a place where medical coders, billers, auditors and practice managers can convene to discuss, learn and expand their knowledge. We provide CEUs, replays, transcripts and Answer Sheets of all our CCO Club Q&A Webinars, Student Q&A Webinars and Monthly Q&A Webinars. We're also continually adding unique lectures and bonuses to the membership.
Meet Your Certified Risk Adjustment Course Instructors
Risk Adjustment Course Contents
Introduction to Risk Adjustment (HCC) Coding

Risk Adjustment Models

Coding for Risk Adjustment

Risk Adjustment Audits

Documentation Improvement & Communication

Quality Care Impacts

Bringing It All Together
Practice Cases (Code It)

Practice Encounters

Internal Risk Adjustment Resources

External Risk Adjustment Resources

Crash Course Anatomy & Physiology Videos

External Medicare Resources
Amputations

Anxiety Disorders

Artificial Openings

COPD

CVA/Stroke

Diabetes

GERD

HIV/AIDS/OIs

Hypertension

Osteoporosis

More will be added regularly…
Coding Guidelines: ICD-10-CM Annotated by CCO

ICD-10-CM Coding Blocks

Coding Cerebrovascular Disease

Coding Diabetes

Coding Glaucoma

Coding Heart Attacks

Coding HIV

Coding Hypertension (HTN)

Coding MRSA/MSSA

Coding Neoplasms

Coding Pain

Coding Psychoactive Substance Use

Coding SIRS and Sepsis

Coding Sepsis Complicating Abortion, Pregnancy, Childbirth, & the Puerperium
Wait! We're Also Including These Free Bonuses
Once you're learned the core material, we want to make sure you're ready for the final certification exam.
That's why we've included these additional bonuses worth $1,571 if purchased separately.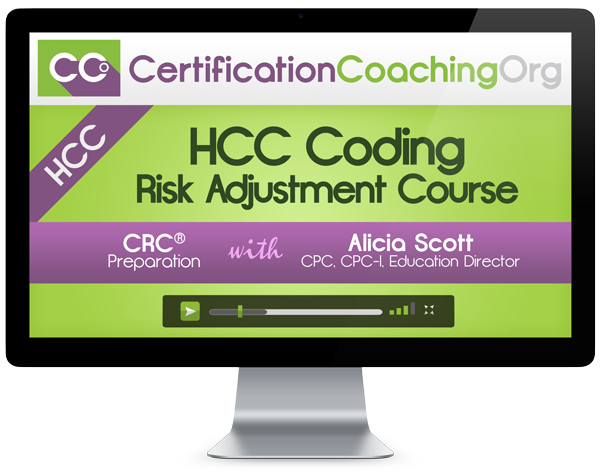 Risk Adjustment 1.0 Course

($1,297 Value)
In addition to the new Risk Adjustment 2.0 Course, your purchase also includes access to the original Risk Adjustment 1.0 Course. This course was created by Alicia Scott and Tamara Lucus.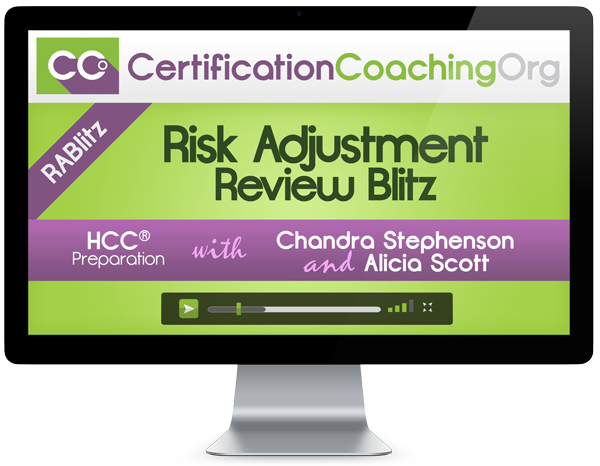 Risk Adjustment Review Blitz

($97 Value, 4.5 CEUs)
Once you've completed the full course, our Risk Adjustment Review Blitz is your next step. It will help you refine, refresh and review your knowledge of critical concepts in preparation for the exam.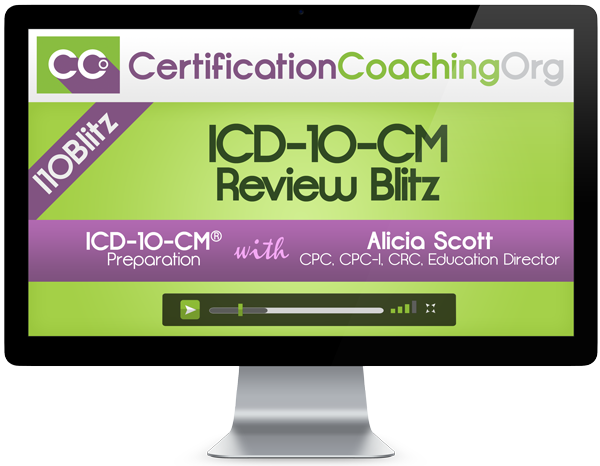 ICD-10-CM Review Blitz

($197 Value, 16.5 CEUs)
With over 20 hours of video training, our ICD-10-CM Review Blitz is the perfect way to refresh, refine and review critical concepts of ICD-10-CM coding. This course also includes 17.5 CEU credits.
Why CRC? Because Multiple Credentials = Higher Salaries
According to the AAPC, "salary data reveals that the more AAPC credentials you carry, the higher your salary."
This means that acquiring a 2nd credential, could potentially increase your salary by $11,510.
A 3rd credential shows an average increase of $7,244. [Source]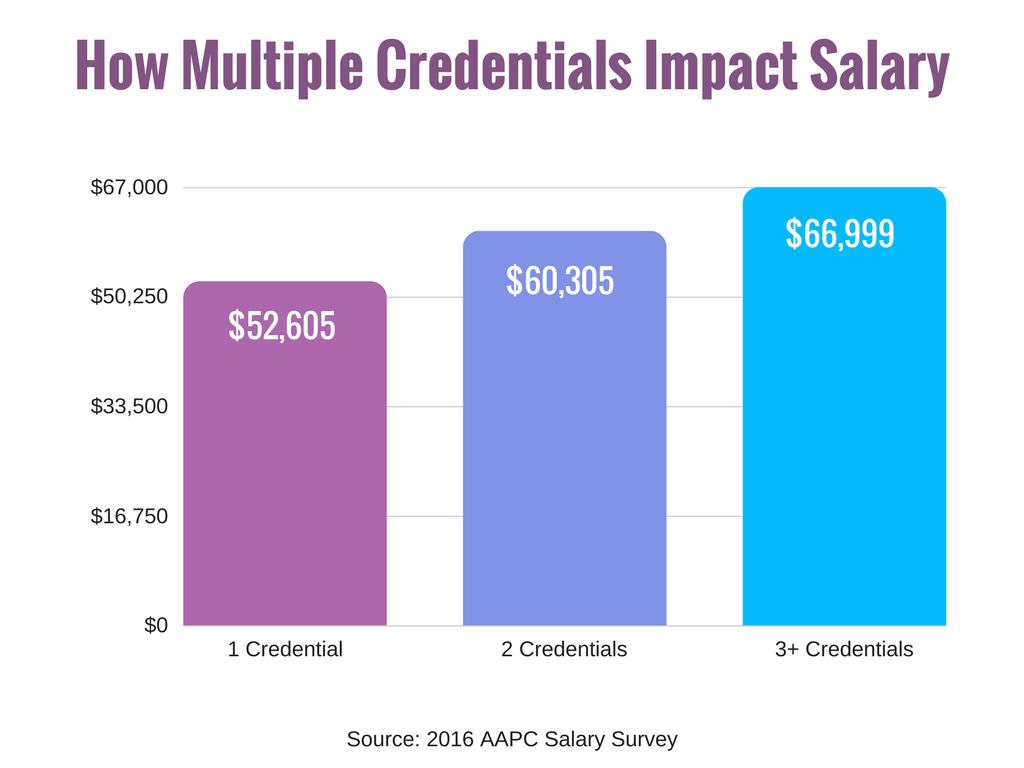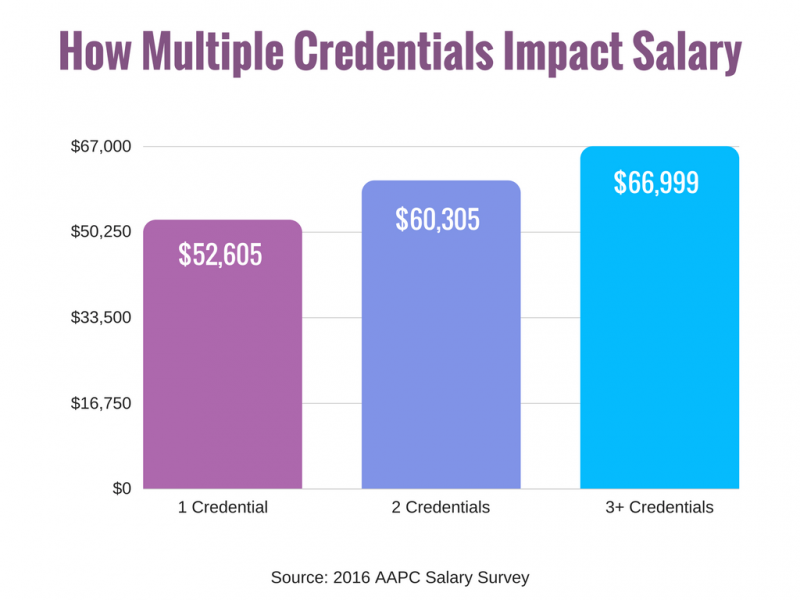 How Does Our Risk Adjustment Course Compare?
CCO

Competitor

Training Modules by Partner


(Yes! We include our Partner's Training Videos from their equivalent course)

Training Modules by CCO
Lecture Format
Slides (with fun graphics to keep it interesting), Document Camera Video of Instructor's coding manuals, Video of Instructor Speaking (so it feels like we are right in front of you)
Slides with Instructor  Speaking
Length of Access
9 Months
4 Months Only
(Add $149.75 for 9 Months)
CRC Review Blitz
($97 Value)
ICD-10-CM Review Blitz
($197 Value)
ICD-10-CM Decision Trees
PEARLS
BHAT® Cave

(Mark up your CPT & ICD-10 Manuals just like ours with these video walkthroughs)

CCO Club
(9 Months Access | $179.91 Value)
Save $60 on the AAPC Exam Fee
Save $70 on AAPC Membership Fee
Live Student Support Calls
Student Support Hub
Personal Coach
Monthly Q&A Webinar
Payment Plans Available
Price
$1,157
(9 Months Access)
$1,695 (4 Months Access)
$1,844 (9 Months Access)
Student Reviews: We Love Our Students, And They Love Us
"Teachers were very knowledgeable"
Teachers were very knowledgeable. Loved having the recorded videos to watch as I am both a visual and auditory learner.
Chandra is the knowledge queen of everything in between. She knows Risk Adjustment, rules, regulations, history, etc backwards to forwards. Alicia knows Risk Adjustment very well too and does a great job talking about the Disease Process and how it factors into Risk Adjustment and what you need to look for in documentation in order to capture it.
Was able to complete the course in a little less than four weeks, studied here and there for two weeks and then sat for the exam and passed first try.
– Catherine Hooker
Can you hear me screaming from the roof top??!! I passed my CPC certification on the very first try! I am so thankful for your Blitz videos and practice exams. I just found out today that I actually passed the test.
Just wanted to say that I took my CPC exam in December and I passed. I honestly feel that this course was amazing! I researched coding and found this site and am so grateful that I did. I was nervous about starting an online course. I felt the Blitz was extremely helpful in helping me pass the exam. It is very important to do the Blitz and practice exams. I don't feel like I could have done it without CCO! Thank you.
I passed my CPC exam on first try with 80%. I could not have done this without the Blitz videos and practice exams. The bubble and highlighting really assisted in my getting thru all 150 questions in the allotted time. My thanks to Laureen and the team as I could not have done it without you guys!!
The Blitz along with several practice tests really helped me feel confident when I walked into the exam. I finished with 40 minutes to spare, which I took to go back over the questions/scenarios I wasn't super sure I did all I could to answer correctly. I was able to take some time and change a couple of answers in that extra time. And I PASSED my first time taking the CPC exam!
Much thanks to Laureen and Alicia for your help and support! I passed the first time with an 88%! I feel such a sense of accomplishment! I knuckled down and completed the PBC course and the Blitz. The bubbling and highlighting is superb! Also, the practice exams were very helpful as Laureen and Alicia advised. Alicia's understanding and nurturing coaching style is perfect for me. She was available when I needed her. Looking forward to continuing my studies with both of you.
Invest In Your Future Today!
Yes! Please I'd Like to Order The New "RA 2.0 Coding Course"
I understand I'll be receiving 9 months online access to the entire "Risk Adjustment 2.0 Coding Course" plus access to the Risk Adjustment 1.0 Course, Risk Adjustment Blitz and ICD-10-CM Blitz for a small one-time investment!
Risk Adjustment Course
One Payment Today
9 Months of Access
24/7 Online Access
ICD-10-CM Decision Trees
Pearls
Practice Cases
Risk Adjustment 1.0 Course
Risk Adjustment Review Blitz
ICD-10-CM Review Blitz
Certified Instructor Support
Live, Weekly Student Group Calls
Group Call Recording Archive
Save $60 on the AAPC Exam Fee
Save $70 on AAPC Membership Fee
Risk Adjustment Course
3 Payment Plan, 30 Days Apart
9 Months of Access
24/7 Online Access
ICD-10-CM Decision Trees
Pearls
Practice Cases
Risk Adjustment 1.0 Course
Risk Adjustment Review Blitz
ICD-10-CM Review Blitz
Certified Instructor Support
Live, Weekly Student Group Calls
Group Call Recording Archive
Save $60 on the AAPC Exam Fee
Save $70 on AAPC Membership Fee
Frequently Asked Questions
System Requirements for Streaming Video
Our members area offers online streaming videos that are fully compatible with the newest web browsers from Internet Explorer, Firefox, Chrome and Safari. Older versions of web browsers will not work since they do not support HTML5 or modern video files.

CCO only supports the Chrome Web Browser which can be downloaded for free here.

We recommend a modern Computer, Laptop or Tablet and a high-speed internet connection to experience smooth streaming playback of our HD videos. Slower computers (pre-2010) and internet connections will result in choppy playback and browser errors.

Newer iPhones and iPads are fully supported.

Android phones are not officially supported, but students report the videos play well on them.

Finally, don't stress the tech stuff too much. Our friendly support team is always here to help you on your medical coding journey.