Certified Risk Adjustment Coder (HCC) Course
A Complete "No-Fluff" Course That Will Teach You
The Core Essentials of Risk Adjustment
AND


Prepare You For The CRC™ Exam
Best Risk Adjustment Course On The Market?
Our full length, 40-hour equivalent Risk Adjustment Course (formerly called the HCC Course) is not a weekly boot camp or webinar event. Our full course provides a complete online learning experience that will fully prepare you for the CRC Exam and a new career as a Certified Risk Adjustment Coder.
In addition to the core CRC training materials, we also provide access to certified CCO instructors and Blitz Reviews to make it even easier to pass the CRC Exam.
So are we the best Risk Adjustment Course on the market? We certainly think so. And after comparing our value-packed 'extras' and instructor support, we're certain you will too.
This is Why Our Risk Adjustment (HCC) Course Outshines The Competition
Meet Your Certified Risk Adjustment Course Instructors
Risk Adjustment Course Contents
Introduction to Risk Adjustment (HCC) Coding

Risk Adjustment Models

Coding for Risk Adjustment

Risk Adjustment Audits

Documentation Improvement & Communication

Quality Care Impacts

Bringing It All Together
Practice Cases (Code It)

Practice Encounters

Internal Risk Adjustment Resources

External Risk Adjustment Resources

Crash Course Anatomy & Physiology Videos

External Medicare Resources
Amputations

Anxiety Disorders

Artificial Openings

COPD

CVA/Stroke

Diabetes

GERD

HIV/AIDS/OIs

Hypertension

Osteoporosis

More will be added regularly…
Coding Guidelines: ICD-10-CM Annotated by CCO

ICD-10-CM Coding Blocks

Coding Cerebrovascular Disease

Coding Diabetes

Coding Glaucoma

Coding Heart Attacks

Coding HIV

Coding Hypertension (HTN)

Coding MRSA/MSSA

Coding Neoplasms

Coding Pain

Coding Psychoactive Substance Use

Coding SIRS and Sepsis

Coding Sepsis Complicating Abortion, Pregnancy, Childbirth, & the Puerperium
Wait! We're Also Including These Free Bonuses
Once you're learned the core material, we want to make sure you're ready for the final certification exam.
That's why we've included these additional bonuses worth $1,571 if purchased separately.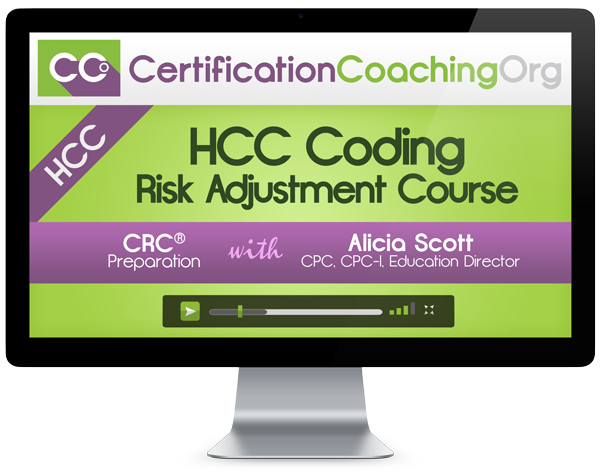 Risk Adjustment 1.0 Course

($1,297 Value)
In addition to the new Risk Adjustment 2.0 Course, your purchase also includes access to the original Risk Adjustment 1.0 Course. This course was created by Alicia Scott and Tamara Lucus.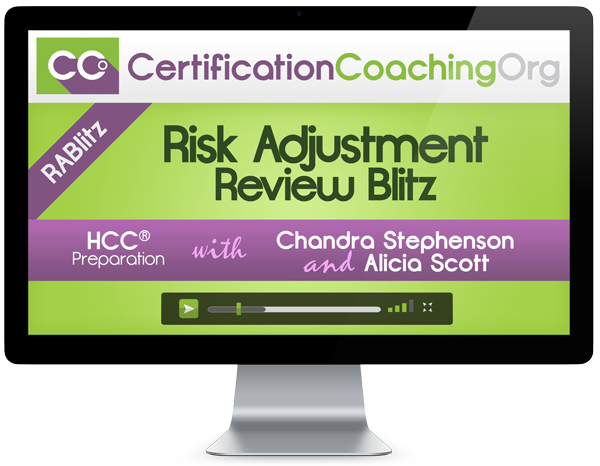 Risk Adjustment Review Blitz

($77 Value, 5 CEUs)
Once you've completed the full course, our Risk Adjustment Review Blitz is your next step. It will help you refine, refresh and review your knowledge of critical concepts in preparation for the exam.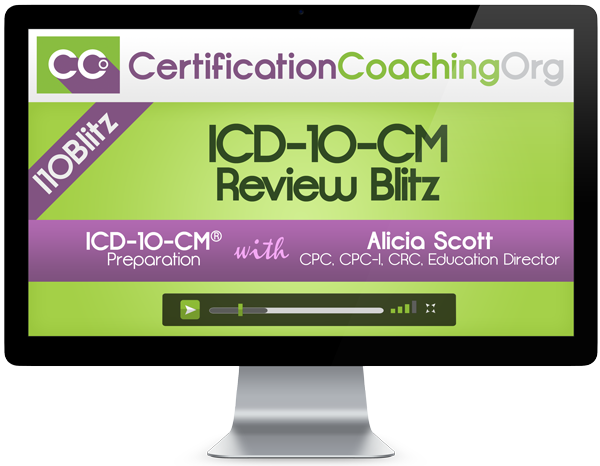 ICD-10-CM Review Blitz

($197 Value, 17.5 CEUs)
With over 20 hours of video training, our ICD-10-CM Review Blitz is the perfect way to refresh, refine and review critical concepts of ICD-10-CM coding. This course also includes 17.5 CEU credits.
Why CRC? Because Multiple Credentials = Higher Salaries
According to the AAPC, "salary data reveals that the more AAPC credentials you carry, the higher your salary."
This means that acquiring a 2nd credential, could potentially increase your salary by $11,510.
A 3rd credential shows an average increase of $7,244. [Source]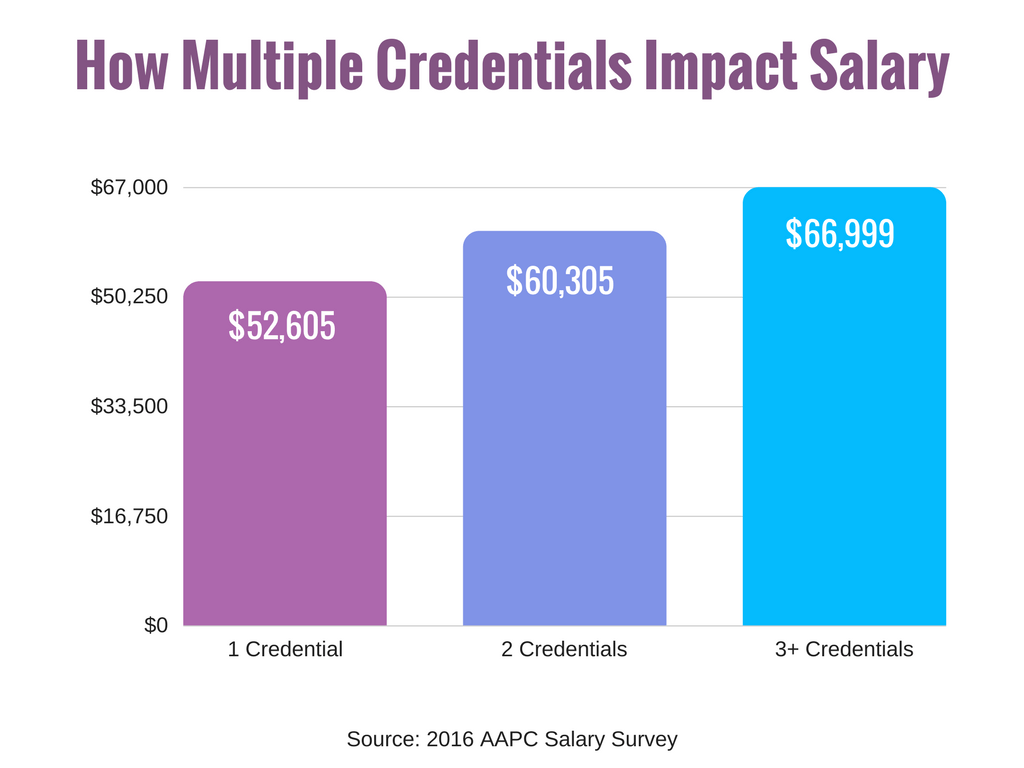 Student Reviews: We Love Our Students, And They Love Us
"It definitely got me well prepared"
Just want to let everyone know that I took my CPC exam on December 08 and passed with an 88%. I did an online course so I did not have a teacher in front of me at any time. I attribute much of my success to the Blitz videos because then it felt like a teacher to help me. Laureen is the best! If I can do this at age 54 then anyone can do it! Do not doubt yourself, hard work and hard studying pay off. I did over 750 practice questions to get me ready for this. Not one question was on the exam but I think it definitely got me well prepared along with the "Bubbling and Highlighting" technique. Good luck to anyone studying for the CPC!" – Darlene Bakaj-Wood, CPC-A
Can you hear me screaming from the roof top??!! I passed my CPC certification on the very first try! I am so thankful for your Blitz videos and practice exams. I just found out today that I actually passed the test.
Just wanted to say that I took my CPC exam in December and I passed. I honestly feel that this course was amazing! I researched coding and found this site and am so grateful that I did. I was nervous about starting an online course. I felt the Blitz was extremely helpful in helping me pass the exam. It is very important to do the Blitz and practice exams. I don't feel like I could have done it without CCO! Thank you.
I passed my CPC exam on first try with 80%. I could not have done this without the Blitz videos and practice exams. The bubble and highlighting really assisted in my getting thru all 150 questions in the allotted time. My thanks to Laureen and the team as I could not have done it without you guys!!
The Blitz along with several practice tests really helped me feel confident when I walked into the exam. I finished with 40 minutes to spare, which I took to go back over the questions/scenarios I wasn't super sure I did all I could to answer correctly. I was able to take some time and change a couple of answers in that extra time. And I PASSED my first time taking the CPC exam!
Much thanks to Laureen and Alicia for your help and support! I passed the first time with an 88%! I feel such a sense of accomplishment! I knuckled down and completed the PBC course and the Blitz. The bubbling and highlighting is superb! Also, the practice exams were very helpful as Laureen and Alicia advised. Alicia's understanding and nurturing coaching style is perfect for me. She was available when I needed her. Looking forward to continuing my studies with both of you.
7 Day Iron-Clad 100% Satisfaction Guarantee
We have invested hundreds of hours into our exam questions and are very proud of its quality and accuracy. But none of our work matters if you, the student, aren't completely happy with your purchase.
In order to remove all risk, we offer a satisfaction guarantee in case you find our CPC® Mini-Mock Practice Exam isn't a good fit for you or your needs. Simply contact our Help Desk and let them know within the 7 day period.
Invest In Your Future Today!
Yes! Please I'd Like to Order The New "RA 2.0 Coding Course"
I understand I'll be receiving 12 months online access to the entire "Risk Adjustment 2.0 Coding Course" plus access to the Risk Adjustment 1.0 Course, Risk Adjustment Blitz and ICD-10-CM Blitz for a small one-time investment!
I also realize I have 7 days to request a refund – plenty of time to make sure this course is for me.*
Risk Adjustment Course
One Payment Today
12 Months of Access
24/7 Online Access
ICD-10-CM Decision Trees
Pearls
Practice Cases
Risk Adjustment 1.0 Course
Risk Adjustment Review Blitz
ICD-10-CM Review Blitz
Certified Instructor Support
Live, Weekly Student Group Calls
Group Call Recording Archive
Risk Adjustment Course
3 Payment Plan, 30 Days Apart
12 Months of Access
24/7 Online Access
ICD-10-CM Decision Trees
Pearls
Practice Cases
Risk Adjustment 1.0 Course
Risk Adjustment Review Blitz
ICD-10-CM Review Blitz
Certified Instructor Support
Live, Weekly Student Group Calls
Group Call Recording Archive
*less $150 administrative fee
Frequently Asked Questions
System Requirements for Streaming Video
Our members area offers online streaming videos that are fully compatible with the newest web browsers from Internet Explorer, Firefox, Chrome and Safari. Older versions of web browsers will not work since they do not support HTML5 or modern video files.

CCO only supports the Chrome Web Browser which can be downloaded for free here.

We recommend a modern Computer, Laptop or Tablet and a high-speed internet connection to experience smooth streaming playback of our HD videos. Slower computers (pre-2010) and internet connections will result in choppy playback and browser errors.

Newer iPhones and iPads are fully supported.

Android phones are not officially supported, but students report the videos play well on them.

Finally, don't stress the tech stuff too much. Our friendly support team is always here to help you on your medical coding journey.