So, you're interested in learning more about our medical coding course products. Well, you've come to the right place. All of our medical coding course product offerings are designed to help you take your medical coding career to the next level. Free monthly, interactive Q&A webinars let you interact with your peers to discuss challenges; or specialty-specific webinars address more focused topics such as modifiers and E/M coding. We can also help you bone up on your medical terminology and anatomy, and prepare you to take the CPC exam. Our 80-hour medical coding course, review videos, CPC practice test and personal coaching sessions will provide you with the confidence you need. Additionally, our products are designed to meet various learning styles and are for newbies and seasoned pros. So, whether you want to pass your CPC exam, or you simply need to freshen up your medical coding skills, you're sure to find a product to suit your need.
---
Medical Coding – Learn It Products
Whether you're new to medical coding or transitioning from ICD-9-CM to ICD-10-CM/PCS, Medical Terminology and Anatomy for ICD-10 Coding helps you prepare to code accurately and effectively using the ICD-10-CM/PCS code set with a complete understanding of relevant medical terminology and anatomy.
We help make unfamiliar medical language more approachable, and carefully sequenced medical terminology lessons help you understand the vastly increased anatomy necessary for accurate coding, including the locations of hundreds of arteries, muscles, nerves, and other anatomy. . [Learn More…]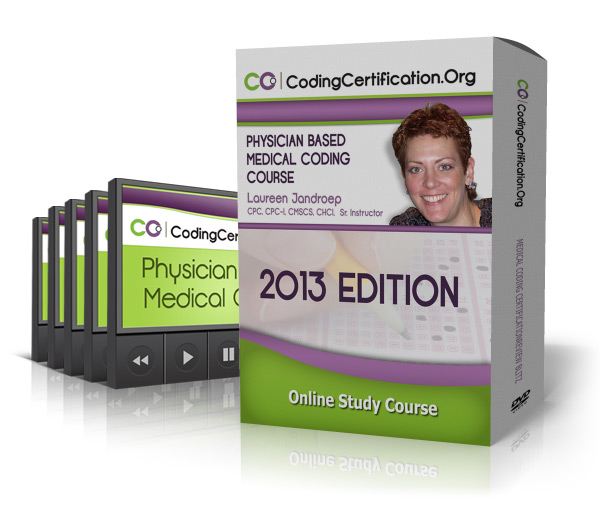 Our Physician Based Medical Coding course will teach you the core trainings needed for coding in a medical office and gives you all the training needed to pass the AAPC CPC board exam and start you in your career in Medical Coding. Our goal is to give you all the current information needed to be a successful medical coder AND pass your medical coding CPC exam test. This includes training in CPT, HCPCS and ICD-9-CM and even the future ICD-10 coding system.
When you are complete with our course, you will be able to review and assign the correct procedures and billing codes for physician based patient services. For over 11 years now I have been teaching medical coding – with many students successfully passing their first CPC exam after viewing my videos. [Learn More…]
Combo Package: Medical Terminology & Anatomy PLUS 80 Hour Medical Coding Course
Our best package and the best choice for those new to medical coding  [Learn More…]
---
Medical Coding – Get Certified Products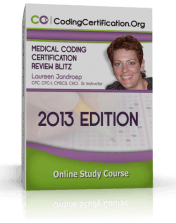 So you have completed your medical coding training. You have big plans to make a career in the medical coding field. Smart move! Your next step is to take either the Certified Professional Coder (CPC) exam or the Certified Coding Specialist-Physician Based (CCS-P) exam.
This is both a review of the subject matter and a guide to doing well on the exam. You will not only have an exhaustive review of all the various diagnostic and therapeutic procedures covered on the exam, the program will also demonstrate ways to go through the process of taking the exam in the most efficient manner, making best use of the time allowed. Since this is an open-book exam, the program teaches you my proprietary "bubbling and highlighting technique." This technique demonstrates how to mark and highlight your coding manual to make it easier to choose the correct answer of the choices given for any question on the exam. You'll see how to best manage some questions you might find more difficult than others. [Learn More]
Our 150 question CPC practice exam was createdto emulate the actual CPC exam as closely as possible. We felt that by doing this examinees would know exactly what to expect on examination day. By utilizing this structure examinees can better prepare for the exam by focusing on category specific questions and identifying areas of weakness. Knowing what to expect in detail also tend to help calm pre-test anxiety.
We have taken into account the wide spectrum of diversity the CPC exam offers and have constructed the questions on our CPC Practice Exam to reflect those on the actual exam as closely as possible.
In addition to our well constructed questions we are also providing a full rationale for each question.
These rationales provide the correct answer for each question as well as a full explanation as of why this option is correct, why the other three options are incorrect, and where in the medical coding books the answer can be located. [Learn More]
---
Medical Coding – Stay Certified Products
This Mini Course is for Medical coders wanting to learn ICD-10-CM (not PCS) and those with an existing understanding of ICD-9 and basic coding. The ICD-10-CM Mini Course includes
6 Jam-Packed Modules.
Module 1: An Overview of ICD-10-CM
Module 2: ICD-10-CM Outpatient Coding & Reporting Guidelines
Module 3: Using ICD-10-CM
Module 4: Chapter-Specific Guidelines (1-10)
Module 5: Chapter-Specific Guidelines (11-14)
Module 6: Chapter-Specific Guidelines (15-21)
If you have your CPC® certification already and need to maintain your CEUs or if you're looking for good continuing education related to your medical coding career check out our offerings – they are easy to use – just like clicking on a YouTube video. At the end take a quiz to test your new knowledge and we'll send you a shiny new CEU certificate. [Learn More]
Every month CodingCertification.Org puts on a live hour long webinar with Sr. Instructor Laureen Jandroep, CPC, CPC-I fielding questions from you and your peers.  Also on the panel with Laureen is Coding Instructor and Coach, Alicia Scott, CPC.  Together they prepare answers to your questions prior to the call and present answers via a live, engaging webinar.
When you join the club you get first access to the replay of the live event including a printable transcript containing every word spoken during the webinar. The transcripts also include time stamps of where each question starts to help you advance the video to just the right spot. [Learn More]
Schedule a personal 30 or 60 minute session with Laureen Jandroep, CPC®, CPC®-I. She is a seasoned medical coding instructor with 20+ years of experience in healthcare. [Learn More]