CPT Modifier Decision Grid Tool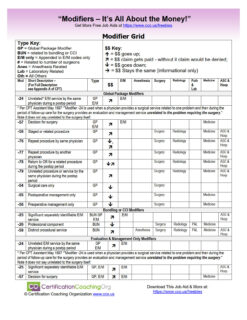 Are CPT modifiers making you mad? Are you unsure of what CPT modifier code to use? Let us help you navigate the CPT modifier maze with our easy to use, at-a-glance modifier decision grid tool. It provides you with a comprehensive medical billing modifiers list that is sure to make your life easier when it comes to ensuring you are getting the medical coding reimbursement that your practice deserves.
This CPT Modifier Decision Grid Tool will help you to:
Decide which family of modifiers your should be using
Help you understand how reimbursement is affected by applying certain modifiers
See which category in CPT typically uses these modifiers
Understand when a claim may get denied if a CPT modifier is not attached
and more…
For instance, did you know that modifier -63 (procedure performed on infants less than 4kg) will increase your reimbursement? And, what if you do not use modifier -57 to denote decision for surgery? Well, your claim could be denied.
So, ensure that you don't miss out on dollars and download your free modifier decision grid tool today.