Free PDF:
Learn How to PASS
Your CPC Exam!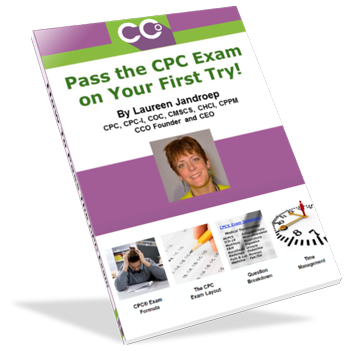 Pass the CPC Exam on Your First Try!
Free 47 Page PDF Blueprint!
In medical coding, we at CCO have been teaching medical coders how to pass the CPC® Exam since 1999.
We have put together a pdf handbook of our best tips and processes to help you pass the CPC® Exam on your first try. This study guide helps you get ahead and prepares you for your Board Exam by teaching you:
The Formula for CPC® Exam Success
CPC® Exam Question Breakdown Series by Series
CPC® Exam Tips and knowing what to expect
and much more!
What Will You Learn from the PDF Handout?
This PDF Presentation Blueprint from Laureen Jandroep's Video Presentation "Pass the CPC Exam on Your First Try" will give you the
Formula for CPC® Exam success.
Here are just a few of the tips you will learn.
CPC® Exam Formula
4 Best Practices to better prepare you for your exam. Ignore these at your own risk of failing!
CPC® Exam Layout
What does the actual exam look like? Learn the passing grades and the structure of the CPC® exam.
Question Breakdown
Know what to expect on the exam so you will know what your focus of study needs to be.
Time Management
How to answer questions and finish ON TIME and with the best chance of passing your CPC® Exam.
Yes, Please Send Me the PDF!
"It definitely got me well prepared"
Just want to let everyone know that I took my CPC exam on December 08 and passed with an 88%. I did an online course so I did not have a teacher in front of me at any time. I attribute much of my success to the Blitz videos because then it felt like a teacher to help me. Laureen is the best! If I can do this at age 54 then anyone can do it! Do not doubt yourself, hard work and hard studying pay off. I did over 750 practice questions to get me ready for this. Not one question was on the exam but I think it definitely got me well prepared along with the "Bubbling and Highlighting" technique. Good luck to anyone studying for the CPC!
– Darlene Bakaj-Wood, CPC-A