Maybe you are one of the people who is:
Not sure if that local school down the street has a good program?
Worried about reports of people attending a $19,000 program and not having the skills to even pass the national board exam?
Wondering if you will finish in the typical 4 months online programs give you to finish?
Wishing someone would just take your hand and guide you from beginning to end without emptying your wallet?
Take A Look Inside the Members Area of Our
"Medical Coding Classes Online"
Video- Part 1
Video- Part 2
In fact, it thrills me every time to get a testimonial from the "regular folks" out there performing medical coding services for professionals after receiving our trainings.
Regular folks like Francine, for example: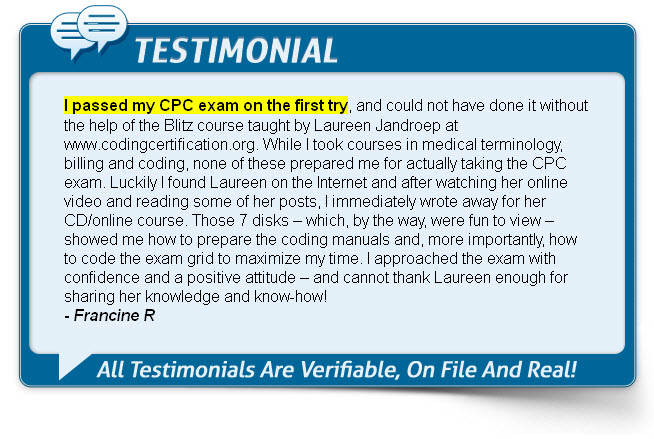 So you've seen the reports on how medical coding is an in demand career and is expected to keep increasing. You have big plans to make a career in the medical coding field. Smart move! And your ultimate goal after getting your training is taking and passing
either the Certified Professional Coder (CPC®) exam or the Certified Coding Specialist-Physician Based (CCS-P) exam.
You were pretty enthusiastic when you first started searching for the perfect medical coding school but quickly got discouraged Maybe even overwhelmed?
… you are basically flat out tired from all the searching for the right medical coding training program and just want to get started.
Guess what… I was there once before just like you. I remember a time when I was in search of a program and there were none locally and no one had even thought of online coding training yet. Believe me, I feel your pain!
Need A Medical Coding Course? You've come to the right place!
My name is Laureen Jandroep (CPC®, CPC®-I, Senior Instructor) and I've been teaching and coaching medical coders to prepare to be certified coders for the AAPC (American Society of Professional Coders) or American Health Information Management Association (AHIMA) physician based board exams since 1999. I have taken and passed many of the board exams including: CPC®, CPC®-H, CCS-P, CCS, and RCC.
I basically thought I was going to be an occupational therapist when I grew up and I was for a number of years. I actually ran a therapy practice here in South Jersey. At our zenith, we had about 27 therapists and aids and office staff and we basically did over 1.6 million in billing a year which I was pretty proud of. But what I was most proud of is that we had less than a 0.06% rejection rate and that was because we did good coding. Kind of by accident, I basically had to do billing. I had to learn about cost reports and all of that. I got out manuals and I actually read the introduction of my coding manual. We had a very low denial rate and in the rehab industry, that's just unheard of. So I have taken an interest in coding since back then. Medicare pretty much changed the way rehab agencies like mine were able to bill, and many of us went out of business. So I got into the billing and coding world. I ran a school for a number of years which I loved… and guess what… I'm still teaching even now!
I have a unique way of teaching myself new concepts and I share that with my students. So they "get it". As fast as possible. Because medical coding demands that we stay current on changes in medical coding billing. So let me tell you…
There is a Solution to Finding the Best Medical Coding Training Available Today.
You see, it doesn't have to be that hard. You don't need to stress. After all, most schools are using the same textbooks and workbooks. So the important thing to focus on is the instructor and their teaching methods.
There is an easier way! Let me explain…

Introducing:
The Physician Based Medical Coding Course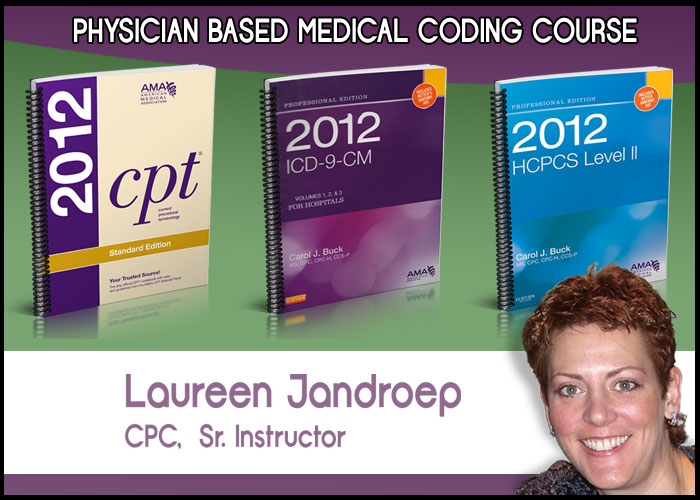 My medical coding video review program
prepares you for the following exams:
Certified Professional Coder (CPC®) exam by the AAPC (AAPC) and the
Certified Coding Specialist-Physician Based (CCS-P) exam by the American Health Information Association (AHIMA).
14 modules of Medical Coding Training
Video Lectures so it's as it you are sitting there in class right with Laureen
Reading assignments from the most widely used medical coding text in the industry
Online submission of homework for quick grading
Timed online tests for immediate grading and feedback
Discussion board dedicated to our students
Regular coaching sessions and review of your progress.
Additional Bonuses As Part Of Your Enrollment
Coding Certification Review Blitz – 6 DVD set mailed to your door and online access ($240 value)
150 question Mock Board Exam (compare to the AAPC's 3 practice exams that are 50 questions each) a $79 value
Access to two on demand CEU trainings (CEUs are needed to maintain your new credential)
Ongoing invitations to our monthly Q&A Webinars (even after you graduate)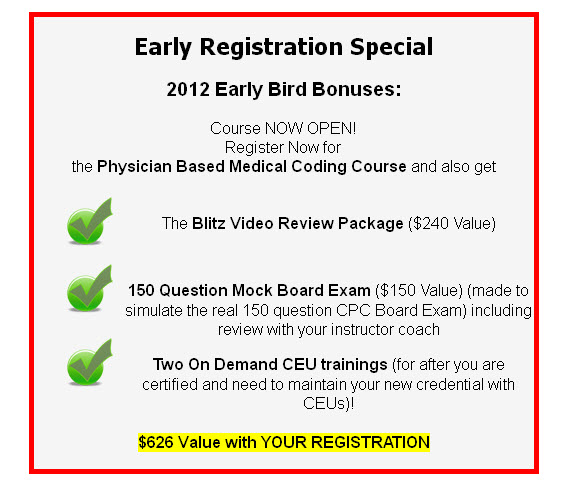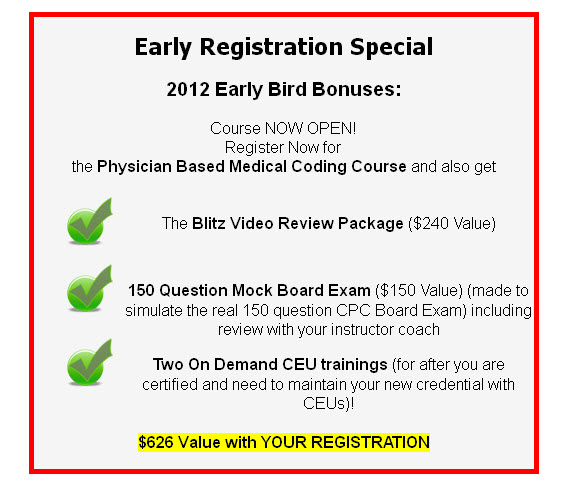 Our Course Description: In A Nutshell
Our Physician Based Medical Coding course will teach you the core trainings needed for coding in a medical office and gives you all the training needed to pass the AAPC CPC® board exam and start you in your career in Medical Coding.
Our goal is to give you all the current information needed to be a successful medical coder AND pass your medical coding cpc exam test.
This includes training in CPT, HCPCS and ICD-9-CM and even the future ICD-10 coding system.
When you are complete with our course, you will be able to review and assign the correct procedures and billing codes for physician based patient services.
For over 11 years now I have been teaching medical coding – with many students successfully passing their first CPC® exam after viewing my videos.


Will These Trainings Help Me Become
A Certified Medical Coder?
This program works. It's worked for hundreds of people. But don't take my work for it. Here's just some of the testimonials I have received from some of the happy students who have purchased my CPC® Exam preparation Videos over the last few years:
Blitz Video Review – Mary
"I failed two times… then bought your videos"
"At age 49, I started to go back to school in a MBC program, Graduated at age 50 with high honors, and valedictorian…. I attended an alumni meeting a year later, and the MBC Program Director hired me to teach the MBC Externship Program…. I had to become CPC® certified within months to keep employment there. I failed the first time, couldn't finish in the 5-1/2 hours allotted then.
Failed the second time by the skin of my teeth- 69. And then restudied, restudied and bought your Videos, which I viewed a few times.
Going through the CPT® book and highlighting guidelines and all those tips made the exam go smoother. I took the exam, passed and incredibly finished in 4-1/2 hours. That's a record for me. Yes, it cost me again to pay for the exam but I have no regrets whatsoever. Your videos helped me tremendously the 3rd time around and I just wanted to say thanks to you. 3 Times was a charm for me. :) NEVER GIVE UP. Keep up the great work. You are awesome, you teach from your heart and your tips are EXCELLENT.
– Mary

and another…
Blitz Video Owner- Kartika Shree
"I passed the CPC® exam with 87%"
Dear Laureen, I found out today that I passed the CPC® exam with 87%. Your blitz videos were extremely helpful. I learned so much more from these videos than I ever did in school. Every chapter was well structured and easy to follow. It boosted my confidence and kept me motivated all along. I can't thank you enough….
– Gratefully, Kartika Shree, CPC®-A :)
Here's What's Great About These Videos:
They get you up to speed and trained in all the basic requirements to be a medical coder- starting from scratch.
They prepare you to pass the certification exam ON THE FIRST TRY
They teach you a proprietary "Bubble and Highlighting™ Technique" to help you use your manuals during the test- and after during your daily coding work
Watching the dvds and online videos are cheaper than a live event
They help you be more confident about passing the CPC® exam
You can fit watching the videos into your own schedule
Easier to digest/ take in the information on video than at a live event
You can pause the videos
You can rewatch the videos in the areas you need to work on
If it's a medical coding area that you feel comfortable with, you can skip it and save time studying
You can spend more time studying problem areas
My Blitz videos are the only CPC® exam preparation video system available on the internet!
You can get started NOW with the online videos!
More Testimonials
Here is what other people who passed their exam on the first try have said about my Coding Certification Blitz Videos:
Blitz Video Owner- Mary L. Springs
"I passed because of your Blitz Videos…"
I'm one of the ones that passed the certification exam because of your Blitz videos…I'm back in class taking refresher coding courses to keep my self abreast of the updates. I'm in 2 classes with about 20 students in each class, all trying to get certified. As your Blitz was such a blessing to me, I printed from the internet your advertisement page for your Blit Videos. I'm going to give each of my classmates a copy and let them know that I had tried passing the certification exam several times and didn't pass until I viewed your DVD's. I hope some, if not all, will take an interest and will order your DVD's. Thanks again for the help you have been to me.
– Mary L. Springs
Blitz Video Owner- Virginia Farrell
"I passed my CPC® exam- on the first try!!!"
Dear Laureen: I've just received notification that I've passed my CPC® exam- on the first try!!! There is no way I would have passed the exam without your Blitz Course. The advice and tips you gave are invaluable. Money well spent. I hope to use this certification and my past experience to become an instructor in medical coding and billing. Thank you so much for this step up to my future career!!
– Virginia Farrell, CPC®, Suffern, NY
Here's What's Inside:
The Physician Based Medical Coding Certification Training


Module 1
Reimbursement, HIPPA, and Compliance

Module 2
An Overview of ICD-9-CM
ICD-9-CM Outpatient Coding and Reporting Guidelines
Using ICD-9-CM

Module 3
Chapter‐Specific Guidelines (ICD‐9‐CM Chapters 1‐8)
Chapter‐Specific Guidelines (ICD‐9‐CM Chapters 9‐17)

Module 4
An Overview of ICD‐10‐CM
ICD‐10‐CM Outpatient Coding and Reporting Guidelines
Using ICD‐10‐CM

Module 5
Chapter‐Specific Guidelines (ICD‐10‐CM Chapters 1‐10)
Chapter‐Specific Guidelines (ICD‐10‐CM Chapters 11‐14)
Chapter‐Specific Guidelines (ICD‐10‐CM Chapters 15‐21)

Module 6
Introduction to the CPT® and Level II National Codes (HCPCS)
Modifiers

Module 7
Evaluation and Management (E/M) Services
Anesthesia

Module 8
Surgery Guidelines and General Surgery
Integumentary System
Musculoskeletal System

Module 9
Respiratory System
Cardiovascular System
Hemic, Lymphatic, Mediastinum, and Diaphragm

Module 10
Digestive System
Urinary and Male Genital Systems
Reproductive, Intersex Surgery, Female Genital System, and Maternity Care and Delivery

Module 11
Endocrine and Nervous Systems
Eye, Ocular Adnexa, Auditory, and Operating Microscope

Module 12
Radiology
Pathology/Laboratory

Module 13

Module 14

And These Bonuses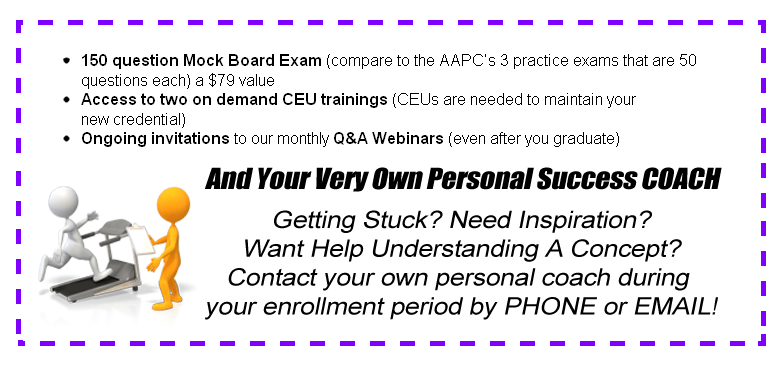 LIMITED TIME BONUS 1:
9.5 HOURS OF CPC® Exam Preparation VIDEOS on DVD and ONLINE:
$240 Value
Each video is between 20 – 50 minutes in length.
Enough to completely cover each section while at the same time allowing you to take breaks between sessions covering a specific topic.
You can then go on to the next topic or play the last video again.
Each section refers to your CPT® manual so you can follow along and see how to best use your book during the exam. After all it is an open book exam. You'll be able to find the codes you need in the shortest time.
"Proprietary Bubble and Highlighting™ Technique": how to mark and highlight your CPT® and ICD coding manual to make it easier to choose the correct answer of the choices given for any question on the exam.
A complete, comprehensive review of what is covered on the CPC® exam: an exhaustive review of all the various diagnostic and therapeutic procedures covered on the examA guide to doing well on the exam: the program will also demonstrate ways to go through the process of taking the exam in the most efficient manner, making best use of the time allowed.
How to best manage some questions you might find more difficult than others.
How you can look up codes during your exam relating to diagnoses and procedures in the most efficient manner.
How to take the exam: the mindset needed to not focus on the 'little things" but focus on the important of coding guidelines.
The videos are an exhaustive review of the beginning of the CPT® book to the end.I not only cover the entire CPT® manual, but also
the highlights of ICD-9-CM ; the 10-12 key questions that you need to focus on to pass the Physician based medical coding board exams.
Highlights of the key questions you will be tested on from the HCPCS manuals
Take Action Now!
Start Your Career as a Medical Coder Today!
So what are you waiting for?
Ready To Get Started As A Medical Coder?
How many hours will you waste not learning to study efficiently?
How much more money and time will you invest in a live review session?
Here's the Good News!
Getting this training is your first step in entering or moving up in working as a medical coder.
Remember: Being certified gives you certain advantages, including:
This is step ONE if you are planning on becoming an entry-level coder.
Seek out new income opportunities as a medical coder.
Certified coders earn on average

$7000 more annually

than uncertified personnel.
Registration Open Now
First lecture Available July 23rd (possibly sooner)

This MTA Course Includes…
Medical Terminology and Anatomy for ICD-10 Coding Textbook
by Betsy J. Shiland and published by Elsevie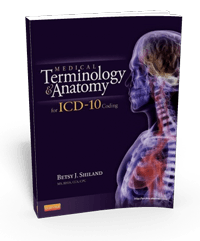 Whether you're new to medical coding or transitioning from ICD-9-CM to ICD-10-CM/PCS, Medical Terminology and Anatomy for ICD-10 Coding helps you prepare to code accurately and effectively using the ICD-10-CM/PCS code set with a complete understanding of relevant medical terminology and anatomy.
Coding certified (CCS, CPC) and approved AHIMA ICD-10-CM/PCS Academy Trainer Betsy Shiland makes unfamiliar medical language more approachable, and carefully sequenced medical terminology lessons help you understand the vastly increased anatomy necessary for accurate coding, including the locations of hundreds of arteries, muscles, nerves, and other anatomy. This unique resource also includes engaging in-book exercises and interactive online resources, giving you the review and practice you need to reinforce your comprehension and confidently prepare for the coding workforce.

Medical Terminology & Anatomy Topics Covered
Terminology coverage specific to ICD-10-CM/PCS familiarizes you with the terms and definitions you'll encounter most frequently in coding practice.
Anatomy and physiology content helps you accurately interpret medical reports to code effectively in ICD-10-CM/PCS.
Pathology terms are organized by disease and disorder classification so you can practice locating information just as you will when coding with ICD-10-CM.
ICD codes provided for pathology terms and signs/symptoms help you associate diagnoses with related codes.
In-book exercises test your understanding as you learn.
Pathology and procedure terminology tables challenge you to decode terms by word origins and definitions.
Root operation information is incorporated into procedure tables to familiarize you with the associated common suffixes.
Electronic medical record format familiarizes you with documentation commonly used in healthcare settings.
Guideline Alert! boxes link terminology to relevant ICD-10-CM/PCS information at a glance.
Be Careful! boxes alert you to similar and potentially confusing word parts and terms.
Interactive learning games and activities on a companion Evolve website reinforce your comprehension and make learning medical terminology more engaging.
Order Now And Get Instant Access
Yes!

Please Give Me INSTANT ACCESS To The Entire


"Medical Terminology & Anatomy for Medical Coders Course"

and

"Physician Based Medical Coding Course"

I understand I'll be receiving the entire "Physician Based Medical Coding Course", "Medical Terminology & Anatomy for Medical Coders Course" and Physical Book for a tiny one-time investment when I act now!

I also realize I have nothing left to lose, since you're generous enough to offer me a 30 day money-back guarantee if I'm unsatisfied in any way.