Test Your Practice Management IQ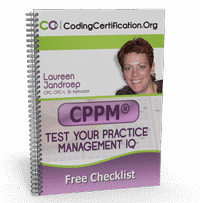 So, you want to be a physician practice manager? Or, maybe you already are a physician practice manager, but now you want to take it to the next level and get certified. Here, we present you with a free checklist that will help you test your practice management IQ.
It is designed to show you where your strengths and weaknesses lie as you think about prepping to get your CPPM® (Certified Physician Practice Manager) credential.
Fill out the form on the right to instantly download this time-saving free checklist.
Sincerely,