About Laureen Jandroep, BSOT, CPC, COC, CPC-I, CMSCS, CHCI, CPPM, CDEO, CPMA, CPB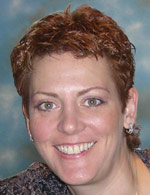 Laureen has over 30 years in the healthcare field. She graduated as an Occupational Therapist in 1986 and before long was running a successful therapy practice which did over 1.6 million in billing per year with a less than .06% rejection rate. Once Medicare changed how rehab companies were reimbursed this business was closed and Laureen eventually started a new company dedicated to teaching Medical Coding and Billing.
Laureen has taught medical coding and billing since 1999 and currently does so through her company Certification Coaching Organization, LLC  (CCO).
Laureen's professional associations include:
She founded the Southern Jersey Chapter of the AAPC and is served as the Chapter President for 2013.  She served on the AAPC National Advisory board from 2003 – 2006 in addition to being a consulting editor for several "Coding Alert" publications for the Coding Institute.  She has served on the following editorial boards
Radiology Coding Alert
Pathology/Laboratory Coding Alert
Medical Office Billing & Collections Alert
Physical Medicine & Rehab Coding Alert (Eli's Rehab Report)
Laureen lives in Central Florida with her husband of 30+ years Anthony and four young children. Prior to moving to Florida in 2018 the lived in Southern New Jersey. They enjoy watching their kids surf and enjoy the wonderful Florida weather.