Tamara: I think any time that you get a certification underneath your belt, it only makes you better and it makes you more marketable to do that. The auditing certification isn't extremely difficult per se, but it's very, very different because it only focuses on one thing when we're doing that. It may be something if you're interested in doing that, but yeah, if you want to go ahead and get your certification that's great, it would look great on your resume. Employers may though want you to have a little bit more experience in it, so you may not get hired right away as an auditor, but it certainly helps you out in the future.
Alicia: Yes, I am… had pondered this question as well. See my little… man pondering right there? That was a great picture.
Tamara: [Laughs]
Alicia: There really are different ways to answer that, because again, like Tammy already mentioned, it depends on what region you're in – is there a demand for auditors? And, you have to consider: auditing is much more than just coding. You have to be really good with the documentation, familiar with that, and while you're auditing you're usually doing document specialty work. Wouldn't you agree, Tammy?
Tamara: Oh yeah.
Alicia: Like you said, things are signed. Which when you get into the auditing course, Tammy can explain that to you; but it's just not knowing codes. You really have to have a strong grasp of E/M like Tammy mentioned already. If you struggle with that, then that's just a sign you need to get some help. We have help with that with an E/M CEU module, but there are great tools out there to help you. And auditors are people, I think – wouldn't you say Tammy that E/M sparks somebody's interest? That's a good flag that you would enjoy auditing.
Medical Auditing Career — Should a New Coder Take a Medical Auditing Course?  Video
Tamara: Oh, definitely. If you like looking at it now, you would definitely want to get your auditing credential.
Alicia: I've had a few people, were the students, because usually I give them a little warning –"Oh, by the way, the E/M is a little tough. So when you get there, don't be scared, we'll walk you through it." There's some that come back and "I love this," and I always think, "Alright, that's an auditor talking to you."
You need to have attention to detail – very important. There're rules and regulations, they change all the time every year and sometimes more frequently than that. Not only do you have to know the rules and regulations for CMS and stuff, but all the insurance companies change. The way Medicare wants something, it may not be the way Blue Cross, Blue Shield in your area wants it. And you have to able to stand up to justification –  and what I meant by that was that an auditor comes in and they're telling you what you're doing wrong, they're catching your mistakes. Now, this is an internal audit, you want them to do that for you. As a coder, you're just going to expect to be audited, it doesn't matter how often or how long you can [? 0:17:58] because there's really, really good coders that enjoyed being audited because they want to know quickly: Am I doing this wrong? Had something changed [? 0:18:09] to my attention?
So, auditing is a way of life if you're a coder, but when we come in and do those external audits they're usually paid to find mistakes. If you're the auditor, you have to be able to justify and have that knowledge when somebody is fighting for those points. When you're going to ding them, they're going to fight, and so you have to be able to stand up against that and give rationales.
So, if you think that this might be for you, these are some things to consider if you're new: Will the benefit outweigh the expense? Again, when you have multiple certifications you have to pay more again for your certifications every year. You have to get more CEUs and you need to pay for your training, you need to pay for the test; so think about that. Sometimes your employers, like Tammy said, will pay for you to have that training because it benefits them for you to have that ability to do that internal auditing for them, and it's something that you might want to approach your employer about.
Do I have the background needed? Again, you can get your CPC and if that's something you want to do and get auditing, jump in there and do it. Just because you don't have two years of experience might mean that you have to struggle a little bit more or ask more questions, but you get that under your belt, and the real learning is out in the workforce anyway.
What are my job options? Can I get a job as an auditor? Like Tammy said, is this going to make me more marketable and is this what I want to do in coding? Auditing would be a great course and it sounds good to be an auditor, but if you don't like E/M and you don't like having your nose in those cases and nothing else, then it may not be for you.  So, consider that. Talk to auditors, talk to instructors like Tammy who have that background behind them so that you can find out: is this really what I want to do? Do you have anything to add, Tammy, to that?
Tamara: Just one thing about the expense. I know that CCO is offering this for, I think what $380?
Alicia: Yeah, it's real cheap.
Tamara: Yeah, extremely. Because when I took this five years ago, it was $975 to do this. So, when you're paying a thousand dollars to get educated and certified, you do really have to ask this question: is it going to benefit me in the future? This one is not expensive at all in my book. It's being offered at a great price. So, if you're thinking about it now, it's time to jump on that.
Alicia: And the reason Laureen does that everyone is because it's our launch, so you're kind of beta testing for us, making sure that we've got everything where it needs to be. And not to say that as a negative thing, you're still going to get a quality education but your feedback is really valuable to us. So, we want to have the best course out there and this is going to be done live. When you have live, you have to be a little bit more patient with the more restricted schedule. So, there are pros and cons; take advantage of that if you're able to do that.
Boyd: Thank you Tammy for being with us. It was great talking to you and we look forward to having you in a couple of weeks and doing some webinar recording with you, so looking forward to that.
Tamara:    Oh, me too. Thank you. You all have a great night.
More Information about Medical Auditing Career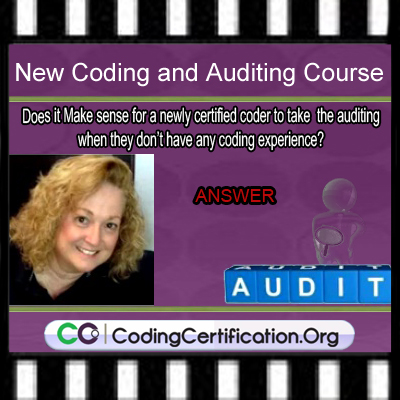 Medical Coding Course – Certified Professional Medical Auditor Training – Video