Many people ask me if I feel a career in medical billing is a good choice for them or not. Medical billing is more than just data entry; however, good typing and data entry skills are essential for the job. Medical billers must understand the basics of medical coding, which is assigning alphanumeric codes to the diagnosis, procedures, and supplies used during a patient encounter. The medical biller then uses software to process the claim and send it to the payer for reimbursement. The job is mostly done sitting in front of a computer. Additionally, medical billers may also do the accounts receivable in calling patients to pay unpaid balances. If claims are denied or rejected, the medical biller uses their skills in research and claims processing to resubmit claims quickly for payment.
Medical Billing Career
Right now is a great time to get into medical billing as a career because with the new health insurance legislation going into effect more people will be accessing healthcare. Additionally, the baby boomers of the 1960s are aging and accessing healthcare services more than ever. Training to become a medical is relatively short – about 12 weeks in duration. This makes getting into the career a rather quick process. Pay depends on what part of the country you live in, if you are certified, and years of experience. People entering into a medical billing career will usually make between $12-$15 an hour. With experience and certification, those numbers would go up. Jobs can be found in clinics, doctors' offices, and hospitals. Medical billers with experience can also get jobs as auditor's and even claims adjudicators for insurance companies. Medical auditor's work for independent entities and go into clinics and review their claims for accuracy and make recommendations. Claims adjudicators work for payers and review claims as they come in and make determinations for payments. There also is the potential to start your own medical billing business and to work from your home. Obtaining clients can be tricky and a great marketing flyer and patience is needed. Additionally, software to start out can be expensive around $1500.00. However, once clients are obtained, the medical biller will make a percentage of what they bring in for the client.
The medical billing career is right for a person who enjoys continually learning new things. The laws and rules change yearly and continuing education is mandatory. Working in a healthcare environment can be very rewarding and lucrative. The American Association of Professional Coders (AAPC) has a new medical billing credential, which is highly recommended to obtain. The career path is bright and the training time short. Right now is a great time to get into medical billing as more and more jobs are opening up and the need for qualified personnel is great.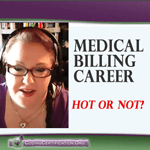 By: Dawn Moreno, PhD, CBCS, CMAA, MTC. Lives in the beautiful Southwest United States and has been an instructor for medical coding/billing for the past 7 years. Interested in quality medical billing training?  Click Here for Coding Certifications Medical Billing Course
Get More Details about a Medical Billing Career
Online Medical Billing Course | Medical Billing Certification-