Come join us on this month's Medical Coding Certification Q&A Webinar!
Our Medical Coding Certification Q&A Webinars are available to anyone interested in medical coding, getting their CCS-P or CPC coding certification, and about maintaining their credentials with continuing education.  Come join us!  There is no charge and all you need is an internet connection or you can dial in by phone – it's your choice.  There will be drawings at the end as well for the Medical Coding Certification Review Blitz Video Package.  So click the button below and save your seat!  See you on the 21st!
Medical Coding Questions Queued up so far:
Integumentary surgery question related to leasion diameter
What does "Supervision & Interpretation" mean
How to handle multiple code answers on board exam
History codes and cancer
And many more
Register for Medical Coding Certification Webinar June (FREE)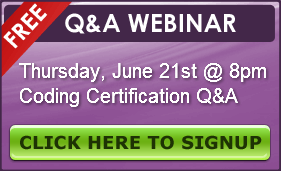 (or other prize if you currently own the Blitz videos).  Winner announced first at July Q&A Webinar.
CodingCertification.Org
Average rating:
0 reviews