Modifiers, modifiers, modifiers! Alright, Jana asks: "I know its simple but for some reason I have a mental block when I'm dealing with professional components. I become confused when or when not to use it. Do we use- 26 when the physician owns the equipment or when the facility owns it? Also is this to increase the physician payment or to decrease the payment? Thanks for your time and all the information I have learned from you".
Well Jana what you need to first of all understand is that modifier 26 will reduce he payment, that modifier grid that we were just talking about, on the grid it shows you what modifiers do to the money, does it increase the fee or does it decrease it? Modifier 26 would decrease it. There is on the CMS website a Medicare physician fee schedule and in it, it has a column that talks about splitting up like radiology codes for example. For professional and technical. So if you report a radiology code 5-digit code that starts with a 7 radiology code, and you do not put a modifier on it, you are telling the payer that you deserve to get paid for both the professional and technical component. So if that is what you want to do don't put any modifiers on it. Now, if you are a physician, your radiologist is reviewing, doing an interpretation and report of some film, maybe it was taken at the hospital or some other place, they weren't there, its not their equipment, they don't employ the staff, they are just doing the read. So to indicate that the professional component they would append 26 to the code. They would get their piece of the pie and whoever owned the equipment and the staff would get the technical piece. Ok?
Medical Coding Training – Using Modifier 26 Video
Do we use 26 when the physician owns the equipment? No. If you are in a doctor's office, like a lot of chiropractors will do their own x-rays, if they own the equipment and manage the staff and may want to bill for their interpretation or report of the x-ray and the use of the equipment, then no they wouldn't put a modifier on it because they do deserve to get paid for both pieces. Free standing radiology centers, they own the equipment and employ the staff and they employ the radiologist normally so when they bill the 1500 form they are not going to put a modifier on it because they are going to get paid the total fee so they are going to get paid a professional and technical together.
The way I always remember is basically if it's a free standing radiology clinic or physician that owns his own x-ray equipment, no, no modifier needed. Everybody else you are probably going to need modifiers. Even hospitals because hospitals even if they employ radiologists which is not all that usual, they will have a UB form but they have a universal billing form that is designed for hospitals and facilities and on it just by virtue of using that form they are saying we want to get paid for the technical piece. If they employ a radiologist and they need to bill for their services, they are going to have to do it on a 1500 form anyway and because they got paid the technical on the other billing form, they need to put a 26 on the CMS1500 form. Lot of modifier stuff so that is why I asked Jesus, our new IT guy, can you get the help really quick, these guys really need modifier stuff. So go ahead and download that modifier grid and see if that gives you any help.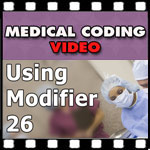 Related Medical Coding Training: