Q #17: I do not have my certification. I want to take one next month. I am instructor, is there an instructor one?
A: Laureen: There is a CPC-I, both Alicia and I have that. That's the instructor credential you have to be a CPC in order to take the CPC-I, so you would want to start with your CPC first.
It's just basically a more difficult CPC exam, condensed, and it was like all op reports.
Alicia: You have to have five years of experience or you cannot set for the CPC-I.
And the only place you can take the medical coding course is through the AAPC, as far as we know. We've got some people that we are going to help with that, but the course to get that certification you have to take their course, not through somebody else, at this time.
Online Medical Coding Course | Understanding Evaluation and Management Coding – Video
Q #18: If I already have a CPC and a remote coding job, to what advantage would it be for me to get my associate's degree in HIM?
A: Laureen: I think that's really going to be employer specific. I think you can get a very good, well-paying job without it. I do see a trend coming down the pike wanting people to have degrees even if it's a two-year associate's degree. But as it stands right now, one of the things that I really love about this profession is that in six months' time or less, you can become certified and get a job and be in a really great career field and not have had any college. Now, of course, if you're looking at two or three or more resumes and only one has some college, they might get more of a leg up, just like the person who was an RN. But I would say if you've already got a job, and you're happy with the pay, I wouldn't spend the time for two years for an associate's degree unless you're going to get a big return on investment. And it might mean something to you to have that degree.
Alicia: An associate's degree costs you at least $20,000 and you can do a lot of that online and save some money, but what's your ultimate career goal? If you want to get into some type of management or supervision, yeah a degree is going to help you. If you just want to make more money and it's not necessarily your goal to be in management, just get your certifications and add to them and just time is what makes more money.
Q #19: I would like to have more knowledge of choosing level of care PLUS anatomy. Is level of care HCC?
A. Alicia: No. I think she's talking about E/M. Level of care…leveling and she wants more anatomy.
So I would tell you to take our MTA course because it's fabulous. The book is great and it's worth 40 CEUs if you're certified, and then if you want help with the leveling, take the CEU that Laureen did on E/M – what's the name of it?
Laureen: "Locate your HEM in Time – A Unique Way of Understanding E/M Coding"
Alicia: Because that right there will give you just a huge push in the right direction and make it a little bit easier. E/M leveling is not easy to do unless you do it again and again and again. That CEU is fabulous for explaining it.
Learn More about Online Medical Coding Course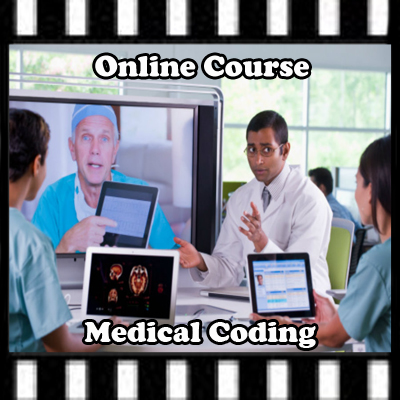 Online Medical Coding Courses: Learn in the Comfort of your Home