Did you recently receive your 2020 CPT Manual with yellow dots all over it? Was it a misprint? Did you maybe receive a bad copy of your CPT Manual?
Actually, according to an email we received from the AMA today, it's none of the above. The AMA explained that the yellow dots are a new copyright technology called "SEClipse pattern" intended to prevent copying and scanning.
Here's the full release issued by the AMA: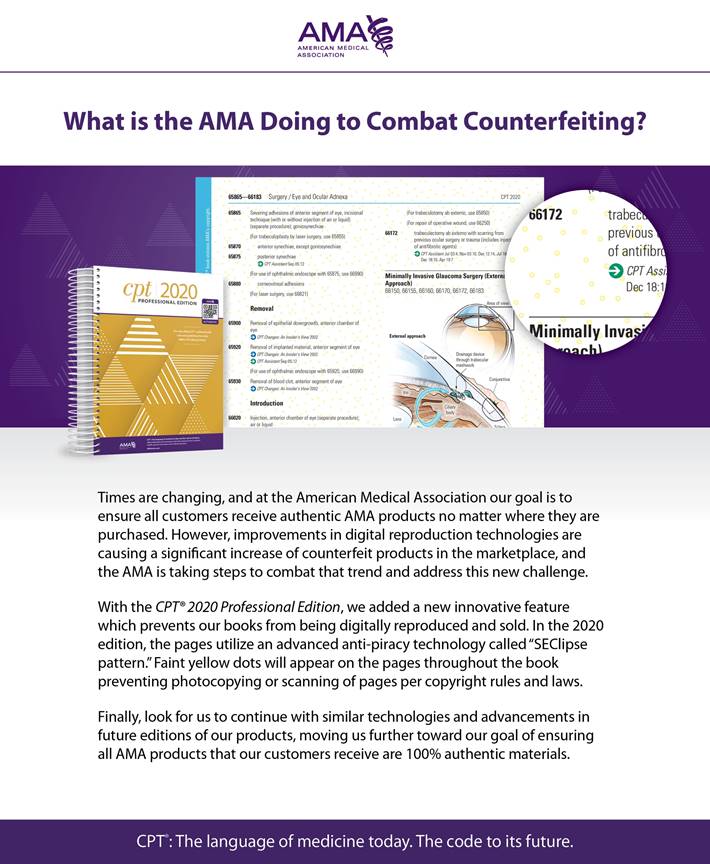 For those if you that cannot read the small text in the image above, here are the contents of the AMA email:
What is the AMA Doing to Combat Counterfeiting?

Times are changing, and at the American Medical Association our goal is to ensure all customers receive authentic AMA products no matter where they are purchased. However,  improvements in digital reproduction technologies are causing a significant increase of counterfeit products in the marketplace, and the AMA is taking steps to combat that trend and address this new challenge.

With the CPT® 2020 Professional Edition, we added a new innovative feature which prevents our books from being digitally reproduced and sold. In the 2020 edition, the pages utilize an advanced anti -piracy technology called "SEClipse pattern". Faint yellow dots will appear on the pages throughout the book preventing photocopying or scanning of pages per copyright rules and laws.

Finally, look for us to continue with similar technologies and advancements in future editions of our products, moving us further toward our goal of ensuring all AMA products that our customers receive are 100% authentic materials.
Do you like the new yellow dot pattern? Are you having difficulty reading the pages now? We'd love to hear your comments below.