Laureen: I had a question for the group: how many here that are left with us still are into Serious Inc? Give me a "1" if you're into Serious Inc.
Jo-Anne: I do not know what that means.
Laureen: We were joking today because Chandra is working on her BHAT activities (bubble, highlight, annotate technique) has finished her BHAT® technique on the ICD-10 Guidelines. She was very quiet today, we were like "What are you doing?" She's "I turned off all of my notifications."
VIDEO: BHAT Manuals | Bubble Highlight & Annotate Technique
Alicia: And she killed two highlighters.
Chandra: I killed two of them. Oh, you're in the second one, go to the first one please.
Laureen: I wanted to show you an example of the annotation techniques that we teach at CCO, and this is just one of them. First, you're like, "OK, it's highlighting." But, basically it's our mind and how we annotated our books and our key notes to help you really get to the bottom-line when you are trying to make a decision between choosing between two answers on the board exam question.
So, you can see all these ways to underline, bring things to your attention, key notes to write down. In addition, we take this information and we cross reference it into the main part of the manual to make it all flow and come together because what you are being tested on, regardless of which credential it's for, if it's involving ICD-10 you're going to need to know your guidelines.
Alicia: All about the guidelines.
Laureen: So, this is made available to our students and Blitz costumers.
Alicia: Oh! There's the HIV one.
Jo-Anne: This is awesome.
Boyd: She has a good handwriting.
Chandra: You want to know a secret? Well, not really a secret but a fun trivia fact about me? In college I had a professor that required us to handwrite a paper. He didn't want it typed, he was old school, he didn't want it typed. He wanted a handwritten paper. I turned in my handwritten paper, unlined paper the whole bit, he accused me of typing it. He thought it was some kind of funky font and I was trying to get away with them. I'm like, "That's my handwriting!"
Boyd: What was that journaling technique that you taught me while you were here? What was that, that you do that looked so awesome?
Chandra: Oh, my bullet journal.
Boyd: Bullet journal, that's a cool stuff.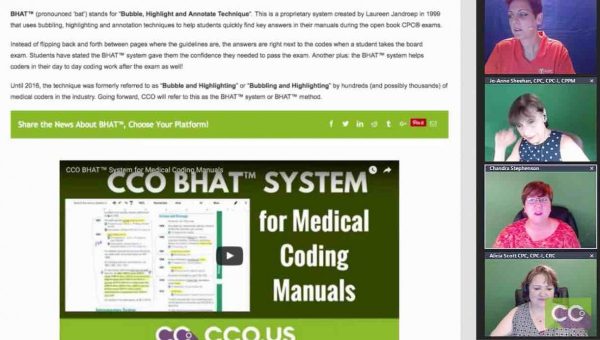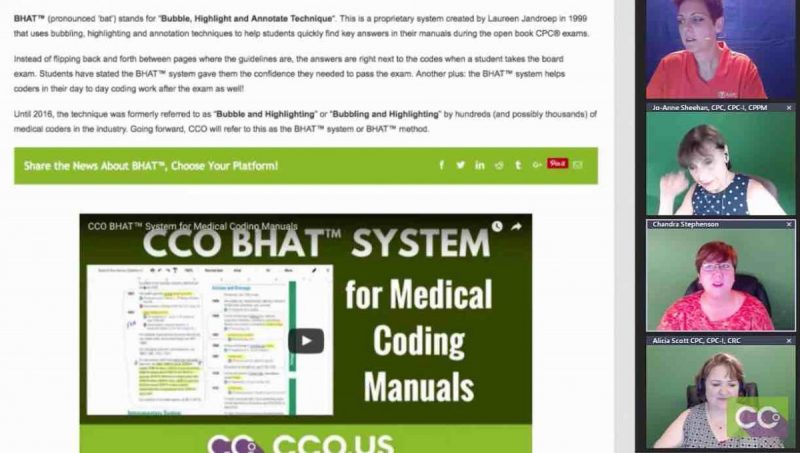 Laureen: I was going to show on our website, we've got the BHAT®. This is our bubble, highlight, annotation technique page, so please come check it out. We even have an interview form for people to share their experience with this methodology. We're really especially looking for old-timers that have been doing this since the beginning. I came up with this method back in 1999 for myself, started teaching it to my students in 2000.
This interview here is of my friend Barbara Chioppini; I call her Chippy for short. She was in one of my very first coding classes, and she really had a knack for it and basically I hired her to teach for my then company. And she has been doing the bubbling and highlighting of my CPT manual every year.
This interview goes into that, it's really quite nice. We used to call it "bubbling and highlighting," when Chandra came on board and she said "I kind of do something similar with ICD-10 but not so much with the bubbles." We were like, "OK, what could we rename it to bring it in?" So, we brought the annotation word, and so Bubble, Highlight and Annotate technique because that's where she's really big with a lot of the notes. That's where we have on the timeline.
Chandra expands the technique to include ICD-10 and have it trademarked now. Just check it out and tell us your BHAT® story. And, every two weeks we're picking a winner and the winner can get a CCO mug, or a tote bag, or something cool like that. So share your story, a picture of your books bubbled, highlighted, annotated just to show it off; that will be really a lot of fun.
Alicia: Show them your mug.
Laureen: Oh, my mug. So, that, or you can get like a water cup.
Chandra: Somebody asked if the BHAT® technique can be used in manuals that are taken for exams? Absolutely, that's really why we do it. Especially for the AAPC exams, the trick with the AAPC exams is that it has to be in your handwriting. The proctor, the coder guideline actually state your books cannot be disqualified for any handwriting contained therein, but you cannot insert, glue, staple, paste or tape anything. So you can't print it out and put it on a sticker, it has to be…
Alicia: She said that a lot of times.
Chandra: I have said that more times that I cared to… That is a super common question, super common question.
Laureen: That being said, though, sometimes AHIMA does not allow it, right?
Chandra: It depends on your testing center. You have to call the testing center before you go sit to find out whether or not they will allow. It all depends on how that particular testing center is taken. I've heard horror stories from some people where they absolutely were not allowed to use the books, and the thing with AHIMA, you only get one shot. If you go in and you don't have all your stuff together, you forfeit your exam and you forfeit your money, your $425 that you paid for that exam. I've had friends that they have hyphenated last names, but they never got it changed with the social security office. So, when they registered for the exam, they put their hyphenated last name, when they got there, their photo ID did not specifically match where they're registered, they forfeited their $425, couldn't test, had to sign up again. So it's very important to pay attention to their rules and their guidelines when you're signing up for these certification exams.
Alicia: Some people say that even with the AAPC's, if you had notes written in your exam and the proctor told you, you could not use them. If that happens to you, then you're entitled to say, "Please call the AAPC." Most tests are on Saturday and they do have somebody standing-by to handle those questions. So, just advocate for yourself.
Related CCO BHAT Manuals Posts: