Thinking About the CPC Exam? Our Nuanced Approach Can Help You Get Certified in No Time!
Learn How Breanne Hall Discovered Her Interest In Medical Coding And Used Cco's Flexible Educational Approach To Expand Her Skillset And Pass The Cpc Exam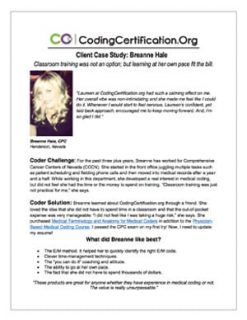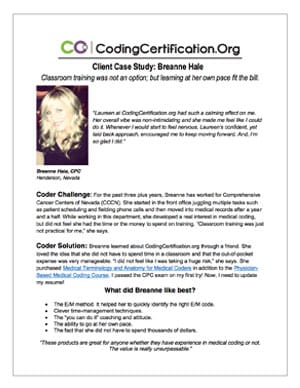 It can take some time to figure out the exact direction you want for your career. You may be worried that your opportunity for a good medical coding job has already passed. It's not too late! Breanne started in a front office where she handled multiple responsibilities before discovering her interest in medical coding. Due to her busy schedule, formal classroom training was not an option. When a friend suggested CCO, she thought it seemed like the perfect fit. If this sounds like your situation, check out Breanne's whole story to see how CCO can do the same for you!
This case study covers:
CCO's commitment to empowering every client to achieve their goals
Breanne's journey from the front office to medical coding certification
Learn Breanne's favorite parts of the CCO program and key features that you might find beneficial
Do you want a job in medical coding but are worried that your lack of experience will make it impossible? Download this free case study to see how we were exactly what Breanne needed to take her career in a new direction and land a job doing what she loves.
Sincerely,