CPC Exam Manuals and Textbooks
If a student- this is a question that just recently came in recently on the CCO site- "If a student will be finishing school December 2012, should they still aim for the 2012 CPC exam before the 2013 textbooks are required?"
Let's do the other one at the same time.
"Are the 2013 textbooks required in March 2013 when taking the CPC at that time? The required textbooks are all released on different dates so it is hard to know which books to order and they are expensive so you don't want to order 2012 and end up taking the test in 2013 and having to buy new ones. How long on average should a person give themselves to study for the CPC after they have finished schooling for Medical Coding? "
CPC Exam Video
First of all, lets jump down to #3, if you are going to graduate your medical coding course or finish your online training, As soon as you finish or right before you finish, if you have not joined the AAPC  you want to join before your graduation because it only cost $90 to join versus the $170. With the AAPC its $90 versus $170. With AHIMA , I think you have to be one of their students to get a discount. Some people join and sign up for the exam and order the exam the same time. You don't get a discount for that.
So don't worry about doing it. I would join first, pay the $90 start getting the Coding Edge magazine and networking on the site Say you are going to graduate in July and you think ok when do I take my test? First of all you need to look up and see when when a test is available in your area. If you are not willing to travel you might have to wait three months before they have a test come up.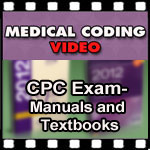 If you are going to test and you are worried about the date before you order your exam, you have to do it four weeks in advance. call the AAPC and ask them, I'm going to be taking my test, I would like to sign up for my test in Dallas for September 2012, which set of books do I need and let them tell you. Don't let anybody else say "you need the 2012 or the 2013"- call them, get it straight from the horse's mouth Don't trust anybody else but them. Does that answer all the questions?
CPC EXAM Related Content: