Someone had asked- "Is it important to include the medical coding Errata updates in the book prior to taking the CPC exam? This is a question that actually came in on the new question and answer site that Laureen has on the Coding Certification website.
CPC Exam Question – Video
What Errata changes are is they are printing errors, any text book, there are always printing errors, that's what Errata is, so, it's not some big scary word.
Its highly unlikely that your cpc exam is going to be affected by this. The Errata errors, there is a link here that we put on there so that FYI you can actually go there if its AMA or just google like Laureen says, you can always google it, put "Errata errors for CPT" it will take you to this website where you can go in and see what they are.
This is really again, like she said more applicable to people who are coding and they need to update their code books because they are actually using the codes every day. So I would be more concerned about this after you have passed your test and you have gotten your job versus the test. Your exams are made in advance. So these changes or errors are not going to make a difference for you. But you learned a new word Errata.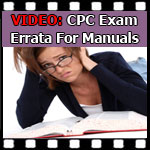 Related CPC Exam Content: