Learn How CCO is Helping People Like You
You Can Get Certified and Take Your Career to the Next Level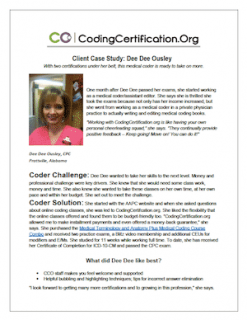 See why people like Dee Dee Ousley trust CodingCertification.Org to give them the resources they need to advance in their medical coding profession.
This free case study will provide you with a clear picture of the path to passing certification exams on your own time schedule. Discover what works for other people and decide if CCO is the right tool for you.
This client case study covers:
The flexibility and affordability of going through exam prep with CCO
The precise package of material Dee Dee used to pass her exams
First-hand testimonial of what it's like to work with CCO
If you've considered becoming certified, but haven't taken the leap, download this case study to see how CCO can help you get there sooner!
Sincerely,