You have passed your CPC exam and are an official certified medical coder. How do you land that first job in medical coding?
Searching for a coding job needs to start before you are a certified coder. Don't wait until you have your certificate in hand. Most employers will recognize your desire to obtain certification as a positive on both your resume and interview. Make sure you can articulate which certification you are studying for, when you plan to sit for the exam and what your future plans and goals are as a certified coder.
First Medical Coding Job: Marketing Is The Key
Marketing yourself is the key. If you don't know how to do this ask other professionals or do an internet search. There are several free sites on marketing and you can even hire a marketing coach. The product is you. Knowing how to market your skills goes from the type of shoes you wear at an interview to how best to verbalize your understanding of the services the physician offers. This also includes a professional appearance outside the interview. There is no downtime when you have a target. Know that people are watching you at the grocery store and when you fill up your car with gas. Any one of those observers could be an unknown potential employer.
Never stop learning. When you are waiting to hear back from an interview read articles related to your field. Even better continue to find out as much as you can about the facility you want to work at. This can be helpful in a second interview. It also shows ambition and a desire to learn.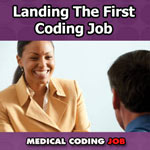 Last, the old adage that it is who you know is often true. That is why you need to keep yourself connected. Make sure you are an active member of your local coding chapter through the AAPC or AHIMA. These are your peers and your prospective co-workers. Word of mouth is not only a way to get your foot in the door but also to obtain feedback from other coders as they share their experiences. Connect on coding forums. It is a small world now with the internet and social media.
Stay positive and don't loose heart. It is not always easy to get that first medical coding job but the rewards make up for the wait.
Related Medical Coding Jobs Content: