CPC Certification Online
There are online medical coding certificate programs available that specifically prepare students for Certified Professional Coder (CPC) certification. These online programs offer medical coding courses that ready graduates for both ICD-9 and CPT coding jobs. Although courses are provided remotely, some programs include an internship in a health care setting in the student's local area to gain practical skills. Certificate course credits may transfer to an associate's degree program in coding or medical assisting, depending on the school.
| | |
| --- | --- |
| Online Availability | Hybrid and online-only programs are available |
| Online Requirements | Specific word processing software may be required |
| In-Person Requirements | Internships |
Source: http://study.com/articles/Online_Certified_Professional_Coder_CPC_Certification_and_Certificate_Programs.html
Check out Certification Coaching Organization (CCO's) online CPC certification programs/courses
CPC Certification Program
CPC certification programs teach students how to analyze medical information and assign codes according to the medical standards. Participants also learn skills in organizing records and insurance data, reporting information and communicating with health care professionals. There are typically no prerequisites to enroll in the certificate program; however, a background in the medical field is helpful.
Program Information and Requirements
Depending on the school, these programs consist of a minimum of six courses, and they can require up to 35 hours of college credit when taken in pursuit of a certificate. Online medical coding programs are delivered via the Internet, and some schools use a special course management system (CMS), such as Moodle, to deliver course materials to distance learners.
Students also need access to an e-mail account for communication with instructors and peers. A specific word processing program may also be required for submitting assignments. Most schools provide a technical support system to help students with any issues via e-mail, chat or phone. Source: http://study.com/articles/Online_Certified_Professional_Coder_CPC_Certification_and_Certificate_Programs.html
How to Get a CPC Certification – VIDEO
CPC Certification Salary
According to PayScale.com, a Certified Professional Coder (CPC) earns an average wage of $16.98 per hour. Most people move on to other jobs if they have more than 20 years' experience in this field. A skill in Auditing is associated with high pay for this job.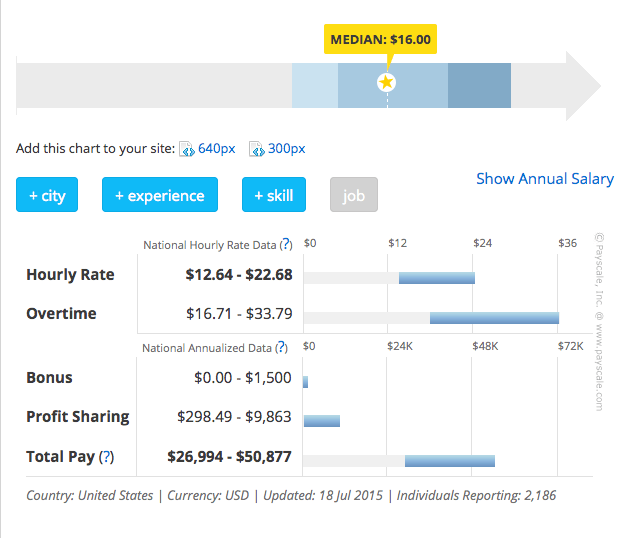 Source: http://www.payscale.com/research/US/Job=Certified_Professional_Coder_%28CPC%29/Hourly_Rate
CPC Certification Study Guide
There are a lot of available CPC certification study guides circulating around the web today. AAPC's Official CPC Certification Study guide for example is specifically designed to help individuals prepare for the CPC exam. The guide consist of 20 chapters through a review of anatomy and terminology, ICD-9, HCPCS, and CPT coding for each body system, E/M coding, anesthesia, radiology, pathology/laboratory and appropriate use of modifiers. However, you can get this guide at $99.95 (while members can get it at $69.95)
Source: https://www.aapc.com/training/cpc-study-guide.aspx
CPC Practice Exams
In order to start working as a medical coder, you will need to pass your certification test which consists of two main tests: the Certified Professional Coder (CPC) Test and the Certified Coding Specialist-Physician Based (CPC-P) exam. However, the field that you would like to enter might also determine whether you will need to take any additional tests. Conversely, you are required to pass these two main exams in order for you to attain CPC certification.
If you are looking for some online CPC practice exams, check out CCOs various CPC practice exam packages/bundles to help you through passing the CPC exam on your first try!
Conversely, here's also a resource coming from Medical Billing and Coding which provides the basics of the exam and valuable study techniques and test-taking strategies. They also go over each of the 24 sections that the CPC exam focuses on, meaning you'll know what to expect when it comes time to get certified. Check this out: http://www.medicalbillingandcoding.org/certification-prep/
HOW TO PASS A CPC CERTIFICATION TEST:
A lot of students don't know how to get CPC certification effectively and fail the CPC certification course due to the lack of effective study techniques. Even though the exam system is an open book exam, a lot of students are not proficient in taking notes. This makes it harder for them to pass their exams and makes the exam very stressful. The exam requires a score of seventy percent for you to pass. For most people, studying from videos is much better than studying from lectures due to the higher retention rate. In order to avoid failure, you need to copy the following high retention strategies.
1. During a lecture, listen in order to learn the material and review it later.
2. Always be attentive even if you know what is being taught. It becomes even worse if you already know what you are being taught because your brain will switch off and, as a result, learning the material that you don't know will become more difficult.
3. Don't try to determine what you need to study in order to pass. Most lectures give information which can be termed as an 'over and done with lecture' without giving any strong points that the students will need to concentrate on.
Read full article: http://www.cpccertification.net/how-to-get-cpc-certification/
Related CPC Certification Articles: