Not all newly certified coders have hands-on experience; but for those who have sat five hours and forty minutes for the CPC exam and passed, you have proven to yourself and potential employers, that you have the smarts to be successful in the job market. Training requires hours of study and practice, not to mention discipline and motivation. It can be discouraging to hear pessimistic remarks about the difficulties inexperienced coders face in finding a job.
Medical Coding Job Tips: How to Land Your First Medical Coding Job
My first words of wisdom are this: block out the negativity. It will control you without you realizing it. Regardless of the career choice, both experienced and inexperienced professionals will send out lots of resumes before they land an interview or their ideal job. It takes perseverance and a positive attitude to be successful in any endeavor.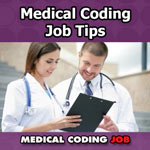 The second step to being successful in landing your first medical coding job is to keep an open mind. You might have to work your way up from being a charge entry clerk in a medical billing department, but that is okay. Get your foot in the door and show them what you've got! Coding is a major component of medical billing and coders will learn firsthand how important it is to know the rules when entering charges. Will you find coding errors while keypunching data? You can bet on it. Bring these errors to your manager's attention and begin demonstrating your knowledge. When that new coding job is posted in Human Resources, you will have a greater chance at landing the job.
Attend coding workshops and AAPC Chapter meetings in your area and network as much as possible. It is the number one way to make yourself known. Believe it or not, if you meet a physician or coding manager whom you make a connection with, they may hire you just because they like you and sense they can trust you. Always dress and act professionally when you are in networking environments and smile.
Remember that coders are not limited to jobs within private practices and hospitals. Medical billing and coding companies offer in-house and remote opportunities as well as medical management groups. Medical publishing companies and other coding organizations such as the AAPC or may need workshop speakers, instructors, or sales representatives who know their stuff and can represent their company in a positive way.
Keep up with industry changes by staying active on websites such as www.codingcertifcation.org and www.aapc.com while job hunting. There's a reason the AAPC requires coders to earn 36 ceus every two years to maintain the CPC credential.
It's okay to show potential employers what you've got! This is not the time to be apprehensive and nervous. Remember, experience may count in some job markets, but many employers train their new hires to do things their way, so emphasize your education and certification and always perform at peak level by writing effective resumes and following up with a phone call, speaking intelligently and amenably during an interview. Let potential employers hear about your success and reliability in prior jobs, even if they are not coding related. First impressions count.
Lastly, do not give up. Many employers are now mandating certification as a condition of employment so use that information to your advantage. If you believe you are the best person for the job, those feelings will be conveyed to your interviewer. Never forget: positive energy equals positive results.