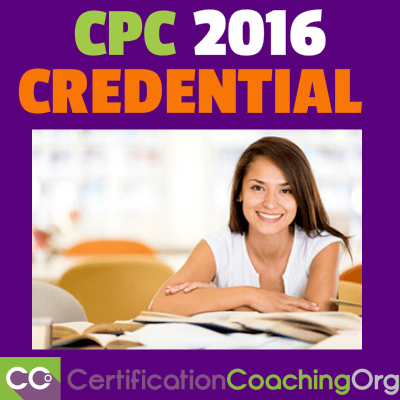 Here are quick tips of information on how to maintain your CPC credential into 2016, the ICD-10 proficiency exam preparation, certification and training.
Just recently, AAPC has made an announcement that they will update the CPC exam to test on ICD-10 in January 2016.  So if you want to certify this year and know the ICD-9 code set, there is still time to take the CPC exam!
How To Maintain Your CPC Credential Into 2016:
According to CareerStep, in order to maintain your CPC credential into 2016, certified coders must pass an ICD-10-CM proficiency assessment exam by December 31, 2015 (and you've got 9 more days left to prove).
You can check out AAPC website for more information on the ICD-10-CM proficiency exam and if you need verification, you can also check out their ICD-10 proficiency verification tool. Taking the Certification Coaching ICD-10 for ICD-9 Coders program will prepare you for the ICD-10-CM proficiency exam.
If you want the CPC credential and know only ICD-10, one option is to quickly learn ICD-9 to certify this calendar year; another option is to wait till January 2016 when the test transitions to ICD-10. Non-credentialed coders may also take the ICD-10-CM proficiency exam (it is not exclusive to credential holders). This can be a great way to add something to your resume while waiting for the ICD-10 CPC test to become available. Source: Certification in ICD-9-CM and/or ICD-10-CM/PCS?
Where do you take the exam?
You can take the exam in person at a local testing center. To locate an exam site for the CPC:
Click Locate/Schedule an Exam.
Select your state.
Select an exam location and date.
Source: AAPC CPC Exam Locations
Need ICD-10 Coding Training? CCO Got You Covered!
For ICD-10 training, Certification Coaching Organization offers specialty specific, AAPC-approved online courses with practical tips and examples, free video trainings and tutorials, free practice exams, including comparison of ICD-9 to ICD-10 coding of common diagnoses that providers and coders what to change.
Get to know more of CCO's ICD-10 training courses and ace that ICD-10 Proficiency Assessment Exam without stress!
ICD-10 Online Training Courses at CCO
Related How to Maintain Your CPC Credential Posts: