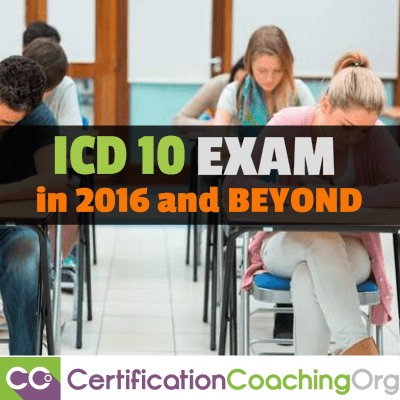 How To Pass The ICD 10 Exam in 2016?
Q: Do I still have to study and pass the ICD 10 exam even if its past the deadline? The short answer is YES! Although it is no longer called a "Proficiency Assessment" but what AAPC does is they will now include ICD-10 in the new 2016 AAPC exam and you will only be required to test once for full certification. If you test and pass in 2016,  you are fully certified and assessment testing is no longer required.
So if you are looking for some tips and strategies on how to pass the ICD 10 exam, here's a tried and tested success formula from Certification Coaching Organization:
How To Pass The ICD 10 Exam in 2016 and Beyond?
Step 1. Take a full ICD-10 coding course (80 Hour College Equivalent) where you get plenty of opportunity to practice coding.  Check out details on CCO's Full ICD-10-CM course
Step 2. Watch all CCO ICD-10-CM Blitz Review Videos. To see details on CCO's Coding Certification Review Blitz go here ==> CCO's ICD-10-CM Blitz
Who Needs the ICD-10-CM Training Blitz?
Medical Coding "Newbies"
You need this ICD-10 CM Training Blitz if you need to just know more about ICD-10. If you're new to medical coding and you're wondering, "Hmm, everybody keeps talking about ICD-10. I don't know where to start." Then the CCO ICD-10 Training Blitz is a perfect place to start because we're going to give you an overview of everything you need to know and we're going to give you all the details that supplement the overview.
Step 3. Practice Blitz exam taking techniques by completing TIMED practice exams.
Start with shorter 25-50 question exams and finish with a 75 question exam.
Allow yourself an hour per 25 questions leaving 30 minutes for review if needed.
Complete entire exam in one shot, perhaps going to the library where you won't be disturbed and to make it feel like the real thing.
Use a digital kitchen timer to count time down 60 minutes at a time per the Blitz technique..
Use a sample test grid to get used to using it for the real exam.
Score your answers and review ALL rationales thoroughly.
Repeat the process until you score an 85% on shorter exams.
Then if time and budget allow complete a 75 question practice exam.
Go over questions you don't understand with an instructor or seasoned coder.
Where to get ICD-10 Practice Exams:
     Free CCO 50 questions Online ICD-10 Practice Exam 
Source: http://helpdesk.cco.us/support/solutions/articles/5000660425–blitz-icd-10-cm-proficiency-assessment-preparation-course-information
ICD-10 Online Training with CCO – Video

Happy ICD-10 Coding!
Related How To Pass The ICD 10 Exam in 2016 Posts:
ICD 10 Proficiency Assessment Exam — What You Need To Know