ICD 10 Training | Bloopers
Our CCO Webinar and Youtube Guru Boyd Staszewski shares his fumbles recording a recent promotion for "ICD 10 Training."
Say that 4 times fast and see what happens on the 5th 🙂
Well by now you have probably heard that we are coming out with a new ICD-10 CM Training Course here at CodingCertification.Org.
The fact is, we have 4 top notch ICD-10 CM training programs.
All the way from those who want a quick "touch" of ICD 10 coding practice, all the way to those needing a full 80 hour course.
For a limited time, you can get our newest course for $300 off until Nov 5, 2013.
Here's the link for the full 80 Hour Course:
ICD-10-CM FULL-Course
https://www.cco.us/icd10full
and here are the links to the other ICD 10 Training Programs.
ICD-10-CM Mini-Course
https://www.cco.us/icd10mini
ICD-10-CM Mini-Course (two-pay)
https://www.cco.us/icd10mini2
ICD-10-CM Practice Exam (Online)
https://www.cco.us/icd10practice
Free ICD-10-CM Online Practice Exam- FREE
https://www.cco.us/icd10practicefree
More Related Information about ICD 10 Training
ICD 10 Training – Video
AAPC – Coding Online Training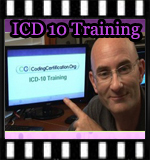 CodingCertification.Org
Average rating:
0 reviews