Laureen Jandroep Reviews- is she the real deal? Are the Coding Certification Blitz Videos a Scam?
Join CodingCertification.org's webinar host and YouTube Channel Manager Boyd Staszewski as we explore some of many testimonials that successful students have left on www.CodingCertification.org testimonial page.
Read them all here:
https://www.cco.us/testimonials/
Laureen Jandroep Reviews Video
Well, actually 3 pages of testimonials. And just in the last few months.
Do you have some of these questions as a medical coder student?
Passing your CPC exam on your first try? Yes.
Getting over the overwhelm of the exam? You bet.
Making sense of CPT? Absolutely.
But don't take our word for it. Listen to what the CCO community has said about Laureen Jandroep Reviews!
Here's what Sarah Stanley said:
I took my board exam (first time) on Saturday 9/15 and I PASSED! I am beyond words right now, so I'll just say a (HUGE) thanks to all of the help, support and information you gave me. I'm am so thankful that I decided to take this course – I couldn't have been more prepared for the exam.

And Jamie Pilsbury wrote this:
Your Bubble and Highlight method really works. I would recomment your videos to anyone wanting to pass the CPC. They REALLY WORK!!!!!! It was the best money I've spend in this whole coding education process.
Virginia summed it up by saying:
CONCISE, CLEAR, LOGICAL AND SO WELL INFORMED. THANK YOU!! I am taking my cpc exam on 12/5 and was beginning to freak out. Your blitz course (I just got thru anesthesiology) is making it all come together. you're a life saver!!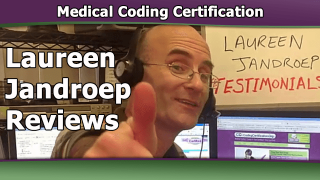 Related Laureen Jandroep Reviews and CPC Exam Content:
https://www.cco.us/testimonials/