Has Your CPC-Prep Course Let You Down? You Are Not Alone…
Read How Mala Sharma Was Determined To Pass Her CPC Certification Exam And Used CCO To Do It
Our courses take over 20 years of healthcare field experience and knowledge and offer it to you. If you want to become a certified medical coder, CCO offers you the most flexible and affordable studying material available.
With a full-time job and a child in college, Mala needed a program that let her work at her own pace and was affordable. She found exactly what she was looking for with the CCO facility-based coding course.
This client case study covers:
The additional benefits of going through exam prep with CCO instead of generic CPC prep.
The simplest and most effective way to ace your CPC exam Mala's favorite learning features in the course
If you've tried or looked at other CPC training material and are not satisfied with their approach, keep reading!
Student Case Study: Mala Sharma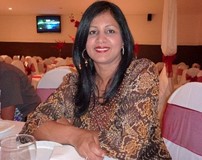 "The first time I sat for my CPC, prior to the exam, I took a training course through the AAPC. I failed the test. I was determined to take it again. Laureen's "Blitz" videos made it possible for me to pass the second time around."
When a family member was diagnosed with cancer, Joseph stepped in to help with insurance claims and medical bill review. He had no formal training, but he did have a knack. Others who knew him asked for assistance and he quickly realized a career change could be on the horizon. Working as a school psychologist at the time, little did he know that he'd soon have the title of "Billing Analyst" at Millin Associates, a medical billing service and software firm.
Coder Challenge:
Mala was working at a 25-clinic medical complex and needed to sharpen her medical coding skills. She enrolled in a CPC-prep course through the AAPC but failed her CPC certification exam. She was determined to take it again and to pass!
Coder Solution:
After some web research, she found a YouTube video about CCO Blitz videos and was immediately hooked. "I loved Laureen's easy-going style and sense of humor. I bought the 'Review Videos' (Blitz) and passed the CPC certification exam the very next time. I also took the CPC-H exam and passed the first time with the help of the facility-based coding course," she says.
What Helped Mala Most?
Bubbling. This technique saved a lot of time. "It also saved my eyes," she laughs.
Humor: The humor and skilled techniques all helped Mala to stay fully engaged.
Easy to understand: Other courses got too technical; this was just the right mix.
Flexible. Being able to start, stop and review on her own time was key.
Budget-minded: Classroom training was much pricier. "With a kid in college and two not far behind, this was a huge factor," she says.
Wrong-answer elimination: She was taught how to quickly eliminate wrong answers, saving even more time.