Alicia: You maybe the best coder in your office and yet, you may not have the skills to take the test properly to pass that certification. We can help you with that; we can hone and find you the guidelines that you need to go over, and just give you confidence. After that, I would just immediately jump into the auditing course, which is amazing, brand new that we're offering. We're very excited about it.
Boyd: Any words that you just wanted to put into auditing course together Laureen?
The Medical Coding Auditing Course Hangout – Video
Laureen: Well, there is a huge interest in and a lot of people. They go and get their core credential like the CPC exam which our physician based coding course prepares you for. That could be enough and they go and get a job but most people, Alicia and I, joke, we like to say getting more girls got budget. Because in coding, you can have a lot of different credentials that identified specialties that you become proficient at.
Auditing is a type of specialty although you can use it in cardiology, gastroenterology, ortho. You can use it in a cross specialty but it's like a subset of coding and its very detailed and they normally recommend event coding for couple of years or better had your certification for couple years before getting into auditing but it's definitely excited about it. Just give coders another edge another tool to put on their tool to go into the market and some people want to work themselves and they go out they do auditing on their own as a consultant, that kind of exciting, too.
We are adopting a coaching concept. It is rather than someone enrolling and in a page 4 okay, good luck. We actually view ourselves most as a coach in a gym. We make sure that you are from your orientation, we record you to find out which your goal be. If you're want to be done in form 1, just get the calendar out which take a pea and see what exam around that time and now we have the target, a course we can change it but if the target with your coach, then you're kind of in it together. Then, we worth at this point so that should be doing on your midterm and we back into that, and the coach will teach basic if you ever heard in a week or two and never reach out use it. I remember those goals you set what can I do to help you. What's going on and told you back, just put it back on the front burner for you. And that seems to work very well and our students will really appreciate that. They don't feel like they're just left to their own device and we really want them to cross at finish line.
Boyd: Alicia, as the director of Education, you do a lot with the students, you have anything to add there?
Alicia: I think one of the other points is that we give you access to your content for a year. We say 4 to 6 months, it's 7 months out, you don't have to pay additional fee. You have that year. So even after his gone to the course and say before you want to test, you can go back and do a little practice at your coach is your coach for that year, and we also offer the services, the practice exam. If you gonna go over something with your coach, they will be willing to do that for you as well. Once we have a student, we really don't like to let go of them. We'll keep track of you as well as see how you do in the future with your career.
Get More Details about Medical Coding Auditing Course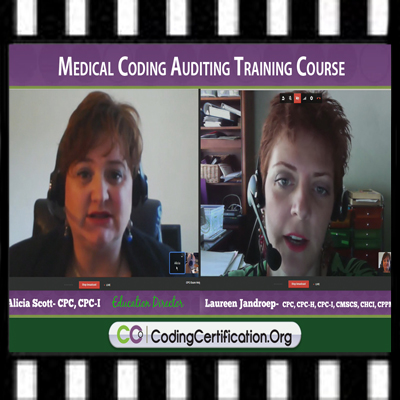 Certified Medical Biller – Professional Associations for Medical Billers
AAPC – Certified Professional Medical Auditor (CPMA®)