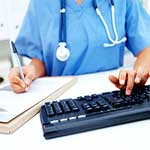 A career in medical coding requires accurate and timely medical data and translating healthcare providers' diagnostic and procedural phases into coded form. The Bureau of Labor Statistics' Occupational Outlook Handbook reports that the need for medical coders will grow 20 percent between now and 2018, adding an additional 35,000 jobs nationwide. That's pretty good news if you're just getting started in your medical coding career.
So, why is a medical coding career so hot? The demand for health services is expected to increase as the population ages and an aging population requires more medical tests, treatments, and procedures. All of this leads to more reimbursement claims from private and public payers
Additionally, a recent article in U.S. News & World Report, reported that health information management was named one of the fastest-growing careers in 2012. A large part of this is attributed to the mandated use of electronic health records. As this increases throughout the health care industry and becomes even more mainstream there will be even more medical coding career opportunities available.
Get Started in a Medical Coding Career Today
So, how do you get started on the road to a solid medical coding career? You can start your medical coding career at healthcare technology companies, acute-care hospitals, government agencies, consulting firms, healthcare payers, private practices, and more. Knowing what you want and then going after it is half the battle. But, you'll pack an even meaner punch when trying to land that perfect medical coding job by keeping the following in mind:
Pursue education. The more you know; the more valuable you will be. For example, take an online medical coding course.
Consider interning. This is a great way to get your foot in the door.
Relocate. Go where the jobs are. Research areas where medical coders are most needed.
Get certified.  In addition to medical coding education, one or more certifications will provide you with a competitive edge.
Read. In addition to online resources, don't simply reply on CPT, ICD-9 and HCPCS books, but also read about compliance, your specialty, and job hunting techniques.
Build an audience. There are many free article sites online where you can post articles. Try writing one on a coding topic or experience. It will build your credibility.
Medical Coding Career Requirements
Since you're pursuing a medical coding career, you're likely familiar with the necessary skill set. However, just to make sure, here are some top medical coding career skills to keep in mind:
Reading and listening skills
Attention to detail
Drive and determination
Flexible and open to change
Excellent communication
The ability to work alone, without supervision
Good computer and keyboard skills.
Analytical and evaluation skills
Read more here:  6 Essential Medical Coding Skills.
Medical Coding Career Earnings
The AAPC conducts a yearly salary survey. The 2011 survey had 12,000 participants that included medical coders and billers, auditors, and physician practice managers. The average salary for a Certified Professional Coder (CPC) was approximately $46,800 (up $1,400 from 2010). Additionally, more than half of the respondents reported earnings of greater than $40,000 – this was a first for this annual survey.
Other survey highlights:
Read our blog: Four Ways to Earn More Money as a Medical Coder.