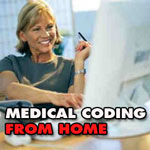 The even better news is this – the AAPC recently released its yearly salary survey and the results of more than 12,000 respondents indicated that even during this time of recession, coder salaries were climbing. The survey revealed that 44 percent of respondents fell within the $35,000-$50,000 salary range. However, some reported medical coding salaries of up $75,000 per year.
And, if this is not enough to get you stoked about getting your medical coding certification – how about a job that not only offers solid pay, but could allow you to work from home as well?
Turn medical coding into a flexible job
The first step in getting established in a work from home business is to make sure you're certified. Employers want medical coders who are certified, and potential clients are no different.  Become certified and then maintain certification.
Once certified, the doors really begin to open and starting a home business becomes a more realistic option.
To begin, if you have not worked in the field, many people find it more beneficial to work in an office setting at first to begin building relationships. Typically, medical coding and billing businesses are generated from referrals. So, prior work history is important to establishing a positive client base.
In fact, the more guidance you can get up front from people experienced in the coding and billing businesses, the easier making this transition will be.
While you are working, make a name yourself. Become that "go-to-coder." People will remember this and these people will likely become valuable resources in the future.
It's also important to network and to join related organizations. Talk with other medical coders who have started businesses. They are often willing to share their stories.
The bottom line is this: A job in medical coding has a lot to offer and coding certification can help you achieve not only a solid career, but a flexible work life.
Related Medical Billing and Coding Articles: