Next question: Medical terminology on the CPC exam. This is one Alicia was going to answer so I will try to do my best here. What type of medical terminology would be on the test?
Medical Terminology On The CPC Exam Video
Basically you can be asked any medical terminology question possible, so, its advisable to take a medical terminology course especially with ICD-10 coming up which is going to require you to have a lot more anatomy understanding that ICD-9. If you need a course, we just happen to have one on medical terminology, anatomy for ICD-10 coding. So we chose that book because it's the only one that I found with medical terminology and anatomy and for coders. So its currently selling for $48.72 if you want to do self study or if you want to do it with the instructor coaching you and all of that, take the course from us and you will get a certificate of completion and all that good stuff. I will highlight the medical terminology course later in the presentation…you know I will, right?! This is another book Alicia was recommending and I recommend too that is heavy in terminology review for the CPC exam and that's Carol Buck's CPC coding exam review, called the certification step. It sells on Amazon for about $50.
Here is a sample question: This term means the surgical removal of the fallopian tube. Ligation, hysterectomy, salpingostomy, salpingostomy. So, which do you think it is? Lets do another poll. Did you get that one Boyd? Go ahead and fill out the poll, which do you think is the correct answer? #1, 2, 3 or 4 or A, B, C, D…I'm not sure how its being presented to you.
Boyd: This term means a surgical removal of the fallopian tube – and then you can go ahead and put what they actually say.
Laureen: Ligation, hysterectomy, salpingostomy or salpingectomy.
Boyd: 84% voted so I'm going to close the poll in 5, 4, 3, 2, 1.
Laureen: 15% said ligation, 16% said hysterectomy, 7% said salpingostomy and 62% said salpingectomy so you, answer D is correct. So good job. What is interesting with this for medical terminology, what you really want to focus on is the suffixes and the prefixes. In this case if you knew your suffixes ectomy vs. ostomy, since this says surgical removal which is what ectomy means, you could throw out 1 and 3. Then what you need to know is what is the root word for fallopian tube and you know it is not hyster for that is the uterus, you probably know that and ligation you know means tying off so when you do that process of elimination, you know its #4. So, good job.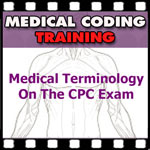 Medical Coding Terminology on the CPC Exam Related Content: