Occasionally, I am asked if it is important for a medical biller to understand modifiers. Modifiers, of course, affect reimbursement by making it go up, down, or stay the same with adding extra information for the payer.  My response is that it is always a good idea for a medical billing professional to have some understanding of medical coding and modifiers.  In fact, on the mock test given by AAPC, there are questions  that will contain modifiers.
My students frequently ask what is the best way to learn modifiers? My answer is to make flash cards for the most frequently used modifiers. Then quiz yourself until  you know those well. Always ask yourself the question, "How dose this modifier effect reimbursement?"  This question will assist you in understanding if it applies in that particular situation.
Medical Billing Online Courses – Modifiers for Medical Billers
In the CPT Appendix A there is a detailed description of each modifier. It really is a good idea to just sit back and read Appendix A in your CPT manual. Highlight key words that will assist you in knowing what modifier to use. Also, in the front of most CPT Manuals there is a list of modifiers with brief descriptions. I would use the front cover of the CPT to make your flash card notes on modifiers.
Medical billers do not need the same amount of medical coding knowledge that a medical coder needs, but they should have a reasonable understanding of medical coding, and this, of course, does include an understanding of modifiers. If your resident medical coders makes an error with a modifier and you know the claim will be rejected, then it is your duty as the medical billing professional to bring it to his/her attention to fix before you bill the payer. This is just one small way that a medical biller acts as backup to the office medical coder.
By: Dawn Moreno, PhD, CBCS, CMAA, MTC. Dawn lives in the beautiful Southwest and has been a medical coding and billing instructor for over 7 years. Her joy is teaching adults new career skills. .  Interested in quality medical billing training?   
Know More about Medical Billing Online Courses – Modifiers for Medical Billers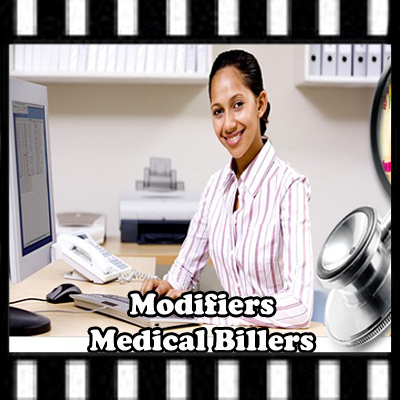 Coding for Medical Billing Job Description