Q: The CPC Exam Prep: Place of Service Codes: What are place of service codes and how are they used?
A: The abbreviation for that is POC, if you didn't know. What I was able to do was just go get a screenshot of what a place of service looks like when you're trying to find it. You guys aren't going to have to do this or have this memorized. It's going to be in one, into your computer system you're working in. This particular one shows up like this. What they're saying is: where was the patient seen at? An 11 is in doctor's office. If they were an inpatient, that's a 21; outpatient is 22. Then, you got 23 for ER; and those ambulatory surgical centers we were talking about, which is 24. And all this is for letting the payer know where was the care given? That's all it is. And again, you don't have to have this memorized. Now, when you're dealing with them all the time, you will have them memorized.
Online Coding Classes – Place of Service Codes and Its Uses –Video
But here's a link and let's see if we can get this link go up. Some of them I was having a little trouble with… There we go. CMS.gov, if you're wanting to know anything about Medicare and Medicaid, CMS.gov is probably going to be your best. But here's a breakdown of all of place of service codes and what their name is and their description. It's right there at your fingertips anytime you need it, if you don't have access to it with the computer system that you're using; however, probably wherever you're working they've got a little printout of this. I used to have one made small and I just had to [sit then] there on the side of my computer so I can look at it whenever I needed to do, and before long you have them memorized, they're easy. Again, just put on the 1500 form so that the payer knows where were they being seen?
Find out More Details about Online Coding Classes – Place of Service Codes and Its Uses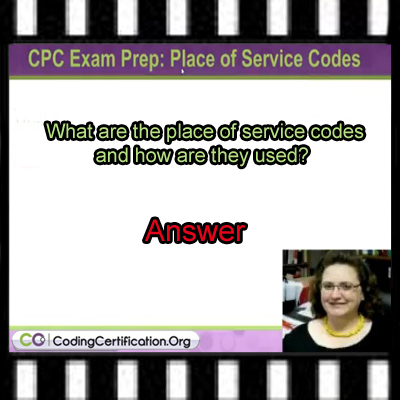 Prolonged Service Codes