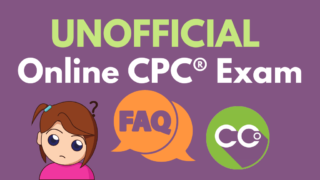 The AAPC is now offering Online CPC® Exam Testing with their partner, Examity. With the original 2020 announcement came many questions, concerns, and experiences. Now, in September of 2022, there are even more changes and clarifications to policies. We've been listening to our student feedback closely and we've put together this updated, unofficial AAPC Online CPC® Exam FAQ so examinees can get some answers to questions that do not appear in the official AAPC FAQ. We also have a long discussion thread about exam experiences inside the CCO Community.
What Is The Online CPC® Exam Webcam Setup Like?
One examinee wrote:
"I needed to present my ID both times and they needed me to scan the room to ensure no cheating or other folks were in the room etc. You will need an external camera (I purchased mine from amazon for 30 bucks and I returned it, so you're not stuck with it). My proctors did not scan my manuals, only asked for me to flip through it to ensure there were no loose notes etc. And no, you cannot leave your seat, you must stay seated the entire time of the test. The check-in time overall was like 15 min or so."
Another examinee said:
"Took mine today. Be sure to account for at least an hour of pre-setup (camera position) question verification etc. Also dual monitors are not allowed! Be prepared to sit scrunched in a small area so they can see your face and screen the whole time. They ended up having me put the webcam on a table behind me at an angle so they could see the screen and my face. Be prepared to have things to stack it on to adjust the height. Glad to have had the opportunity to take the test but it was a rough setup and physically restricting."
So to clarify further, you will be required to use an external webcam that can be placed to show:
Your face
Your hands
Your keyboard
The area surrounding your keyboard (about 10 inches)
So when they say "external", they mean a 1080p USB webcam that is connected to your PC/Laptop via a cable and capable of being moved around to show everything. If you plan on using your laptop's built-in webcam, that will not be accepted per their requirements. You also cannot use an iPhone, iPad or smartphone as an external camera. It must be a 1080p USB webcam that connects to the same computer where you will be testing. Make sure you have items available (books) to raise the webcam if requested by the proctor. Here is a webcam one of our students used. You can read her post here.
Also, based on the requirements above, make sure the webcam has a wide-angle and a long cable (at least 6 feet) so you can position it behind or beside you to avoid the "scrunched" experience other students mentioned. If you have a webcam with a short cable, USB extension cables are useful to place cameras further away. As for webcam quality, YouTube is very helpful in seeing what real webcam angles and quality are actually like. Here is one such helpful review.
One last thing, it seems like Examity uses Zoom during the online CPC® exam to keep an eye on you and record the session for quality control.
Will Technical Setup Take Time Away From My Exam?
No, the amount of time required to get set up for the exam does not count or use up your total exam minutes for that session. So don't let the set up portion stress you out or frustrate you.
One student reported that you must be an Administrator and have Administrator permissions on your computer to pass the technical setup. DO NOT attempt to test on a non-Administrator account. It will not work according to their experience. To see if you're an Administrator, follow the steps in this article. If you're using a loaned PC from a job, school, etc, you are most likely NOT an Administrator on that machine.
Can I Use a Dual Monitor, Chromebook, iPad/Tablet or Other Smart Device?
No, no, no, and no. Only single monitors are allowed and anything that is not a Windows/Mac laptop or desktop will not work with Examity.
Do I Need to Bring a Timer?
No. A timer and the number of questions you have left will be displayed throughout the exam on screen. There is no need for an external timer.
You can see an example timer below.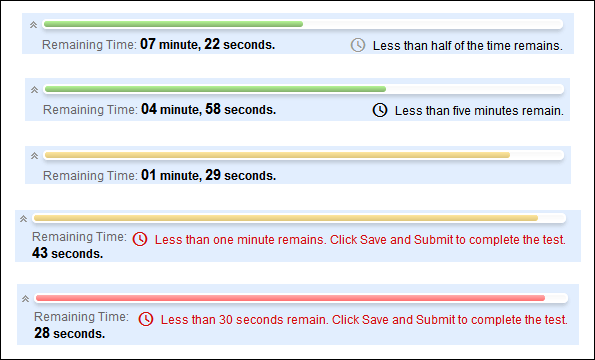 Can I Bring a Printed Version of the ICD-10 Guidelines into the Online CPC® exam?
No, you cannot. The AAPC has stated in a Facebook video on September 10, 2020 the following:
So no additional paper is allowed in the exam. I'm being asked if you can print out the guidelines. The answer to that is "no" those are available in your ICD-10 codebook. So the only thing you will be permitted to have in the online exam are the physical codebooks.
Can I Bring a Notepad, Pen, Paper or Whiteboard?
No, you cannot. But there is good, digital news! Per Alex at the AAPC, he said:
"NOTE: There is now a feature in the online exam for a notepad that
will can pop out on the screen for your use during the exam."

Can I Skip Questions and Return To Them Later?
You can flag questions, skip questions or move back and forth between questions and sections. However, once you submit the exam, you will not be allowed to go back into it.
An example from an unrelated exam is shown below.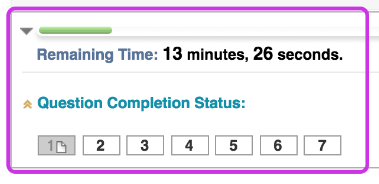 How Many Questions Are In The Online CPC® Exam? How Many Sessions or Days Is It?
The exam has changed as of September 19, 2022. It is now a single, long, continuous, four (4) hour session with 100 questions to complete in that time frame. So you'll be sitting down for 4 hours straight to complete the 100 question exam.
What Is The Order Of The Questions? How Is The Online CPC® Exam Split Up?
The AAPC refuses to release this information in order to maintain exam integrity. We've also read conflicting stories online.
One person on Reddit said…
"the questions follow the sections in the book in order. I've never taken the in person exam, but according to break down of the questions on the AAPC website, it follows that for the most part."
But another student wrote…
"it's a healthy mix per session. Just think of the AAPC breakdown of the exam. Not unequal at all."
So we are not 100% positive on exactly how questions are being ordered during each session.
Can I Use the Bathroom or Take a Short Break During the Online CPC® Exam?
Yes! New for 2022, the AAPC is letting you take a short break. Here is what they say…
Yes, you can take a short break if needed. Please note that the exam timer will not pause, and you will need to go through a security check and full room scan again after returning from any breaks.
How Many Attempts Are Allowed?
One. Uno. Eins. Un. The AAPC said the price is slightly reduced from the traditional in-person CPC® Exam since only one attempt is allowed.
What If I Am Disabled or Have a ADA Disability?
If you have a ADA disability, you can contact the AAPC to let them know. Disabled examinees receive 30 extra minutes per session for a total of 1 extra hour.
What Happens If I Have A Poor Exam Experience or Proctor?
The AAPC has recordings of all online CPC® exam sessions. You can contact AAPC Customer Service after you complete the exam and they will review the footage and investigate any issues.
How Do I Get A Detailed Exam Score Breakdown?
Exam results will be typically available within 7-10 business days of completing the exam. Results will appear in your AAPC member area under MyAAPC > Exams in the exam details.
If you don't see the breakdown of your performance in the various categories, you can email the AAPC Customer Service team to request it. You will not be able to get more detail than what is shown in the example report below.