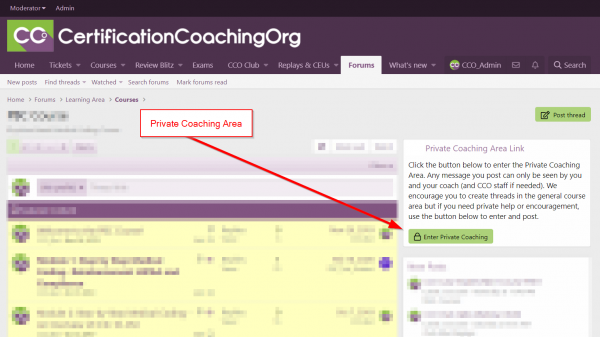 In order to provide the best private coaching experience, we've moved email coaching to the new CCO Community. We feel this is the best way to provide coaching support since emails can land in spam and result in student frustration.
How to Access Your Private Coaching
The new area is set up like a classic forum making it easy to navigate and ask questions.
Use the top menu drop-down arrow to locate your course, then click the green "Enter Private Coaching" button to enter the area. Please see screenshot to the right for help finding the button.
Once you're inside the Private Coaching area, click the "Post Thread" button to ask your question. Only you, your Instructor and CCO Staff can see your questions inside the Private Coaching area…other students cannot.
Do Not Reply To Emails From Your Instructor
You will continue to receive emails from your Instructor about test results and your overall status throughout the course. Those emails are only meant to be informational and motivational so please do not respond to those emails because your Instructor will not see your email response. Instead, post any questions in the Private Coaching Area mentioned above.
About Your Login and Password
Your account was set up and a username/password and link was emailed to you when you joined. Check spam/junk if you do not see it!
The same username (email) and password is used to login to the CCO Community and your CCO Gradebook for exam access. If you cannot locate the email or forgot yourpassword, click here to request your username/password.
In order to prevent login confusion, we do not allow the changing of passwords under normal circumstances. If you have an unusual or legal circumstance, please contact support using this link.
Access Denied Errors
By default, the CCO Community will display all forums to everyone. However, you will only have permission to enter the areas you're currently subscribed to at CCO. If you try to access an area you are not authorized to view, the forum will show an error notification. If you feel an area is incorrectly preventing access, please contact support using this link. DO NOT post about access issues in the forum.
What is the CCO Gradebook?
The CCO Gradebook is a private, secure area where you can log in to view all your current, assigned Chapter and/or Practice exams in ProProfs. You can also view all past exam history, test scores, past questions/answers, rationales and reprint certificates. The CCO Gradebook is embedded inside various areas of the new CCO Community. It can also be accessed by visiting https://www.cco.us/gb.