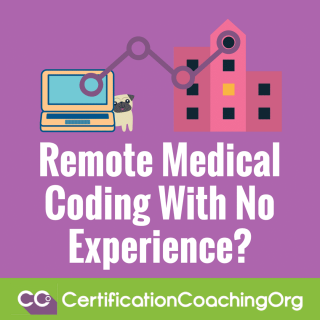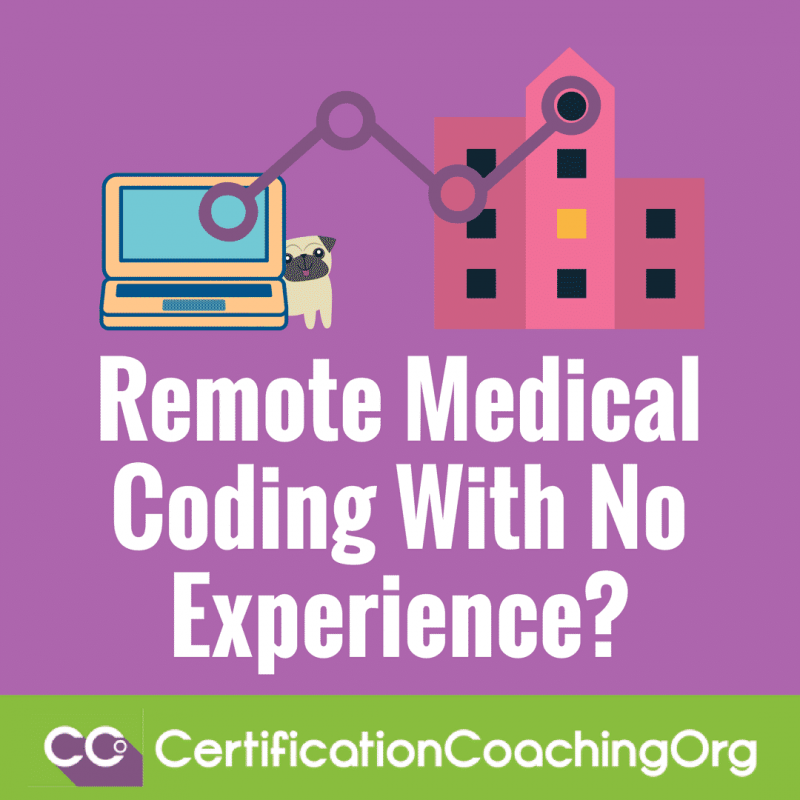 I have noticed many newly certified coders posting frustrated messages due to not being able to immediately find work in remote medical coding with no experience. Many are discouraged and ready to give up on their dream.
My personality is driven around problem-solving.  It saddened me that people felt so helpless in their ability to obtain employment. Well, if you want something done well, do it yourself right? How many times have you heard this throughout your life?
No one works as hard for you, as you do for yourself. Why then would you allow others to be in such control of your destiny? Take the wheel and create your own success. I feel there are many ways to do just that. Does a position in remote medical coding with no experience sound too good to be true? It's not a fantasy but it is not common either. However, like most endeavors worth achieving, there are steps each of us are fully capable of incorporating into our journey of obtaining certification and employment as a medical coder. I believe your search for employment in the medical coding field begins on the day you decide to become a certified medical coder. Like any field of employment, it takes preparation, research,  pre planning, and goal setting along the way to be considered one of the best. I have given this area some thought and believe some of the following actions would make the journey more likely to lead you in the direction of that first coding job. These are just a few tips that I believe are a normal progression of making your own success.
As most of us can attest to, many employment opportunities arose not due to being the cream of the crop in any specific field, but by knowing someone who could assist with getting a foot in the door! Think back over your employment history, particularly in an occupation that was completely new to you. Would you have been able to get in the door on your own? Probably not, because it's not always about what you know.
What if you started thinking about your very first job in medical coding on the same day you begin your studies in coding? Would getting a job in remote medical coding with no experience be easier? How might this early planning create opportunities for employment later? What could you, as a beginner do to create a place in front of the employment line when you passed your certification?
Networking is Key
I believe the most powerful impact on your future career regardless of the field is networking. As a new student working towards any certification it would be beneficial for you to immerse yourself into the middle of a coding superpower. What is a coding superpower? The first organization that comes to mind is the AAPC local chapters and members. Just imagine the total years of coding knowledge represented in one monthly meeting. Attend these monthly meetings; do not sit in the back scared and lonely.  Introduce yourself and your dream.  Remember, each person at the meeting also had a beginning to their dream. True medical coders are made of the same ingredients…..
I know for a fact, medical coders are giving in nature. How many offers of assistance and advice do you think you would receive? Not only would I suggest attending the AAPC meetings, I would suggest volunteering for any AAPC events or activities locally. One organization may lead you to another organization.  More people, more prospects and more knowledge.  And the beginning of an employment brand.
Your Employment Brand
If you are not familiar with the term employment brand, I would think of it first as your reputation. It starts out clean and any items added should represent your work quality, your code of conduct and your willingness to do what it takes to be successful and always professional. I think an "employment brand" is much like a mission statement. It is based on your professional behavior.
What does your brand represent? I think it is worth sitting down and creating a statement of beliefs you will never compromise. I would consider this your foundation. It should be the ground level of all your endeavors with your medical coding career. Make sure your foundation is solid with integrity, dependability, commitment to service, work ethic and conduct. Protect your brand, it is very important. It is going to help you obtain employment opportunities as you grow and prepare for your exam.
Once you begin to feel comfortable making contacts, you need to have some "networking" cards created. I would suggest checking Vistaprint.com. This company has great offers on cards. I created my own card for billing and collections prior to certification. The cards can be shared at meetings, coding events, and to people with connections. The card will provide a material memory of you the student/coder. It generally creates a swap of cards with a seasoned coder or other business connection.  Keep the cards simple with just the basics… your name, email, telephone contact and maybe some kind of catchy phrase. It is a mental picture of you, your name, your reputation or employment brand. It could lead to an employment connection or a future business connection.
Volunteer to Expand Your Network
While Internships and externships are not easy to come by, volunteering is almost always welcomed. Start volunteering at a local medical facility/hospital.  Move around and get to know employees. Share your story of being a coding student. You would be surprised the inside information you are able to obtain. OR a new connection may create an introduction to the business section of the facility. Again, your employment brand is in full action. You are creating contacts that see you are dependable, hardworking, and compassionate.  Hand out your networking card. You never know where that card will end up!
Another suggestion is to volunteer at a clinic or doctor's office to file, make patient phone calls or even offer to trade work hours for knowledge. A few free hours on the clock in return for real world work experience. Always go above and beyond with the quality of your work as well as your work ethic. Both say a great deal about you and your employment brand…..you never know what will lead you to a job! If a colleague needed an office worker for a few hours, whose name do you think might come up? And again, a positive employment brand goes a long way.
There is another option for a volunteer type of training. It is called job shadowing. Job shadowing is the connection of a student and a star player/competent employee who will share a day in the life of i.e. a nurse, a lab employee, any number of different specialties. While it is unpaid experience, it allows you the variety of experiencing various office and facility types. Arrange to job shadow once a week. It will also create exposure to other employment opportunities.
Create an Online Portfolio
Other areas you have control to lead to success regarding your employment brand are to create an online employment portfolio. You have control over the content and can share your portfolio with prospective employers. This is a great way to showcase your personal growth, showcase your shining moment, share skills, knowledge, activities and a number of other accomplishments until you are ready to use the portfolio for employment. To review some information regarding portfolios check http://www.portfoliogen.com/  which has great examples and the following link is a step by step thought process to assist with portfolio creations,  http://www.wikihow.com/Create-a-Career-Portfolio  I think the popularity of online portfolios will increase as more professions expand into remote employees across many fields in the future.
Share Online Test Results
Think about the cost involved in testing potential employees. Why not invest in this portion of your career yourself? There are some great programs that will officially test you and provide results to share with prospective employers. This would be very beneficial to any new medical coders who want to show their stuff regardless of years in the field. I believe it would be harder for an employer to turn a great candidate away with this type of documentation. The fact that you paid for the cost yourself adds a great level of seriousness to your request for employment. I was curious about the availability of these tests and the cost. I was surprised to find several online organizations that provide a free sample of what you are attempting. Some companies sold tests as inexpensive as $9.99, some allowed for a monthly plan access, while others had a yearly plan. This information is readily available on the internet. Some of the companies I reviewed included http://www.pcskillstests.com/Testing/medical.html, http://www.wonderlic.com/assessments/skills/quality-care-inventory/medical-biller-and-coder-assessments and https://www.brainbench.com.
These are just a few of the many resources available when getting ready to search for work in remote medical coding with no experience.  I would also add that if you take the time to research, LinkedIn  would be an excellent place to make connections. There are many articles posted for education. A connection could lead to a mentor on LinkedIn. But again, you have to be the leader of your destiny. Reach out to people who may provide moral support, links to new knowledge, or maybe internship information. People who are proactive and positive provide encouragement and support. Again, LinkedIn is a super power organization involving networking, just in a different format.
Final Thoughts On Remote Medical Coding With No
Experience
Do I guarantee these steps will ensure you a job in remote medical coding with no experience the week you become certified? No, but I do feel confident enough in my suggestions to guarantee if you try some of these suggestions in the beginning and continue until certification, you will have laid the foundation for your brand as a serious medical professional seeking an employment opportunity. I do not think it will take long to get your foot in a door to begin your adventure.
Experienced medical coders have the same passion and drive as any new medical coding students. They faced the same exact dilemmas, but do feel new coders need to understand this is a time to "pay their dues" before seeking the top employment positions. I would like to say to both experienced and new medical coders, your professional success makes you the perfect mentor to those behind you on the path. You have the power to share, shape and create the best coders by paying it forward in this fabulous profession. We all started with the same dream.